New York Knicks: Why the 2011-12 Team Will Succeed with Time
December 31, 2011
Ezra Shaw/Getty Images
The sports world, simply put, is full of over-reactive fans who are complete prisoners of the moment.  So, naturally, as the Knicks have started their season with just one win and two losses, including losing two straight, basketball fans have gone into a frenzy. 
Suddenly, the Knicks are the most overrated team of all-time and we were stupid to ever believe they would be good.
Let us all just calm down, please.
The Knicks are just three games into a shortened season following a shortened training camp. Remember, this is a team that still has not had much time at all together.  Tyson Chandler was just entered into the equation, and it will take time for him to completely fit in.
Carmelo Anthony and Amar'e Stoudemire, two of the league's best scorers, certainly have the capability of playing well together, under one circumstance.  That being a true and dependable point guard, and for the next few weeks, their point guard, Baron Davis, will be on the bench with a back injury.
I do believe that, with Davis, Anthony and Stoudemire can mesh perfectly together.  Like previously stated, both of these guys are primarily scorers, and while the Knicks do not lack talent, what they do lack right now is a true point guard who can run the offense and control the game. 
At his best, which you can rest assured a rejuvenated Davis will be at, he can be that true point guard running the offense and getting the ball into the hands of Anthony and Stoudemire throughout the game. The return of Davis will solve numerous issues for the Knicks, and ultimately make them a more complete and better team.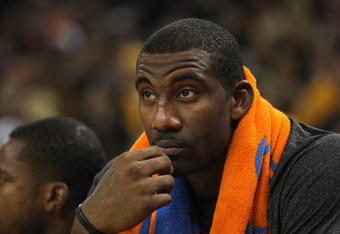 Ezra Shaw/Getty Images
Davis could possibly make the Knicks contenders, but even without him, this team just needs time.  You simply cannot expect a team with several players who are still unfamiliar with each other to just be thrown onto a court and win basketball games.  It takes time. 
The Heat struggled last year, people overreacted, and they eventually figured out a way to play together.  The Knicks are going through the same thing, and they too will figure it out. 
Are the Knicks the Heat?  No, of course they are not.  The Heat of last year were better than the Knicks of this year are, but that is not to say that the Knicks are not able to compete with any team in this league, because they can, and, over time, they will prove it.