Was 2011 a Success for Mississippi State Football or Is Dan Mullen Settling?
December 31, 2011
Grant Halverson/Getty Images
The 2011 season was supposed to be a good year in Starkville, Miss.
Mississippi State was coming off a nine-win season with virtually the same roster that absolutely drubbed the Michigan Wolverines in the 2011 Gator Bowl.
The Bulldogs happened to pick one of the best seasons in the history of the SEC West to return a roster full of experienced talent, however.
No one is going to pick on Dan Mullen for not besting the likes of Alabama, LSU or even Arkansas in 2011. After all, two of those teams are scheduled to play each other for the BCS National Championship in a couple of weeks.
It's the games against the beleaguered SEC East and a down Auburn squad that brought Mullen under the spotlight heading into the Franklin American Mortgage Music City Bowl.
Granted, the Bulldogs two losses against SEC East teams to the eventual division champion (Georgia) and the runners up (South Carolina), but the loss to the Bulldogs from the Peach State came when Georgia was just 2-2.
In the loss to the Gamecocks, Mississippi State was only able to muster 12 points at home.
The Auburn game came in Week 2. Teams are usually still trying to find themselves that early in the season. But again, Auburn was coming off a last second miracle victory over Utah State before Mississippi State came to town.
After the Bulldogs finished the regular season at 6-6 many in the media began questioning whether Mullen's once-bright star was fading a bit.
To hear Mullen tell it, however, 2011 was a successful season.
To me, it was a great season, Mullen declared after the Music City Bowl. We had a third straight Egg Bowl victory, second straight bowl game victory and a winning record this season. Mullen continued, To me, that's a successful season (via AL.com)
Based on the factors that Mississippi State fans, alumni and school administrators value, maybe 2011 was successful.
Mississippi State head coaches have to beat Ole Miss. Mullen has done that in every attempt. Every SEC athletic director wants bowl victories. Mullen has done that in both his attempts. And winning records are ultimately what drives every aspect of college football success. Mullen has done that two straight years.
But does that mean Mullen should be let off the hook for underachieving in 2011?
Absolutely not.
The bottom line is that Mississippi State had the talent to be one of the Top Six teams in the conference this season. Instead, it finished the regular season just outside the top half of the conference and needed a late fourth quarter defensive stand just to finish the year over .500.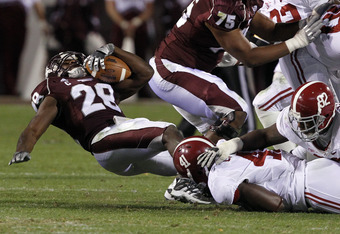 Butch Dill/Getty Images
This team, with a noted offensive genius for a head coach, struggled to stay out of the bottom third of offenses in the offensively challenged SEC.
Mullen probably experienced the best possible scenario for Mississippi State in 2010. Nine wins is nothing to shake your head about. Challenging Alabama, LSU and Arkansas every season, however, should make any coach question whether or not he's fighting a losing battle.
Chances are 2011 was an anomaly for Mullen. He's still a really good coach with a trendy offensive scheme that works most of the time.
Mullen should still be considered a rising star of the SEC coaching fraternity, and Mississippi State should play well enough to compete in most games with him at the helm. But seasons of eight, nine and ten wins will likely elude Mississippi State for the duration of Mullen's tenure in Starkville.
That's not because he's a bad coach or because it's hard to recruit to Mississippi State. It's just the nature of business in the Southeastern Conference. Program administrators should just get used to fourth in the SEC West and seven to eight wins per season regardless of who is coaching.
Mullen should and probably will get out of Starkville with the first decent opportunity that comes his way. That's not a knock on Mississippi State as much as it is a compliment to the rest of the SEC.
The words of the head coach following a bowl win that is meaningless in the grand scheme of college football prove that fact.
"The lasting legacy of the 2011 football team is walking out as champions," Mullen said (via MSN).
That is, "champions" of the Franklin American Mortgage Music City Bowl.  
If that's the true expectation every year, it will be hard for Mullen to fail.