Philadelphia Eagles: New Year's Resolutions for 2012
December 31, 2011
Patrick McDermott/Getty Images
2011 was supposed to be the year Eagles fans have longed for.  Instead, it turned into a nightmarish version of what they've grown accustomed to.
New Year's Eve is a good time to think about what changes should be made.  Most people make New Year's resolutions, so why should the Philadelphia Eagles be any different?
The first thing on the list is changing the absurd philosophy that linebackers don't matter.  While they've always shied away from the idea that linebackers are just interchangeable parts, only four teams in NFL history have won a Super Bowl without a linebacker that made at least one Pro Bowl.
In the past they have had guys who were at least competent.  Jeremiah Trotter, Carlos Emmons, Shawn Barber and Takeo Spikes come to mind.  This year's group has not one single player that should be a starter in this league.
They are all some combination of small, slow or both.  It's time to sign a solid veteran and draft a real-sized and real-skilled player at the position.
Next up is a kick returner.  Since Brian Mitchell left after the 2002 season, the Eagles have returned just one kickoff for a touchdown. 
Rule changes were supposed to make kick returning obsolete, but there are seven players averaging more than 27.0 yards per return and eight players have returned one for a touchdown.
The Eagles are averaging just 20.9 yards per return, and they have returned the ball past the 30-yard line just twice this season.  Their longest return is 33 yards, lowest in the league.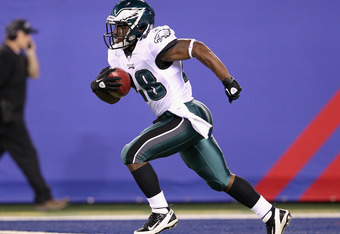 Al Bello/Getty Images
Fans may be split, but it is time to end the hard line on DeSean Jackson.  He has been an electrifying player for the vast majority of his career and he makes the job of every other offensive player easier.
Jackson's speed is a rare asset and it would be detrimental to let it go.  As far as team camaraderie goes, Jackson is liked by his teammates. 
It was very hyped in the offseason how players were bending over backwards to come to Philadelphia.  That won't be the case when these players see what they did to one of their stars.
Love or hate Jackson, he will be missed if he is gone.  It is time for the Eagles to show that they care about their own players.
The final resolution is the biggest one.  If this is the only one that is taken care of it will probably change the other three as well.  It is time to put an end to having accountants and lawyers in charge of player personnel. 
General manager Howie Roseman went out and broke the bank on every conceivable free agent.  he spent $100 million on Michael Vick.  He has overseen the slop-fest at linebacker.  Worst of all, Roseman has overseen the last two drafts. 
The Eagles can hype all they want the number of players they have drafted and the number of draftees that found a home on the roster.  The truth is, the roster isn't good enough.  On a well put-together roster, half of these players would be gone.
The Eagles need to have a football man in charge of player personnel.  Andy Reid may always have the authority to make the final decision, but someone needs to put better choices in front of him.
They have been unable to fill significant vacancies on the defensive end in either free agency or the draft since the early 2000s.  It is time to make a change in how they evaluate talent.
In the end, 90 percent of New Year's resolutions are broken within the first month.  There is no reason to believe any of these things will change in 2012.  The Eagles have been doing the same things the same way for 13 years now.
A new year is usually viewed as a time for new hope, but there doesn't seem to be any hope in Philadelphia for the Eagles to fix what's wrong with them.
Happy New Year.