UFC 141 Results: Jon Fitch Will Never Fight for the Title Again
December 31, 2011
Jon Fitch has focused on trying to get a rematch with UFC welterweight Georges St-Pierre for so long it seems like he has ignored his opponents whenever he stepped into the cage.
Tonight, at UFC 141, it finally cost him.
He might have just gotten caught.  It happens even to some of the best fighters in the world.  He isn't in any danger of losing his job in the UFC and he will live to fight again another day.
His days of campaigning for another title shot might be done, though.
Fitch was on a win streak but he wasn't even close to getting a rematch with GSP and he probably wasn't going to get one even after this fight.  Winning would have helped his case and that's it.
Instead he was taken out in devastating fashion by an under hyped opponent with no name value.  It's hard to promote a fight with Fitch in the main event when he just lost to a fighter that many casual fans don't see as a viable threat.
That doesn't make it true, but perception is part of what sells pay-per-views.
Fitch had built up a win streak until and with it the reputation as a boring fighter.  Whoever watched Fitch's matches either loved the technical side of MMA or wanted to see if he would keep steamrolling his opponents.
Now that he has lost he is back at the bottom.  He might not even get a fight on the main card when he returns.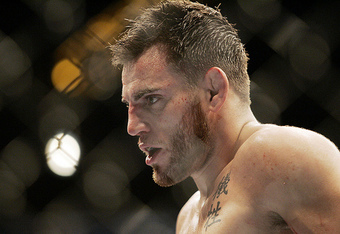 It's not the first time it would have happened.  Right after Fitch fought GSP for the title and lost he was placed on a preliminary fight against Akihiro Gono at UFC 94.
He had gone from being in the main slot on a pay-per-view to not even being on the televised fights.
That kind of drop only happens when a fighter is technically skilled, known for winning fights and putting fans to sleep. 
At 33 years old with a birthday in February, Fitch isn't done fighting for the UFC by any means.
He is done fighting at a chance for the title, though.  It would just take him too many years to build up another win streak and by the time he was ready for another crack at the belt he would be past his prime.
It's a somewhat depressing tale, but Fitch has no one other than himself to blame.  He took his focus off Hendricks and now he won't have to focus on getting to the title.
That ship has sailed.