Aaron Rodgers Poised to Capture Consecutive Super Bowl MVP Awards
January 1, 2012
Two weeks ago, the defending Super Bowl champions tasted defeat for the first time since December 19th of 2010. In that span, Aaron Rodgers has led the Green Bay Packers to a 20-1 record and, most importantly, to the much-coveted Vince Lombardi Trophy.
Rodgers has been nothing short of flawless dating back to the playoffs last season. It's what has been required of him. To maintain this absurdly meteoric level of play knowing that the nation waits to identify and subsequently pounce on any sign of weakness is what has made this last year truly remarkable.
Former Hall of Fame quarterbacks, analysts and sports journalists are in agreement that no other quarterback in the history of the game has ever scratched the surface that Rodgers currently walks upon. His precision passes, bullet-like release and impeccably-thrown deep strikes to Jordy Nelson continue to mesmerize the football world.
There is no chink in this man's armor, no fatal flaw—nothing we've seen to bring about his downfall. Even with Drew Brees breaking Dan Marino's passing record for most yards in a season, Rodgers is almost a shoo-in to claim his first regular season MVP award.
At times, Rodgers and his offense almost resemble something out of a video game; making a complete mockery of opposing defenses and executing at will.
Last week he was brilliant, bouncing back from a disappointing loss to the Kansas City Chiefs. At some moments during that game, both Rodgers and Green Bay looked vulnerable. Their defense has been scrutinized for much of the season—deservedly so—but one feels that they've possibly taken Rodgers and the offense for granted.
Rodgers threw for five TD passes last week against a Chicago Bears team still in the playoffs hunt at the time. It was the first time this Green Bay quarterback had achieved such a feat. Rodgers was relieved of his duties with just under eight minutes left in the game. He finished 21/29 for 283 yards, five TD passes and a first down scramble that shook Lance Briggs and Brian Urlacher right out of their shoes.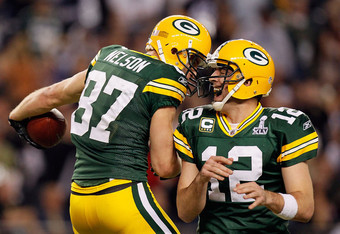 This season he's led his Packers to a 14-1 record, and the Green Bay offense has been virtually unstoppable. It's difficult to gauge just how good Rodgers has been due to the fact that no other quarterback has ventured into this stratosphere. 
In each of Brett Favre's three consecutive MVP seasons, he never passed for 40 touchdowns, nor did he throw for less than 13 interceptions. This year, 15 games into the season, Rodgers has thrown 45 picture-perfect touchdowns, a miserly six interceptions and an astronomical, unfathomable passer rating of 122.5.
Favre was never this good at any point in his career, and simply put, Rodgers is just better, both on and off the field—you don't see Rodgers engaging in any ridiculous Favre-like antics when it's time to mentor his protege.
I remember watching Rodgers in his first playoff game against the Arizona Cardinals during the 2009 season. He threw for 422 yards and four touchdowns as he led the Packers back from a 21-point deficit and forced the game into overtime.
Unfortunately for Rodgers and Green Bay, he was sacked a few plays into extra time and fumbled as Arizona recovered for the TD. It was a heart-wrenching loss, but Rodgers has only grown since the humbling experience. He set a Green Bay franchise record for most passing yards in a postseason game, a sign of what was to destined to happen.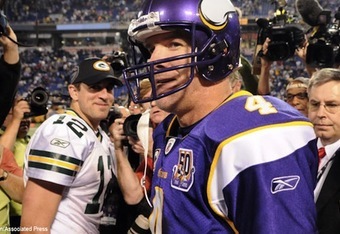 I recall thinking out loud that Rodgers, even then, was the finest QB in the league. He was making all the passes in the pocket that we'd come to expect from a Manning, Brady and Brees. He's a superior athlete, a far better passer on the run and an extremely effective scrambler. To top it all off, no one throws the deep ball better, and Rodgers also possesses the biggest arm amongst the aforementioned quarterbacks.
This season, NFL fans were treated to sublime quarterback play courtesy of Tom Brady, Drew Brees, Eli Manning and rookie sensation, Cam Newton. None was better than Aaron Rodgers.
His talent and potential is immeasurable, it's almost as though we're discussing the consensus No. 1 overall pick in an upcoming draft. An exciting and frightening prospect at the same time.
What makes Rodgers all the more special is the possibility that he hasn't quite realized his full potential, or tapped in to all his resources, with the best yet to come.