The Defining Moment for Every BCS Conference Team's 2011 Season
Let's face it, the closest football games come down to a series of approximately five crucial plays. Multiply that by approximately five huge games per season, and teams' seasons are defined by around 15-20 plays.
When looking back on the successes and failures of a team, we can circle a handful of plays that defined the season. This list is an attempt to pare that handful down to one.
Which was the one play or moment that defined the entire season for every BCS program?
Read on to find out!
Alabama
Alabama will have plenty of time to define their season...60 minutes to be exact—on January 9th in New Orleans.
So far, however, they're defined by their performance against LSU. And what does everyone remember from that game? Four missed field goals, the final one, seen here, coming in overtime.
Arizona
It's never a good thing when your most defining moment is an idiot fan running on the field and a fight, but that's the way the season went for Arizona this year.
With everyone watching on a Thursday night, Arizona got off to a very hot start in their first game following the firing of Mike Stoops. Right before the half, a streaker ran onto the field and then a fight broke out.
It was more fight than either team put up the rest of the season, as they combined to go 10-16.
Arizona State
Arizona State was a very talented team this year but suffered from penalties and turnovers.
Early in the season they traveled to Champaign to take on the Illini. ASU led 14-10 late in a hard-fought, defensive battle.
With just under 12 minutes left, Whitney Mercilus was able to get to Brock Osweiler and cause a sack/fumble for the Illini. Illinois took over and scored a few plays later to take a 17-14 lead.
That would end up being the final margin for the Sun Devils.
ASU finished a disappointing 6-6. The turnovers doomed them in several games, including the one against the Illini.
Arkansas
Arkansas was 10-0 against all lesser competition this season but 0-2 against their intra-division foes LSU and Alabama.
We may not remember that they barely beat Vanderbilt or Ole Miss, but we will remember their shortcomings against the big boys.
Wilson struggled all game against Alabama and a pick six (along with a massive hit) were the lasting images. Wilson had a great season, but his struggles against LSU and Alabama won't be forgotten.
Auburn
Auburn figured to take a massive step back this season as they returned only a few starters from their national championship team. They ended up fielding a resilient, tough squad that won eight games, exceeding many people's expectations.
Their perseverance was on display immediately with a huge comeback win against Utah State.
Auburn trailed 38-28 with just three minutes left. They put together a nice drive to cut the lead to three with just over two minutes left. Then, a perfect onside kick gave them the ball back at their own 44.
A few plays later they scored again and escaped with a 42-38 win.
Baylor
On this play, Baylor won their eighth game of the season, upset preseason No. 1 Oklahoma and essentially locked up the Heisman Trophy for RGIII.
Baylor and RGIII's season had tons of highlights but none more magical than this.
Boston College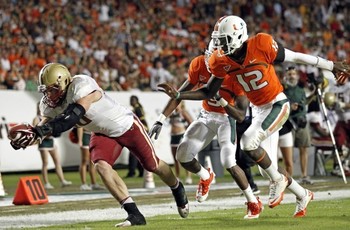 BC probably wasn't as bad as their 4-8 record would indicate, having lost several close games. The Eagles won three of their final five games, including an upset against Miami in the finale.
Linebacker Luke Kuechly was the star of the team all season and he capped off an incredible season with an interception for a touchdown to seal the game against the Canes. Kuechly would tally 191 tackles on the year, but it was his interception that will be the enduring highlight for him and the Eagles.
The touchdown put the Eagles up 24-14 and they would go on to win 24-17.
California
Cal was a Jekyll & Hyde team all year, losing to UCLA and barely beating Colorado but playing Stanford virtually even.
It all depended on their running game, which more often than not was non-existent.
It makes sense then that the most defining moments came in a game against Colorado—a game in which Cal won in overtime despite rushing for only 100 yards.
Cal was able to hold Colorado to a field goal in OT and then Zach Maynard was able to find Keenan Allen for a touchdown to steal the victory in Boulder.
Allen was a fantastic receiver all year, bringing down 98 catches for 1,343 yards. He caught five balls for 97 yards and the aforementioned touchdown against Colorado.
Cincinnati
Cincinnati put together a strong campaign, which resulted in a surprising split of the Big East Championship. They did it with a combination of strong defense and stellar QB play from Zach Collaros.
Both were on display in a win over Pittsburgh. The defining moment came in the waning moments of the game.
Leading 26-23, Cinci kept the Panthers at a distance for a potential game-tying field goal. Pitt had to attempt a 50-yard field goal which sailed wide right, giving Cinci the win.
The win saw the Bearcats improve to 3-0 in the Big East.
Clemson
There have been plenty of terrific plays in Clemson's ACC title season but the second half against Auburn stands out for me.
Here, Sammy Watkins breaks a tie game with a simple curl route and then a burst of speed.
It was Watkins and Clemson's coming-out party—second half dominance against defending champ Auburn was just a sign of things to come.
Colorado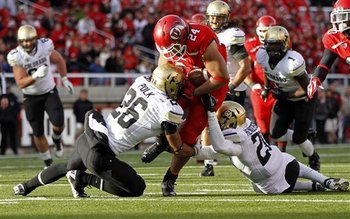 Colorado was riddled with injuries this season, forcing wide receivers to convert to defensive backs mid-season. Through it all, the Buffs kept fighting.
Their hard work paid off in the end as they won two of their final three games. The final win was most shocking—a 17-14 win over Utah.
Twice Utah threatened in the fourth quarter. First, they missed a 26 yard field goal. Then, driving once again, Utah fumbled, forced by Ray Polk.
Colorado took over with a few minutes left and were able to run off some clock and keep the Utes pinned in.
Utah would drive once again, but would miss a 48 yard field goal.
Connecticut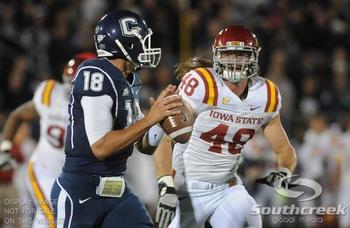 No game was more emblematic of the Huskies' frustration than a loss to Iowa State at home.
The Huskies were able to score only three points off of three first quarter interceptions. They would end up losing 24-20.
The most grueling moment had to be an interception from Johnny McEntee the very next play after the Huskies had gotten the ball off of a Steele Jantz turnover.
Duke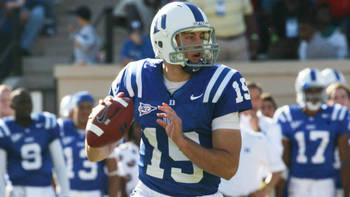 Duke has been a sleeper pick the past few years, often times being chosen to go .500 and make a bowl game.
Their hopes were de-railed early this season with a loss to Richmond.
Down 23-21 with only a couple of minutes left, Duke lined up for a 28 yard field goal (this after having a 1st-and-goal from the 10). The field goal was no good and Duke lost.
Florida
The Gators were solid on defense and inconsistent on offense all season. No game is more emblematic of that than their matchup against rival Georgia.
Florida had a 72-yard gain on the very first play from scrimmage, setting up a first down at the Georgia 21. Despite the great position, they came away with zero points. (You can see this sequence by fast forwarding to 7:50 of the attached clip.)
Florida would still build a 17-3 lead before giving up a touchdown right before the half. They would go on to lose, 24-20.
Their failure to finish the half and failure to finish off their first drive made the difference in the game.
They tallied only 226 yards on the day—72 of which came on the first play.
Florida State
FSU had a disappointing season, finishing 9-4 after being a preseason top five team.
FSU out-gained Virginia at home but would eventually fall. The Noles gave up a touchdown with 1:16 left to fall behind 14-13.
They were then able to drive to the 30 yard line without picking up any more yards. A Virginia offsides penalty put the ball at the 25, but the field goal was still missed.
Georgia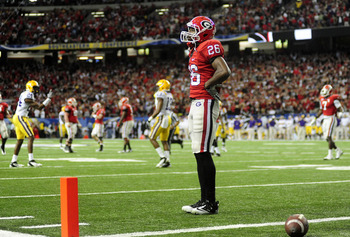 UGA lost their first two games but were able to recover by winning 10 straight. When it was all said and done, they had the chance to pull off a major upset and win the SEC title.
They outplayed LSU in the first half, building a 10-0 lead. In fact, the lead should have been more, if not for a few touchdown drops and a missed field goal.
Here we see Malcolm Mitchell following a dropped touchdown. UGA would miss the ensuing field goal.
While the Dawgs would go on to lose 42-10, it isn't a certainty the game would have been different if they had built a bigger lead going into the half.
Georgia Tech
Georgia Tech was a boom-or-bust-type of team this season. Some weeks they would look like a top ten team, other times they would look like one of the worst teams in the BCS.
Sticking with the optimistic side, we'll look at Orwin Smith's 95-yard rush against Kansas. It was Georgia Tech's first play from scrimmage and shows off the potential of the triple option attack.
Illinois
Illinois started 6-0, their best start in 60 years, and finished 0-6 en route to firing head coach Ron Zook. No game was more frustrating than the loss to Penn State.
Nearing the end of the first half, Illinois had a touchdown called back on an illegal motion penalty. They would miss a field goal a couple of plays later and enter the half tied 0-0.
Still, they led 7-0 late in the fourth quarter. Penn State would cut the lead to 7-3 with seven minutes left and then score another touchdown with one minute left.
Illinois would drive the length of the field but miss a 42 yard field goal that would have forced overtime.
The entire game defined Illinois' season.
Indiana
Indiana had a disappointing season under first-year coach Kevin Wilson.
If one had to pick a play that symbolized all the struggles, this punt against Wisconsin would be a good selection.
Already down 7-0, Indiana lined up to punt. The rugby punt never went three feet above the ground as it hit another player and was recovered by Wisconsin.
Wisconsin would go on to win 59-7.
Iowa
Iowa's defense was not as strong this season as it has been in years past.
This was most on display in a triple-overtime loss to in-state rival Iowa State.
Having given up a touchdown with one minute left to force overtime, Iowa also gave up a touchdown in each of the overtimes. The final one came on a four-yard rush from James White, giving Iowa State a 44-41 win.
Iowa State
Iowa State pulled off the upset of the year with their win over Oklahoma State.
The win was a major upset for the program and also had national implications, knocking OSU out of the national championship race.
First, Iowa State forced an interception in the second overtime. Then, Jeff Woody punched in a four-yard touchdown to finish the upset, 37-31.
Kansas
Kansas finished dead last in the nation in points allowed this season, so it would only be appropriate to share highlights of the game in which they allowed 70 against Oklahoma State.
The Cowboys scored 56 in the first half. They had eight drives and scored a touchdown on every single drive.
Kansas State
KSU was a surprise team this year, going 10-2. They fought to the end in every game and had several close finishes.
No game is more emblematic of the season other than the 4OT game against Texas A&M.
The teams traded touchdowns and field goals in the first three overtimes. Then, in the fourth, KSU was able to hold A&M to a field goal.
On their possession, Collin Klein was able to run the ball in from one yard out, giving the Cats a 53-50 win.
Kentucky
Kentucky improved down the stretch, winning three of their last six games, including a small nine point loss to Georgia.
Their greatest triumph came in the finale against Tennessee. Their 10-7 win knocked Tennessee out of a bowl game and was the first win in 26 attempts against the Vols.
A late interception by Taiedo Smith sealed the Vols fate and gave UK a great win to end their season.
Louisville
Louisville was the biggest surprise champion of all this year, finishing 5-2 in the Big East to earn a split title with West Virginia and Cincinnati.
Their biggest win came against the Mountaineers. The biggest play of the game—a blocked field goal.
Louisville was leading 24-21 but WV lined up to attempt a chip shot field goal to tie the game. Louisville blocked it and Andrew Johnson returned it 82 yards to take a 31-21 lead.
The Cardinal would go on to win, 38-35.
LSU
Mathieu's strip and score against Oregon was a terrific play, but it was only the beginning.
It was an introduction to the world for Mathieu and the Tigers.
Mathieu would go on to score defensive or special teams touchdowns against Kentucky, Arkansas and Georgia. Against Arkansas and Georgia, the plays were significant momentum changers, just as this one against Oregon was.
Maryland
Maryland won exactly one game against FBS opponents this year—their opening game against Miami. They had several close calls following that but a mixture of poor defense and inconsistent offense doomed them—that, or their special teams.
In the midst of a potential upset bid, Maryland took the lead over Clemson with seven minutes left, 45-42. The ensuing kickoff went right to Sammy Watkins, and he took it to the house, untouched.
Maryland would lose, 56-45.
Miami
Miami had several off-the-field issues to deal with this season, including eight suspensions by the NCAA before the season even started.
They suffered through several close losses this year but an early season loss to Kansas State may have set the Canes back the most.
Miami had a chance to win a close, hard-fought game at the end. The Canes trailed by four but had a 1st-and-goal from the two yard line. They threw it incomplete on first down and then had three straight rushes short of the goal line.
(You can fast forward to 3:52 for the goal-line stand.)
Michigan
The Wolverines remained a boom-or-bust offense this season. The best example of a "boom" would certainly have to be the final few minutes against Notre Dame.
Despite being down 31-28 with 22 seconds left and the ball on their own 20-yard line, Michigan found a way to win.
This win went a long way in earning a Sugar Bowl berth.
Michigan State
Michigan State beat Wisconsin for the second-straight year with the most exciting play in college football—the Hail Mary.
The ball was batted up in the air straight to Keith Nichol. The play was originally ruled down at the one-yard line but was reversed and ruled a touchdown.
Michigan State would finish 7-1 in the Big Ten, the best record in the league. The Spartans would lose the rematch, however.
Minnesota
Minnesota struggled most of the year, finishing 3-9. Still, they played USC tough and were able to spring upsets over Iowa and Illinois.
Their midseason upset over the Hawkeyes gets the nod here.
Trailing 21-10 halfway through the fourth quarter the Gophers did not quit. They scored, got the ball back on an onside kick and then went on another long drive.
Their final drive was capped off with a Marqueis Gray touchdown rush on fourth down to take a 22-21 lead with just under three minutes left.
The defense stiffened and the Gophers pulled out a major upset.
Mississippi
Ole Miss had a bad year, going winless in SEC play as Houston Nutt was eventually let go. While there were several struggles, they had opportunities to win some big games.
The season got off to an inauspicious start. Leading BYU 13-0 with 10 minutes left, the game seemed to be in hand.
Ole Miss first let BYU go on a long drive to cut the lead to 13-7. Then Ole Miss fumbled the ball away, leading to a defensive touchdown for the Cougars.
Ole Miss couldn't do anything on the ensuing possession, and they fell 14-13.
This isn't to say that Ole Miss would have won the national title or even been in a bowl had they won their opening game. It's just a terrible way to start the season.
Mississippi State
MSU had several close losses this year, but the first may have been the most grueling.
Down seven against Auburn with seconds left, MSU had a 1st-and-goal from the one. They could not score. Two straight rushes netted zero yards, and Auburn walked away with a win.
What isn't seen here is the play leading up to the first and ten. Prior to this, MSU appeared to be in the endzone, but the ball was placed at the one, setting up the plays seen here.
Missouri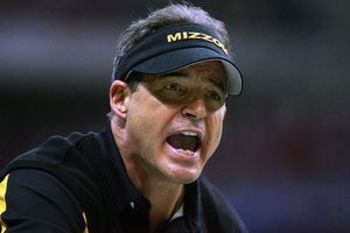 "The Double Ice."
Much has been made how Dallas Cowboys coach Jason Garrett iced his own kicker a few weeks ago. What is lost in all this is that Mizzou coach Gary Pinkel did the same thing in the second week of the season—twice.
Mizzou battled back on the road against ASU and had a chance to win the game in regulation. They faced a 2nd-and-5 from the 30-yard line and had two timeouts.
Mizzou refused to run to center the ball and pick up extra yards. Instead, they fired two incomplete passes. Then, they ran kicker Grant Ressel on to try a 47-yard field goal—but not before calling TWO timeouts.
Ressel missed the kick and the Tigers lost in overtime.
Nebraska
Nebraska struggled against stronger competition this season and took care of business against lesser competition (save for Northwestern).
Their greatest moment came in a comeback win against Ohio State.
OSU led 27-6 early in the third quarter, but then QB Braxton Miller went down.
Nebraska used the momentum to finish the game on a 28-0 run. The run was capped off with a Rex Burkhead touchdown run, seen here. Burkhead would finish with 178 total yards and two touchdowns on the night.
North Carolina
We didn't know what to make of North Carolina throughout the season.
They were playing with an interim coach and had close losses to Georgia Tech, Virginia Tech and Miami, but they lost to NC State 13-0 and only won two of their final six games.
All questions were answered with a disappointing performance against Mizzou in the Independence Bowl. What was considered a pretty good defense all season had no answer for the Tigers attack.
Mizzou scored on all five of their first-half possessions for four touchdowns and a field goal. Their 31 first-half points were plenty as they went on to win 41-24.
North Carolina State
N.C. State needed seven wins to get to a bowl game this season since they played two FCS teams. They entered their final game against Maryland with six wins but figured to win easily against the hapless Terps.
Not so fast. The Wolfpack trailed 41-21 entering the final quarter. Then they outscored the Terps 35-0 to win 56-41!
They scored 14 points in 90 seconds and 21 points in seven minutes. Their fourth quarter point total was the second most in the history of the FBS for any team that ended up tying or winning the game.
Northwestern
Northwestern needed to pull out an upset down the stretch to make a bowl game and they got it with their big win in Lincoln.
Already leading 14-10 early in the fourth quarter, Kain Colter found Jeremy Ebert for an 81-yard touchdown against the Blackshirts defense. Northwestern would go on to win 28-25, earning their fourth win of the season.
They would go on to beat Rice and Minnesota to win six games and earn a bowl berth.
Notre Dame
Notre Dame was a high-powered offense this season. At times, it seemed that the only people who could stop them were themselves.
This was on display immediately. The Irish took the first drive of the season right down the field against USF—only to fumble on the one-yard line and have it returned 99 yards for a touchdown.
Notre Dame would turn the ball over inside the five-yard line against Michigan, USC and Florida State.
All in all, they turned it over inside the five at least once in four of their five losses.
Ohio State
Ohio State football was a mixed bag this year.
On one hand, finishing 6-6 with a win over Wisconsin in a year full of off-the-field drama could be seen as a good season. On the other hand, a blown lead against Nebraska and a loss to Purdue and Penn State may have cost the Buckeyes bigger things.
We'll stick with the positive here. Ohio State was able to beat Wisconsin on a Hail Mary—a play that is overshadowed by Michigan State's Hail Kary the week prior.
The play gave OSU their fifth win of the season and would prove crucial as the Buckeyes ended up winning six games. It also gave glimpses into a promising future with a healthy Braxton Miller.
Oklahoma
Oklahoma suffered through injuries down the stretch and their play suffered, but their title hopes were initially quashed with a loss to Texas Tech.
The key play actually is not seen here. Trailing 41-31 with three minutes left, Oklahoma missed a 27-yard field goal.
They would end up getting the ball back and scoring a touchdown, but the ensuing onside kick was recovered by Tech. OU would lose by three with the missed field goal the difference.
It was one of the biggest upsets of the season and broke the Sooners' nation-leading home winning streak.
Oklahoma State
Oklahoma State would win their first ever Big 12 title this season, and it wouldn't have happened if not for some big comebacks early in conference play.
Trailing 20-3 to Texas A&M at halftime, the Cowboys would battle back to win 30-29.
Weeden would lead the Cowboys on three straight touchdown drives in the third quarter to take control of the game. The third quarter against the Aggies stands out as the difference in the Cowboys' season.
Oregon
Oregon's national title hopes were dashed on the first Saturday of the season. Still, they pressed on and knew they had to win in Palo Alto to win the Pac-12.
The Ducks dominated the Cardinal. They scored halfway through the first quarter and proceeded to go for two, taking an 8-0 lead. Stanford would later score and miss the extra point, setting up an odd 8-6 score.
The Ducks would end up winning 53-30.
Oregon State
The Beavers got off to a rough start this season and were never able to recover. They lost their opening-week tilt against Sacramento State en route to a 3-9 season.
The game would go to overtime with the Beavers getting the ball first. They would score a touchdown but could not keep the Hornets out of the endzone.
Sacramento State would go for two points and the win, finishing off the upset, 29-28.
Penn State
Penn State won several close games this year—five by fewer than six points.
None may have been greater than a win against Ohio State—their first and only following the allegations that enveloped the program.
OSU took over, down 20-14 with seven minutes left. The Buckeyes were able to drive to the Penn State 41 but would stall. On 4th-and-10, Braxton Miller was flushed to the right and forced to scramble. His dive came up short and the Nittany Lions took over.
They would later punt with less than a minute left, but, at that point, OSU had no chance to score.
Pitt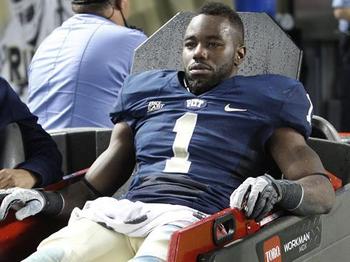 Pitt had a terrible offensive line this season, allowing the most sacks in the nation by far. Despite this, they were successful early due to the talents of Ray Graham.
Graham would be lost for the season in a game against UConn. The Panthers would go only 2-2 in the final four games, losing by three to Cincinnati and by one to West Virginia.
All in all, the Panthers finished 4-3 in the Big East, one game behind the leaders.
Graham was the leading rusher in the nation at the time of his injury.
Purdue
The Boilermakers needed to win two of their final three games—not an easy task with OSU, Iowa and Indiana on the docket.
As it turned out, they would get the upset they needed in overtime against the Buckeyes.
They held the Buckeyes to a field goal in the first possession of overtime. Then, they took eight plays to go 25 yards for a touchdown and a win.
The big play came on 3rd-and-12 from the 15. QB Robert Marve found Gary Bush for 14 yards to set up 1st-and-goal from the one. Marve would then sneak it in for the win.
Rutgers
Rutgers played great defense all season and had many close calls down the stretch. While it wasn't in Big East play, they notched a huge victory over Navy early in the year.
Trailing 21-20 with six minutes left, Navy took over on the Rutgers 23-yard line. Rutgers would not allow a first down and would then block a potential game-winning field goal to preserve a 21-20 win.
South Carolina
South Carolina finished 10-2—only the third time they've won 10 games in program history.
Pessimists will circle their loss to Auburn, which may have cost them their second consecutive SEC East title.
Being the optimists that we are; however, let's focus on the win over Georgia.
Trailing 13-7 late in the first half, South Carolina faced a 4th-and-7 from their own 32. They decided to run a fake punt to defender Melvin Ingram. Ingram ran it 68 yards for a touchdown, generating mascot reaction of the year from Hairy Dawg at 1:59.
South Carolina would win, 45-42.
South Florida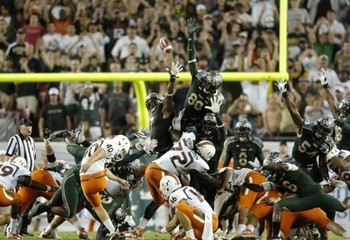 South Florida started 4-0, which included a win over Notre Dame. They finished 1-7 and missed out on a bowl.
There were plenty of lowlights but they hit rock bottom in a 6-3 loss to the Hurricanes. The Bulls lost QB B.J. Daniels and tallied only 249 yards.
The defense played well enough to win at times. Still, Miami took over with seven minutes left on their own 20-yard line.
USF would let them drive the length of the field and use all seven minutes en route to a game-winning field goal as time expired.
Stanford
Stanford went into the Coliseum and got everything they could ask for. They trailed 34-27 with minutes left following a pick six from Nickell Robey.
Luck got the ball back and led the Cardinal on a game-tying drive (starts at 16:26). Aided by a questionable 15-yard penalty on T.J. McDonald and an odd spotting on a holding call, they scored.
They would end up winning in three overtimes, preserving their shot at a national title. While they would lose a couple of weeks later to Oregon, they are still headed to the Fiesta Bowl with an 11-1 record.
Syracuse
Syracuse had a few breaks go their way this season but were still unable to reach a bowl game. They had a huge comeback against Wake Forest in the season opener and were then aided by a botched call against Toledo.
Syracuse would score to go up 29-27 and clearly miss the extra point. The refs ruled it good but then went to review. Even after the review, the referees still ruled it good.
Toledo would kick a field goal at the end of regulation to tie the game; whereas if the extra point had been ruled no good, they would have won. Toledo would lose the game in overtime.
Syracuse would start 5-2 but lose their final five games.
TCU
TCU is set to join a BCS conference next season, so we can classify them as such.
They left behind the Mountain West with a bang, running the table. The biggest win, of course, came on the road in Boise.
The game was even throughout but the Frogs trailed by seven with minutes left. They were first able to force a turnover, then drove the length of the field.
Unsatisfied with a potential tie, TCU went for two, and Casey Pachall found Josh Boyce for a completion, taking the lead 36-35.
It was the first time Boise had lost at home in nearly 10 years.
TCU would finish 7-0 in their final year in the MWC.
Tennessee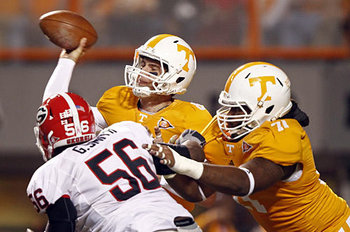 The Vols appeared to be turning a corner this season, starting 3-1, including a romp over Cincinnati.
Then, Tyler Bray went down in a loss to Georgia.
Following that, the Vols played tougher competition and had no chance without their star quarterback. They won just one of their next five games (beating Middle Tennessee State).
Texas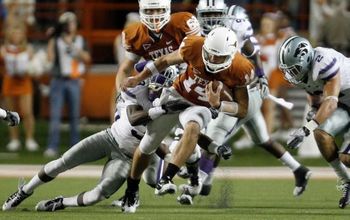 Texas had a disappointing season this year, struggling with injuries down the stretch. They finished 8-5 following a win in the Holiday Bowl over Cal.
Still, the oddest box score in the entire nation had to come in the Horns' loss to Kansas State. Texas lost 17-13, despite giving up only 121 yards! (Texas themselves gained 310.)
How did this happen? KSU scored their first points after a David Ash interception gave the Wildcats the ball on the 16-yard line. KSU would convert one fourth down and use seven plays to go 13 yards and settle for a field goal.
Their second touchdown came in the third quarter following an Ash interception that gave the Cats the ball on the 37.
In short, two crucial interceptions sum up Texas' frustrations at QB the entire season.
Texas A&M
Texas A&M was the definition of a "first-half" team this year. The Aggies trailed only once at halftime this season but finished 7-6.
The biggest blown lead came against Arkansas. Up 35-17 at the half, A&M gave up over 300 yards to Arkansas quarterback Tyler Wilson in the second half.
The Aggies tallied 628 yards in a losing effort. That would be the story of the 2011 Aggies.
Texas Tech
Despite beating Oklahoma, the Red Raiders finished 5-7, losing their last five games. Still, we'll focus on the good.
The Raiders took a 41-24 lead over the Sooners in the fourth quarter with a beautiful 14-yard touchdown pass to Tramain Swindall (seen at 8:20).
The touchdown would end up being the difference in one of the biggest upsets of the year.
UCLA
The fight, again.
The only play that is on this list twice, it is even more applicable to UCLA. The Bruins had a golden opportunity to make a name for themselves in a nationally-televised game in Tucson.
Arizona was struggling in their first game following the firing of Mike Stoops.
Instead, UCLA fell behind 42-7 in the first half. Then, right before the half, they instigated a fight with the Wildcats.
The Bruins would go on the be a punchline of sorts. Going into the game against USC, the Bruins had already locked up a spot in the Pac-12 title game, but lost to the Trojans 50-0.
They would be five-touchdown underdogs against Oregon in the title game (which they covered). Then they petitioned to make a bowl at 6-7. They would lose and be the first team to finish 6-8.
USC
It was an incredible season for the forgotten Trojans. Despite showing flashes of greatness throughout the year, USC entered the game in Oregon as 15-point underdogs.
They put the Ducks, and the rest of the nation, on notice early with a long touchdown pass to Marqise Lee. USC would use the big play to build a 21-7 half time lead.
The Trojans led 38-14 and were able to hang on to win 38-35, snapping Oregon's 21-game home win streak.
Barkley and Lee would become one of the nation's best combos (in addition to fellow receiver Robert Woods). Lee would catch 73 passes for 1,143 yards on the year.
With Lee, Woods and Barkley all returning next year, the future looks bright in SoCal.
Utah
The entire second half against BYU is enough to be a defining moment for the Utes.
Utah outscored BYU 40-0 in the second half and forced seven turnovers on the day to demolish their in-state rivals.
Utah would finish on a high note, going 8-5 and beating Georgia Tech in the Sun Bowl. Everything will always pale in comparison to winning the Holy War.
Attached are all seven turnovers.
Vanderbilt
James Franklin's postgame speech following Georgia is the only non-game-related clip on this list, but it's clear that it was a defining moment in not only the program's season, but their history.
Hearing Franklin talk, it is no wonder how Vanderbilt was successful this season. He has been able to successfully change the whole attitude and mindset of the program.
Vanderbilt had lost to Georgia by five points when Franklin delivered this speech. After the speech they went 3-3, but those losses were to Florida by five, to Arkansas by three and to Tennessee in overtime on a terrible call by the officials.
All in all, they could have easily been undefeated following the speech and played much tougher competition evenly.
Virginia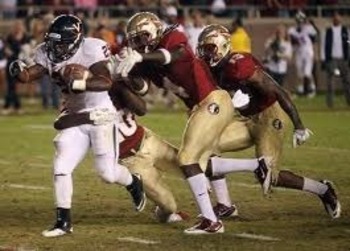 Virginia earned a third-place finish in the ACC and spot in the Chick-fil-A Bowl.
To do so, they had to pull off a big upset on the road in Tallahassee.
The Cavs trailed the entire second half and were down 13-7 with just a couple minutes left. Taking over at their own 25, Michael Rocco completed four straight passes to get the ball down to the FSU 10. Then, Kevin Parks rushed in to take the lead 14-13.
FSU would miss a late field goal (see FSU slide) and the Cavs escaped with a huge win.
Virginia Tech
The Hokies were 0-2 versus Clemson and 11-0 versus everyone else.
Their season still came down to a final week matchup against rival Virginia. The winner would be the ACC Coastal Champ and face Clemson.
VT made it no mystery early on as to who owned the state of Virginia. They dominated their rival, 38-0.
The whole game was a defining moment but here are two of QB Logan Thomas' touchdown passes.
Wake Forest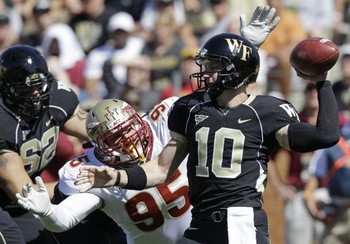 Wake Forest exceeded the expectations of many this season, finishing 6-7—but 5-3 in the ACC.
They had a chance to take the Atlantic Division entering the final week against Clemson, but a last second loss saw them finish second in the division.
The highlight had to come in a mid-season win over Florida State. The Demon Deacons led 16-14 entering the half and were able to build on their lead with a safety and touchdown pass in the third quarter.
The final blow came early in the fourth. Tanner Price found Terrence Davis for an eight-yard touchdown pass, giving WF a 32-14 lead. They would go on to win 35-30.
Washington
The final 26 minutes of last week's Alamo Bowl would certainly qualify as a defining moment for the Huskies. Washington looked great at times this season and dismal at others. They had a nice offense and a poor defense.
Enter the final 26 minutes of the game. Washington had built a 42-24 lead and looked unstoppable. Then, both sides of the ball broke down. Washington was outscored 43-14 in the final 26 minutes of the game, allowing a long touchdown run with two minutes left to seal their fate.
Baylor would kick the ball short and a Washington lineman fielded it. He gave it his maximum effort but fumbled, removing any chance of a comeback.
Washington State
Wazzu had several close calls early in the season, so much so that they could have been 5-0 (they were 3-2 but led in every game going into the fourth quarter).
The only highlight in the second half of the season came in a win over Arizona State. QB Marshall Lobbestael was injured early, forcing in back-up Connor Hallidy. Halliday would throw for 494 yards and four touchdowns in three-and-a-half quarters as the Cougars upset ASU, 37-27.
The Cougars trailed 27-23 entering the fourth but they quickly took the lead with a Halliday TD pass to Isiah Barton. They capped it off later with a one-yard TD plunge from Carl Winston.
Halliday's entire performance qualifies as the defining moment for the Cougars.
West Virginia
West Virginia needed a win and some help entering the final weekend. Playing on a Thursday night, they were up first.
They trailed USF 27-20 with less than six minutes left. Dustin Garrison found the endzone to tie the game. Then, they forced a three-and-out, getting the ball back with three minutes left.
They then faced a 4th-and-10, but Geno Smith found a diving Stedman Bailey to pick up the first down (0:58). After that, they didn't need to move the ball any further. They called on kicker Tyler Bitancurt and he easily made the field goal to give the Mountaineers the win.
Had Bailey not made the terrific diving catch, the Mountaineers may have lost in OT and missed out on the Orange Bowl.
Instead, the Mountaineers would get the help they needed and would split the Big East championship. As a result of a tiebreaker, WV was selected by the BCS to be in the Orange Bowl.
Wisconsin
After all the drama of Hail Marys and close calls, it all came down to one game. The national championship was gone, but it was simple. The winner of the Big Ten title game between Wisconsin and MSU would go to the Rose Bowl.
Wisconsin won what turned out to be a classic, 42-39. They trailed at the half and all through the third quarter.
Then, to start the fourth, Russell Wilson found Montee Ball to cut the lead to two. A Dan Conroy field goal gave the Spartans a five-point lead with eight minutes left.
Wisconsin took over and began their drive. Faced with a 4th-and-6 from the MSU 42 yard line, Wilson found Jeff Duckworth for a 36-yard catch. It was only Duckworth's 15th catch of the season (and caused the biggest Gus Johnson reaction since Gonzaga-UCLA 2006). Ball rushed it in on the next play, giving the Badgers a 42-39 lead.
Wisconsin would then force a three-and-out and be the beneficiaries of a running-into-the-kicker penalty.
But still, it was the Duckworth catch and Ball rush that gave Wisconsin the win in crunch time and sent Wisconsin to Pasadena.
Keep Reading