Week 17 Fantasy TE Rankings: A Hot Tight End Can Still Make a Difference
December 31, 2011
Figuring out who the best tight end plays are from week to week is usually a pretty easy task, but by no means is it simple—especially in Week 17 with playoff implications to consider and a few teams looking to sit their starters.
That's why those of us in the fantasy industry put together these lists for you—to give the reader a gauge of what to expect from his or her players on any given Sunday.
With that, here are the weekend's top 32 tight ends along with some detailed analysis on the five best plays for the week.
Owen Daniels (vs. Ten): ******* OWEN DANIELS HAS BEEN RULED OUT FOR WEEK 17 *******
32.   Daniel Fells (vs. KC)
31.   Dennis Pitta (@ Cin)
30.   Jacob Tamme (@ Jax)
29.   Scott Chandler (@ NE)
28.   Heath Miller (@ Cle)
27.   Todd Heap (vs. Sea)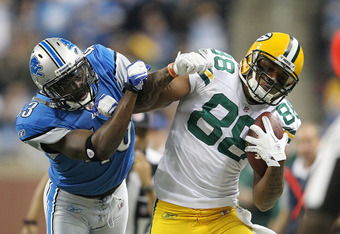 Leon Halip/Getty Images
26.   Tony Scheffler (@ GB) – SLEEPER CANDIDATE
25.   Jermichael Finley (vs. Det) – *RISKY PLAY* - MAY SEE ONLY ONE HALF OF ACTION
24.   Evan Moore (vs. Pit) 
23.   Marcedes Lewis (vs. Ind)
22.   Jeremy Shockey (@ NO)
21.   Kellen Davis (@ Min)
20.   Owen Daniels (vs. Ten) – *RISKY PLAY* - MAY SEE ONLY ONE HALF OF ACTION
19.   Kyle Rudolph (vs. Chi) – SLEEPER CANDIDATE
18.   Anthony Fasano (vs. NYJ)
17.   Joel Dreessen (vs. Ten)
16.   Dallas Clark (@ Jax) – SLEEPER CANDIDATE
15.   Greg Olsen (@ NO) 
14.   Vernon Davis (@ StL) – POTENTIAL BUST
13.   Kellen Winslow Jr. (@ Atl)
12.   Jared Cook (@ Hou)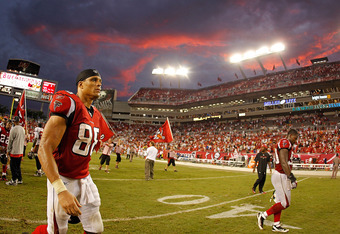 Mike Ehrmann/Getty Images
11.   Jermaine Gresham (vs. Bal)
10.   Ed Dickson (@ Cin)
9.     Dustin Keller (@ Mia)
8.     Tony Gonzalez (vs. TB)
7.     Brandon Pettigrew (@ GB)
6.     Jason Witten (@ NYG – Sunday Night)

THE TOP FIVE
5. Antonio Gates (@ Oak)
It hasn't been easy for Gates this year coming back from a plantar fasciitis injury that debilitated him for the greater part of 2010 and even forced him to sit out a few weeks this season, but he still remains one of the best fantasy tight ends in the game and is always a threat to go off at any time.
The Raiders did pretty well in containing him back in Week 10 holding him without a touchdown catch while letting him grab just five balls for 54 yards, but that's certainly not the norm as even a hampered Gates was able to nab a TD pass in each of his two games against them last season.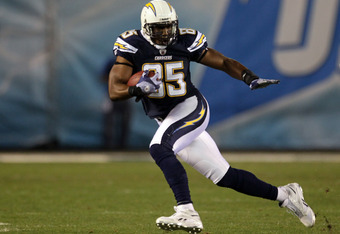 Stephen Dunn/Getty Images
San Diego has nothing to play for in this one but pride on Sunday—something Antonio seems to have quite a bit of—so I'm expecting a nice finish to the season for the Chargers star tight end.
4. Aaron Hernandez (vs. Buf)
Rob Gronkowski was easily  the biggest name in fantasy circles throughout the 2011 season, but Aaron Hernandez has been known to steal the spotlight on occasion and could do so one more time this weekend.
Actually, since the Bills have been so insanely bad at covering tight ends this year, it wouldn't shock me to see BOTH the Patriots tight ends come away with big fantasy games this Sunday and end the season the same way it started...
Back in Week 1 against Miami, Hernandez had seven catches for 103 yards and a TD, while Gronk had six catches for 86 yards and a TD.
Could it happen again?
With Tom Brady at the helm, yeah, I'd say it most certainly could.
3. Brent Celek (vs. Was)
Other than The Incredible Gronk and Jimmy the Giant, is there a hotter tight end than Brent Celek in the league right now?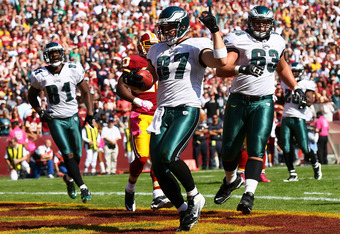 Win McNamee/Getty Images
The answer is "no" in case you've been on sabbatical for a month.
Celek has put up the third-most fantasy points (standard scoring) behind Gronk and Graham over the last five weeks and has actually out-performed the latter in his last three.
Considering the Redskins defense allows the fourth-most fantasy points per game to opposing tight ends, I like Celek's chances of continuing his hot play in the final week of the regular season.
2. Jimmy Graham (vs. Car)
Though he's in just his first season as a starter for the Saints, Jimmy the Giant has been a fantasy beast all year long putting up a whopping 91 catches for 1,213 yards and 10 TDs on the season.
His 10 touchdowns are obviously impressive, but what has me even more riled up heading into the final week of the 2011 fantasy season are those 91 catches for 1,213 yards.
The Saints themselves may not be playing for much this weekend, especially if the 49ers beat the Rams, but Graham sure is.
Only twice in NFL history has a tight end grabbed 100 or more balls in a season (Tony Gonzalez, 102 (record), in 2004; Dallas Clark,100, in 2009), so you can bet the big guy has an eye on that one.
In addition, the single-season record for receiving yards by a tight end is 1,290 set by Kellen Winslow back in 1980.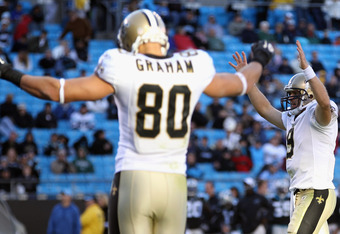 Streeter Lecka/Getty Images
Rob Gronkowski (also in his second season) may be six yards closer to nabbing that record at the moment, but considering what Graham did to Carolina earlier in the season (eight catches for 129 yards), I'd say the chances are 50-50 as to who gets it this weekend.
1. Rob Gronkowski (vs. Buf)
If Rob Gronkowski gains 72 yards against the Bills this Sunday, he will break the NFL record for most receiving yards by a tight end in a single season (Kellen Winslow, San Diego, 1,290 yards in 1980).
I'm here to guarantee fantasy owners that it happens.
Though Tom Brady and coach Bill Belichick both know the most important thing for the Patriots to do right now is to secure home-field advantage throughout the playoffs doesn't mean they don't also understand what it means to get your name in the record books.
Since Gronk has obviously been a huge part of the team's overall success this season, you can bet the farm Brady and Co. will do everything they can to show their appreciation by getting him that record come Sunday.
Regardless, even if the record was nowhere in sight, Gronk still had seven catches for 109 yards and two TDs in their first matchup while the Bills D has allowed the most fantasy points to tight ends this season.
You do the math. 
Click here to see the Week 17 Rankings for QBs, RBs and WRs

Brought to you by pyromaniac.com
Listen and subscribe to our Pyro® Weekly Podcasts: http://pyromaniac.buzzsprout.com
Follow Pyro® on Twitter:  https://twitter.com/pyroman1ac
Follow Pyro® on Facebook:  http://www.facebook.com/pyromaniac