"Jaws Theme Song" for San Jose Sharks and a Song for Every Other NHL Team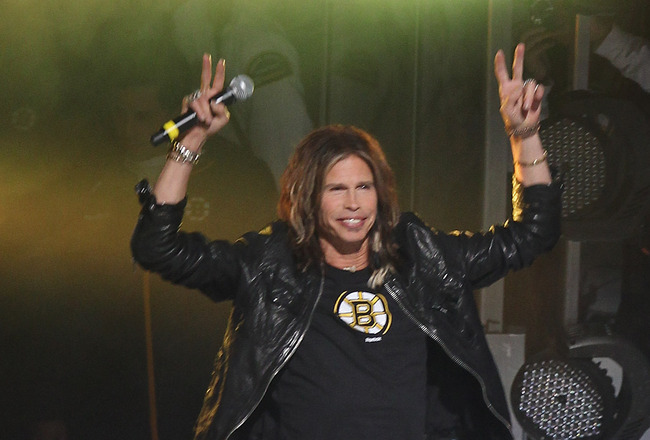 Bruce Bennett/Getty Images
Sports and music seem to go hand-in-hand. Being an avid hockey fan as well as guitar player, I couldn't help but notice how some songs remind me of certain teams.
Whether they are songs that describe teams, are from artists from the same cities as the teams, or are used as theme songs by certain teams, music can play a big part in fan entertainment.
Anaheim Ducks: "We Are the Champions" by Queen
Obviously, this might not make a lot of sense. The Ducks are not the defending Stanley Cup champions, but this scene from D2: The Mighty Ducks has always made me associate the song with this team.
Boston Bruins: "Kernkraft 400" by Zombie Nation
There are a lot of the songs that I could use for the Bruins (basically anything by the Dropkick Murphys), but this one reminds me of Boston the most. I hear it after every goal they score.
Buffalo Sabres: "We're Gonna Win That Cup"
Unfortunately, the Sabres still have not been able to win "that cup." But this song has been prominent during their playoff runs throughout the years.
Calgary Flames: "Shot Down in Flames" by AC/DC
Great band, great song. It's a perfect fit as the Flames' goal song.
Carolina Hurricanes: "Rock You Like a Hurricane" by Scorpions
This is a great classic rock song with an awesome guitar riff. It works for any hockey or sports situation, but definitely for any team named the Hurricanes.
Chicago Blackhawks: "Chelsea Dagger" by The Fratellis
Even though I'm a Red Wings fan, I have to admit this is a catchy song and I have it on my iPod. As long as I don't hear it during a hockey game, I like it.
Colorado Avalanche: "Scalped" by Dick Dale
This is the song that the Avalanche have used to come on the ice for years. It is often associated with the Avs for this reason.
Columbus Blue Jackets: "For Those About to Rock (We Salute You)" by AC/DC
In the summer of 2007, the Blue Jackets held a fan poll to determine their new goal song. This one was voted the winner. The Jackets brought in a cannon to add even more excitement to every goal.
Dallas Stars: "Puck Off" by Pantera
This song was written by the Texas-based rock band Pantera during the Stars' 1999 Stanley Cup run. Pantera is a pretty good band. If you listen to them often enough, you can hear the snippets of their other songs within this one.
Detroit Red Wings: Don't Stop Believin'-Journey
This was a toss up between "Lose Yourself," "Hey Hey Hockeytown," and "Don't Stop Believin'."
I picked this one because of the passion that it evokes from Detroit fans. It's played near the end of every home game win and is often played on the radio with highlight clips whenever the Wings are in the Stanley Cup Final.
It has now become somewhat of a theme song for Detroit, since it is played in the eighth inning of every Tigers' game and at Michigan football games, too.
Edmonton Oilers: "Youth of the Nation" by P.O.D.
This song fits the Oilers because of their bright future and young talent led by Ryan Nugent-Hopkins, Taylor Hall, Magnus Paajarvi and Jordan Eberle.
Florida Panthers: "Cat Scratch Fever" by Ted Nugent
Speaking of Nugents, how about a shout-out to the Motor City Madman!
This song just makes sense to go with the Florida Panthers.
Los Angeles Kings: "I Love LA" by Randy Newman
This song is about Los Angeles and the Kings use it as their goal song.
Minnesota Wild: "Born to Be Wild" by Steppenwolf
This is another song that just seems to be a perfect fit for a team.
Montreal Canadiens: "Vertigo" by U2
This is one of my favorite songs on this list. I always thought that it was a cool and unique goal song for the Habs.
Nashville Predators: "I Like It, I Love It" by Tim McGraw
I could have put a Carrie Underwood song on here, but I think it's pretty cool how the goal song of a hockey team from the Music City uses a special version of a classic Tim McGraw country song.
New Jersey Devils: "Runnin' with the Devil" by Van Halen
This song is played at a lot of sporting events, but it's pretty self-explanatory why I picked this for New Jersey.
New York Islanders: "Rock and Roll Part 1" by Gary Glitter
The Islanders decided to be unique and have used this other version of one of the most famous sports celebration songs.
New York Rangers: "Let's Go Rangers"
It has been slightly edited recently, but everyone recognizes this as the song of the Rangers.
Ottawa Senators: "Ottawa Senators Theme Song"
I'll admit I could not think of a song for the Sens, so I looked it up and turns out they have their own theme song.
Philadelphia Flyers: "Gonna Fly Now (Theme from Rocky)"
This song is perfect for the Flyers. It's the theme from one of my favorite movie series based in Philadelphia and has the word "fly" in the title.
Also, the fact that Rocky is a boxer fits the Broad Street Bullies.
Phoenix Coyotes: "Howlin' for You" by The Black Keys
My favorite band: The Black Keys. Two guys from Akron, Ohio famous for their bluesy style and unique music videos.
Obviously, this is perfect for the Coyotes. It is used as their goal song. I's safe to say that they're howlin' for...an owner that will keep them in Phoenix? (Okay, that was stupid but it makes sense, eh?).
Pittsburgh Penguins: "The Boys of Winter"
As much as I dislike the Penguins, this is an awesome theme song.
San Jose Sharks: "Jaws Theme Song"
What other song would this be? Although I have to admit, I'm getting pretty sick of hearing it every spring.
St. Louis Blues: "When the Saints Come Marching In"
I could have put a blues song instead, but this is played every time the Blues score a goal. The organ version makes it sound like something out of an old hockey video game.
Tampa Bay Lightning: "Thunderstruck" by AC/DC
This is the third AC/DC song in the list. This song is obviously the right fit for the Lightning and is a great song in general.
One thing that I always remember when I hear this song is how the Bruins came on the ice to this during the playoffs last year when they were facing the Lightning.
Toronto Maple Leafs: "Free to Be"
Like the Senators, I could not think of a song off of the top of my head for the Maple Leafs. I have never heard this before even though I have been to a game in Toronto.
Vancouver Canucks: "Where the Streets Have No Name" by U2
This is, without a doubt, the best entrance in sports. I got chills the first time that I saw the Canucks come on the ice to this song, and I still do every time.
Washington Capitals: "Hell Yeah" by Rev Theory
While this is a shortened and somewhat censored version of the original song, it has been one of my favorites since the Red Wings used it in their 2008 championship video.
Washington used it as its intro when I went there in 2009. It is now used occasionally as the goal song.
Winnipeg Jets: "The Best Day of Our Lives"
There are a lot of songs that I could have picked for the Jets, but this video and song show the passion that Winnipeg fans have for the team better than any other.
Keep Reading