Insight Bowl Preview: Iowa Hawkeyes vs. Oklahoma Sooners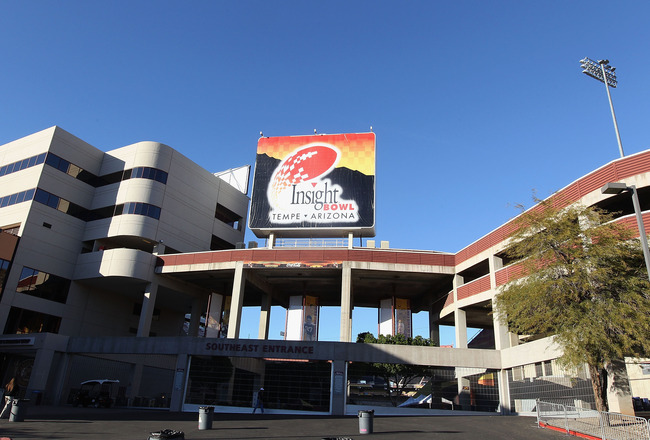 Christian Petersen/Getty Images
This year's Insight Bowl features the Iowa Hawkeyes against the Oklahoma Sooners, who were one of the preseason favorites to win this year's national championship, but had a disappointing 9-3 season.

The game will be played on Dec. 30 at 10 p.m. ET in Tempe, Arizona, at Sun Devil Stadium. The game will be televised on ESPN.

Read on to see why I think the nation could be in for a big surprise tonight.

Note: Rankings used are from my National Top 25 rankings.
Iowa Hawkeyes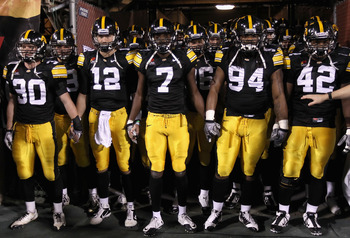 Christian Petersen/Getty Images
Record: 7-5 (4-4 Big Ten)

Biggest win: vs No. 14 Michigan, 24-16, Nov. 5

Worst loss: at Minnesota, 21-22, Oct. 29

It has been very much a roller-coaster ride for the Iowa Hawkeyes this season. They won half of their games on their Big Ten schedule, but never won more than two consecutive games this season.

The Hawkeyes won against Michigan, a team playing in the Sugar Bowl, but lost to Minnesota. Quite simply, it was never known what you were going to get out of Iowa on any given day.

The Hawkeyes rank 70th nationally in total offense, and their offensive troubles will be compounded by the suspension of their best running back, Marcus Coker. They rank 68th nationally in total defense.
Oklahoma Sooners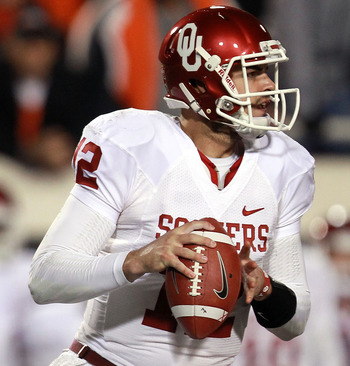 Ronald Martinez/Getty Images
Record: 9-3 (6-3 Big 12)

Biggest win: at No. 13 Kansas State, 58-17, Oct. 29

Worst loss: vs Texas Tech, 38-41, Oct. 22

The Oklahoma Sooners were expected by many to be finishing this season with a bowl game in Arizona. That game was expected to be the BCS National Championship Game, and the next logical choice would have been the Fiesta Bowl. Instead, a tough season for the Sooners concludes with the Insight Bowl.

In recent years, the Sooners have been to known to have a one-game lapse where they lose a game that they should win easily, and that happened again this year in a home loss to Texas Tech, which lost out after that game and were not even bowl-eligible.

Late in the season, injuries took a major toll on the Sooners, with their best wide receiver, Ryan Broyles, and their best running back, Dominique Whaley, both lost to season-ending knee injuries. Battling injuries, the Sooners lost two of their final three games of the season to Baylor and Oklahoma State.

Led by junior quarterback Landry Jones, the Sooners rank fourth nationally in total offense. That said, their offense has not been nearly as productive since the injuries to Broyles and Whaley. Defensively, the Sooners only rank 61st nationally.
Players to Watch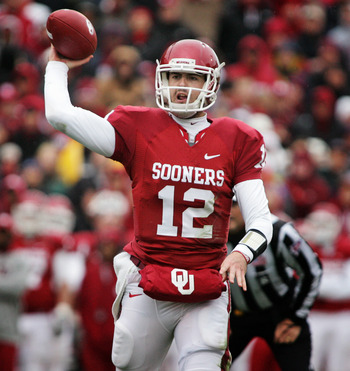 Brett Deering/Getty Images
Oklahoma QB Landry Jones, Junior

NFL Draft Grade: Round 1-2

Landry Jones is one of the elite quarterbacks in college football. Jones is a pure pocket passer who is accurate and possesses a strong arm.

Jones has been very productive this season, ranking fourth nationally with 4,302 yards. However, Jones has been inconsistent and really struggled down the stretch with the loss of his best wide receiver, Ryan Broyles. In his final two games of the season, Jones threw zero touchdowns, four interceptions, completed barely more than half of his passes and had less than six passing yards per attempt.

Even with these struggles, Jones has a good chance to be a first-round selection if he declares for the 2012 NFL draft. However, Jones is going to have to prove in the Insight Bowl that he can still play at a high level through the adversity of being without Broyles, Dominique Whaley and Jaz Reynolds, all of whom are injured. Jones has the talent to do so, he just needs to execute.


Iowa WR Marvin McNutt, Senior

NFL Draft Grade: Round 3-4

Marvin McNutt has emerged as a star receiver for the Iowa Hawkeyes this season. McNutt ranks 12th nationally with 1,269 receiving yards this season, and set school records for career touchdowns and receiving yards.

McNutt is long, athletic, a good route runner and a consistent catcher of the football. He is not tremendously explosive, but is a very productive wideout who should translate to a productive receiver at the next level.

In a game where Iowa will need to put up offensive production, McNutt's play will be crucial to the Hawkeyes' success, especially with the absence of running back Marcus Coker.


Iowa OT Riley Reiff, Junior

NFL Draft Grade: Round 1

The best player on the field for either team in this game may be Iowa left tackle Riley Reiff. Reiff is one of the best offensive linemen in all of college football, and with the premium placed upon left tackles in the National Football League, he is a likely top-10 pick in the upcoming 2012 NFL draft.

Reiff is a very well-rounded left tackle prospect. He has a great frame, is a very good technician, is strong and athletic. He is not quite as dominant as USC's Matt Kalil, who will almost certainly be a top-five draft pick, but if both declare, he will be battling Stanford's Jonathan Martin and David DeCastro to be the second offensive lineman off the board.

If Iowa's offense is to have a big game in the Insight Bowl, much of that will be because of the play of Reiff.


Oklahoma DE Frank Alexander, Senior

NFL Draft Grade: Round 5

Frank Alexander took over Jeremy Beal's role as Oklahoma's top pass rusher this year. He has 18 tackles for loss and 8.5 sacks this season.

Alexander has a tremendous motor, good technique and is effective both as a pass rusher and as a run stopper. The Sooners have a number of big-impact talent, but Alexander is their most consistent defensive playmaker.

Like Beal, Alexander is undersized for a defensive end, but may lack the athleticism for the transition to outside linebacker, which is going to hurt his NFL draft stock. That said, Alexander's skill set and motor make him worth an early Day 3 pick.


Iowa CB Shaun Prater, Senior

NFL Draft Grade: Round 3

Shaun Prater is one of the most talented cornerbacks in the nation. Prater's numbers were down in his numbers, but the main reason for that is that opposing offenses threw the ball his way less often.

With talented defensive backs Tyler Sash and Brett Greenwood having moved on to the NFL, opponents began picking on the Hawkeyes' other defensive backs, knowing Prater's ability to make plays. He is a consistent cover corner who lacks height, but is a good athlete, plays with physicality and tackles well.

Prater will be matched up against Oklahoma's top healthy receiver, Kenny Stills, in this game, and if he can keep Stills in check, it could be a very successful night for the Iowa passing defense, given the lack of receiving depth the Sooners have available in this game. With a strong performance in the Insight Bowl, Prater should be a Day 2 selection in the 2012 NFL draft.
Comparing the 2 Teams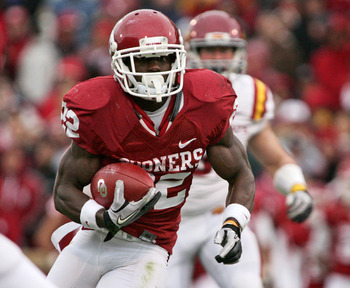 Brett Deering/Getty Images
Common opponent: Iowa State

Iowa: Road loss, 41-44 (OT), Sept. 10

Oklahoma: Home win, 26-6, Nov. 26


Wins vs. bowl-eligible teams: Iowa 4, Oklahoma 8

Losses vs. non-bowl-eligible teams: Iowa 1, Oklahoma 1


Iowa's passing offense: 57th in nation, 236.3 yards per game

Oklahoma's passing defense: 84th in nation, 243.6 yards allowed per game


Oklahoma's total offense: 4th in nation, 532.1 yards per game

Iowa's total defense: 68th in nation, 387.6 yards allowed per game
Prediction Analysis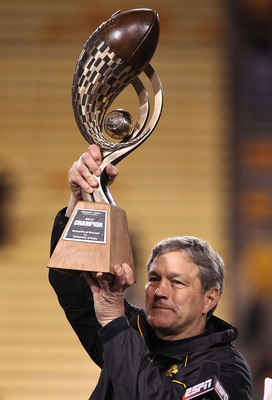 Christian Petersen/Getty Images
On paper, this looks llike one of the bowl season's most lopsided games. The Oklahoma Sooners have a high-powered offense, and although their record of 9-3 is disappointing, 10 of their 12 games this season came against bowl-eligible teams.

The Sooners have more talent and should be able to beat the Hawkeyes. However, while the Hawkeyes have not been particularly impressive this season, they are a gritty Big Ten team that will not go down with a fight.

The Hawkeyes are likely to be more motivated to play in the Insight Bowl than the Sooners, who are certainly disappointed to not be playing in a high-profile bowl game. Additionally, the Sooners have been far from the same team since the loss of star wide receiver Ryan Broyles.

For as good as Landry Jones can be, he has not looked the same without Broyles and Whaley playing with him, and another top receiver, Jaz Reynolds, is also out of this game with an injury. Jones must play at his best, because if he plays the way he played in the final few games of the season, the Sooners' offense will not be effective.

I do think that Jones will play better, but I do not see the Sooners playing up to their ability, a fate that has plagued them too often this season. I expect to see a motivated Hawkeyes team come away with what could be the biggest upset of bowl season in this game.

Final Score Prediction: Iowa 28, Oklahoma 24
Keep Reading

Iowa Hawkeyes Football: Like this team?