Gator Bowl 2012: Predictions and Spread Info for Ohio State vs. Florida
December 31, 2011
Jonathan Daniel/Getty Images
The 2012 Gator Bowl is a rematch of the 2007 BCS national title game between Florida and Ohio State, but this time the matchup includes Gators and Buckeyes programs that are hoping to end struggling seasons on a positive note.
Both teams are 6-6 and went 3-5 in conference play. Even though he won't be coaching the Buckeyes in this game, Urban Meyer will be a story throughout the game.
Meyer, of course, will take over the Buckeyes next season, and led the Gators to two BCS national titles after a successful tenure with Utah.
Despite all the distractions and stories of under performing, there are many talented players on both sides which will make this matchup an exciting one to watch.
Let's look at everything you need to know about the 2012 Gator Bowl!
Where: Everbank Field, Jacksonville, Florida
When: Monday, Jan. 2 at 1:00 p.m. EST
Watch: ESPN2 and ESPN3.com
Listen: WBNS 1460 AM for Ohio State, WEFL 760 AM for Florida
Spread: Florida -2 (according to Betonline.com)
Key Storyline
Florida coach Will Muschamp did not have a good debut season in Gainesville after being a highly sought assistant coach.
Nothing would end Florida's season better than a convincing win over the Buckeyes, a program they have had past success against in bowl games.
Florida has also done well in previous Gator Bowl appearances, with a 6-2 record all-time the bow.
Key Injuries (According to USAToday.com)
Florida WR Deonte Thompson is questionable for the Gator Bowl with an illness.
Ohio State WR Corey Brown is questionable for the Gator Bowl with a shoulder injury.
What it means for Florida
Florida needs this bowl win pretty badly because they haven't had a losing season since 1979. The Gators have been a fantastic program for a long time but in Muschamp's first year they have been pretty bad at times.
A win for the Gators would help them avoid an offseason about a losing season and Muschamp's disappointment.
What it means for Ohio State
The Buckeyes are 1-3 in their last four bowl appearances which includes two BCS title game losses, one to Florida and one to LSU.
Ohio State needs to complete their season with a Gator Bowl win because next year they won't go to a bowl because of the penalties handed down on them by the NCAA earlier this year for violations.
What They're Saying
Despite dealing with distractions all season, Buckeyes head coach Luke Fickell isn't worried about them affecting his team's performance against Florida.
"I don't know that you could get any more distractions than what we've had," said Fickell, who has been offered a spot on Meyer's defensive staff in 2012. "I think our guys are just so excited to have some clarity about what's going to happen in the future so they can put those things behind them. I don't think this will be nearly as hard on them.

"That you're playing Florida, all the other stuff with coach Meyer and that's where he came from, to me, won't have an effect on our guys."
The Florida offense has not played consistently well this season, and it's an aspect of Muschamp's football team that he will look to improve in the offseason.
"I will hire the best offensive coordinator in the country," Muschamp said. "We need to improve offensively. Pretty obvious.

"We got out of kilter. We started searching for answers and things we could do against good people. When you lose that confidence, it's tough to regain."
Player to watch on Ohio State: Braxton Miller
Buckeyes quarterback Braxton Miller led the team in passing and rushing this season, and racked up 18 total touchdowns.
Miller is a very talented player that the Florida defense must watch at all times because when plays break down he can gain yards with his running ability.
Player to watch for Florida: John Brantley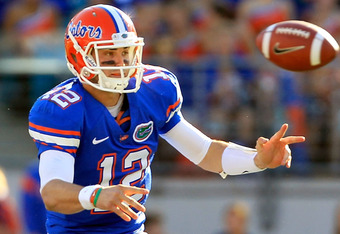 Sam Greenwood/Getty Images
Quarterback John Brantley has to perform well against Ohio State for the Gators to have a chance at a Gator Bowl victory.
Brantley threw for 1,916 yards with 10 touchdowns and six interceptions this season in a very average year for him.
Unless Brantley plays well, expect Ohio State to dominate this game.
Key Matchup: Ohio State front seven against John Brantley
The Buckeyes defense faced several good quarterbacks during Big Ten conference play this season, and if they can get to Gators quarterback John Brantley, Ohio State will force turnovers and make the game difficult for Florida.
Florida only averaged 144 yards per game on the ground this season and if they don't help Brantley out in the running game then the lack of an offensive balance will help the Buckeyes defense.
Prediction: Ohio State wins 31-17
Ohio State beat two ranked teams this season, Illinois and Wisconsin, and overall have more talent than Florida in this game.
Braxton Miller is a dynamic quarterback that will cause the Gators defense lots of problems, and the arm of John Brantley won't be able to lead the Florida offense to score enough points to win this game.
Ohio State will dominate both sides of the ball and win the 2012 Gator Bowl on Jan. 2.