West Virginia vs. Clemson: Live Score and Analysis for the 2012 BCS Orange Bowl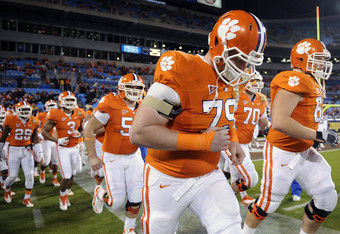 Jared C. Tilton/Getty Images
Now that we have entered a new year, that means that the more appealing bowl games are ready to kick off. One of those top bowl games of the year, of course, is the Discover Orange Bowl.
It features the winner of the Big East and the ACC conferences.
The Clemson Tigers are 10-3 and started the season off with an eight-game winning streak. Although they lost three of the final five games, they have one of the most explosive offenses in the country, averaging 33 points per contest.
West Virginia finished the regular season 9-3 and won the Big East. The Mountaineers may have lost to a couple of subpar teams like Louisville and Syracuse. But they also have a great offense that averages 35 points per game.
This will be the Tigers' first Orange Bowl appearance since 1981 and the Mountaineers' first, although it will be their third BCS bowl game in seven years.
There is no question that this should be a high-scoring game. You can expect a lot of fireworks, and offensive lovers everywhere should not miss this game.
Stay tuned for all of the updates you'll need on the big game.
This page will be updated below with live analysis. Stay tuned to Bleacher Report for the latest news, highlights and analysis for the 2012 BCS Orange Bowl and the rest of the 2012 bowl season.
Game over. Nobody could have ever predicted a West Virginia win by the score of 70-33. This game broke all kinds of bowl records and leaves both teams heading into different directions. West Virginia has to feel great about the win, Clemson has to wonder what happened.
Both teams are still extremely talented but Clemson has some work to do. Particularly on the defensive side of the ball.
The Mountaineers are celebrating, while Tigers fans have cleared out.
Hope you enjoyed the game. Good night!
The 70 points scored by West Virginia is the most points scored in ANY bowl game.
That will now be 70 points scored for West Virginia. I've pinched myself a few times but the score remains the same.
The Clemson fans that remain cheer a 28 yard touchdown catch by wide receiver DeAndre Hopkins. The Tigers still trail by 37 points with the few minutes that remain in the third quarter.
Clemson's Reshard Hall gets an interception which was the first turnover of the game for the Mountaineers. Something tells me it's a little too late.
Shoving matches between players are really beginning to pick up as Clemson is losing their composure. This is just embarrassing.
I wonder if there is a mercy rule in these bowl games. Clemson is getting absolutely pounded by the Mountaineers now 63-20. There is really no chance the Tigers are climbing back into this game now. This game is beyond ugly.
And just like that even more Clemson fans are hitting the road a bit early. What an ugly game. I don't think anybody expected this on either side.
That may have been the dagger, folks. West Virginia scores another touchdown to go up by a score of 56-20 with a little over 12 minutes left in the third quarter. There are quite a few Clemson fans that are already on their way out.
What a disappointing game as it appeared to be going back and forth in the first quarter. Wow.
Good news for Clemson fans is that they have over 400 more passing yards, 100 rushing yards and nine more total touchdowns in the second half than they do in the first. If they can avoid turnovers and the defense can step up, they could slip back into this game.
Key Halftime Stats
Total yards
Clemson 327
West Virginia 343
Turnovers
Clemson 3
West Virginia 0
Time of Possession
West Virginia 16:23
Clemson 13:35
What a change of events. A score that was going back and forth, ends up being a 28 point blowout by West Virginia. As we head into halftime, the Mountaineers are winning by a score of 49-20. Clemson only managed a field goal in the second quarter and West Virginia dropped a ridiculous 35 points.
Clemson has the offense to get back into the game but they have to limit the turnovers. The defense also has to get a few stops as well. Remember, the Mountaineers get the ball first in the second half. So, Clemson has to make an early statement if they expect to have any chance in this game.
Thanks to three turnovers the Mountaineers are really handing it to the Tigers as they jump out to a 49-20 lead, which will likely hold into the half. The Clemson crowd is completely dead and the Mountaineer crowd which was silent in the beginning, has a lot to say now.
The 42 first half points by the West Virginia Mountaineers is the most points ever in one half by one team in Orange Bowl history.
It appears the Tigers are going to try to get at least a field goal before the half. They have to do something quickly.
And just like that, the Mountaineers open this game up with another Tavon Austin touchdown, who now has three for this game. That touchdown puts West Virginia up 42-20. Remember what I said about turnovers. The team that has the most will lose this game.
Clemson has two and are down 22 points. They have to clean up their game if they want any chance of getting back into this.
You knew it was only a matter of time Tajh Boyd was going to throw an interception. He's been forcing the ball into tight windows and triple coverage all night.
Geno Smith opens this game up a bit as he rushes for a seven yard touchdown run to put the Mountaineers up 35-20 with 2:29 left in the first half. That touchdown also breaks the Orange Bowl record for the most points in any half.
The 48 points in this first half have tied the most points in any half in Orange Bowl history. With four minutes left, expect that record to fall as well. Especially with the way these offenses are moving the ball.
Clemson had to settle for another Chandler Catanzaro field goal. Quarterback Tajh Boyd is really trying to fit the ball into some tight windows. Tiger fans wanted some pass interference calls on a couple of those plays but didn't get them.
The Tigers defense manned up and got a stop for the first time since the first Mountaineers drive. Let's see what Tajh Boyd and company can do down 11.
Clemson left tackle Phillip Price is out with a knee injury and he will not return to this game.
This will be the first drive without a score since the first two drives of the game. West Virginia will get the ball back up 11 points. Clemson better be careful before this game gets away from them. The defense really needs to step up and get a stop.
That 99 yard touchdown by Darwin Cook is the second longest scoring play and the longest defensive touchdown in Orange Bowl history. What's crazy is that this game is just beginning.
What a turn of events. What looked like a touchdown run by Clemson running back Andre Ellington turns into a 99 yard touchdown return by West Virginia to put the Mountaineers up 28-17 with the extra point. the play was reviewed and I think it was the right call.
It was really hard to see the ball with all of those bodies, but it appeared the ball did come out.
This article is
What is the duplicate article?
Why is this article offensive?
Where is this article plagiarized from?
Why is this article poorly edited?