Indiana Pacers: A Basketball Team Worth Watching Again
December 31, 2011
Jonathan Daniel/Getty Images
Growing up in Iowa is strange. We are kind of at the crossroads of professional teams. Iowa Hawkeye Football IS the professional team in this state. 
For the NFL, it is a mixture of Bears, Packers and Vikings fans, with some Chiefs, Cowboys and other fans sprinkled in.
For baseball, this is Cubs, White Sox and Cardinals country. Twins fans are around as well.
For basketball, it is a Bulls state, especially in the Quad Cities. Sure, there are some Lakers fans here, some Celtics fans there, but if you like the NBA in Iowa, you typically like the Bulls.
I am an exception. 
I am a Minnesota Vikings fan because my grandpa was. I am a Cleveland Indians fan because I saw Major League at the age of five, and didn't really know any better and loved that rag tag bunch. 21 years later, I have wised up, but still love the Indians.
And, because of my Dad's college roommate and lifelong friend, Mel Daniels, I was born into Pacers fandom.
It has been a long seven or eight years for Pacers fans. I am not taking anything away from the suffering felt by Pacers fans in Indy, but at least they had the Colts, and misery, after all, does love company. I am a loner here in Davenport, Iowa. I know two Pacers fans: me and my dad.
After all I have went through with the Pacers (and Indians, Vikings, and Hawkeyes) over the last few years, it is just great to have a Pacers team worth watching again.
I am not going to get ahead of myself. The 2012 Pacers are probably not title contenders. They are, however, legitimate contenders for a top three or four seed in the East.
Danny Granger has some help. Paul George is a budding star. Tyler Hansbrough is the scrappiest, toughest, most likable Pacer since, well, I don't know when. He is a hybrid of Jeff Foster and Dale Davis, with a better jump shot.
The Pacers actually had cap space to make a big move and executed the move, getting David West to sign with Indy. 
The team has a coach that the fans can rally around. Frank Vogel is as feisty and "smash mouth" as we want our players to be. 
Maybe it is just me, but he reminds me a little bit of Jeff Van Gundy. Vogel would absolutely take a ride on Alonzo Mourning's leg in the middle of a brawl.
Darren Collison and George Hill make up a potent backcourt combination. 
And even though he gets in funks at time, how can Pacer fans not appreciate the work that Roy Hibbert puts in? His offseason drive is outstanding, and he gives back to the fans, as evidenced by his Area 55.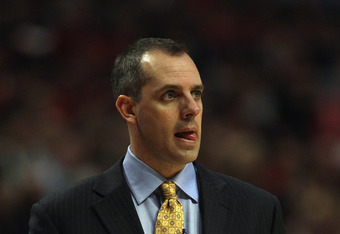 Jonathan Daniel/Getty Images
I know it has been only two games against two sub-par teams. I am not buying my playoff tickets yet. All I am saying is, isn't it nice to have a team worth following again? 
No more Jim O'Brien. No more bad contracts brought over from Golden State. No more Brandon Rush daily drama. Even our Jamal Tinsley and T.J. Ford days are behind us, finally.
Even popular ESPN and Grantland writer Bill Simmons has taken note. Just a season ago he had the Pacers listed as a team he didn't even want to watch when they came to L.A. 
Now, he is tweeting about them and starting rumors about Steve Nash being a potential trade acquisition for the Pacers.
I went through the same things this year when the Indians went on their early season winning streak. I am approaching the next month or so with guarded optimism. The Pacers have a big five- or six-game stretch to open the season that must end with at least four wins.
Tonight, the Pacers host the Cavs. This isn't a home opener. This isn't against the Bulls, Lakers or Heat. This is essentially a should-win early season matchup where it is vital for the Indianapolis fans to show the Pacers they are truly behind them, not just for the opener.
Finally, the Pacers are worth watching again.
Finally, I feel good about shelling out $180 for NBA League Pass.
Finally, the Melee is behind us.
Two games down. 64 to go.