Brock Lesnar vs. Alistair Overeem: Everything You Need to Know About This Fight
Brock Lesnar vs. Alistair Overeem is being billed as the biggest fight of 2011. And, if you want to get technical about it, Brock and 'Reem did weigh in at a combined 529 pounds. Very big indeed.
This match up is compelling for so many reasons and there are plenty of tid bits to consider when breaking down this fight and wanting to know about these two enigmatic big men.
So lets see how many relevant things 'you need to know" that we can conjure up and be sure to call us out on anything we left off the list.
Begin Slideshow

»
Brock Lesnar finished his amateur career as a two-time NCAA All-American and the 2000 NCAA heavyweight champion with a record of 106–5 overall in four years of college.
Dude can straight up wrestle. And when you couple that with his power and athleticism you have a tour de force inside the cage, looking to take you down, break you down, and pummel you into the canvas.
Wrestling will be Lesnar's saving grace in this fight as Overeem will want to keep the fight standing and punch Brock in the face over and over. Look for Brock to impose his will if he can survive the striking of 'Reem and carry this fight past the first round.
Overeem had his first professional kickboxing fight at 17 years old. His K-1 career culminated when he won the K-1 World Grand Prix 2010 Final, and made history by being the only fighter in combat sports to hold a world title in both MMA and K-1 kickboxing at the same time.
Dude can straight up strike. And, as we have all agreed upon, Lesnar does not like to get hit. But, he can take a hit. The question will be can Overeem dish out enough punishment while the fight is standing to finish Lesnar off, before he is able to go into wrestling mode and take the fight down.
While Brock and cake a punch or two, it may be the knees that are the difference maker in this fight.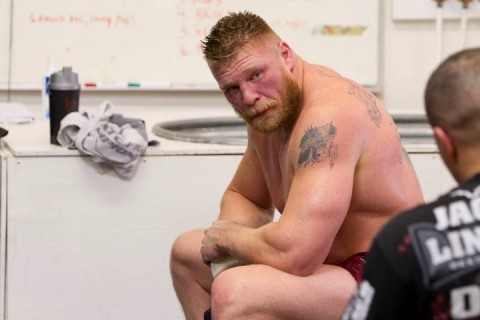 It is well known that Brock has suffered through not one but two bouts of his gut flaring up, more specifically suffering from the disease he helped make more famous that being diverticulitis.
It seemed that Lesnar would be able to treat the disease successfully with more natural preventative measures but this second flair up forced him out of a fight with Junior dos Santos; they were supposed to meet in the Octagon after being coaches on season 13 of The Ultimate Fighter.
Subsequently, Lesnar has not stepped into the cage in over in over 14 months, his light jaunt being a not so pleasurable journey against Cain Velasquez.
So will health and ring rust be a decided factor in keeping Lesnar from emerging on top? In pre fight interviews, Lesnar says he is feels better then ever both mentally and physically and if that is true could we possibly see the best "Brock Lesnar" ever inside the cage?
Allistir Overeem had been with his gym Golden Glory for 11 years, but that all came to a screeching halt when 'Reem decided to walk away. His gym countered by filing a lawsuit against him alleging breach of contract.
'Reem found his way over to the U.S. to train finally settling on a home in Randy Couture's Xtreme Couture gym. But that was cut short due to his mother is battling cancer. Overeem left his Las Vegas training camp in early December to return to the Netherlands to be with her for as long as he could.
Beyond the gym, legal, and health of his mother issues...Overeem has been dogged by steroid accusations throughout his career. He used to fight at light heavyweight, where he was pretty good but certainly not great losing to the best and eventually decided to move up on pant size and compete with the big boys.
Lesnar will tell you that he had to cut weight to make the 205 weight class and that when he mentally committed to going up in weight the combination of heavy weight lifting and eating like a horse naturally allowed him to gain upwards 45 pounds of muscle.
Everyone is going to be a skeptic when you add that much size, and look like a you were carved out of stone by the hands of Michelangelo. And the fact that 'Reem has mostly fought in countries where drug testing is less stringent, well lets just say he has a lot of doubting Thomas's.
But Overeem has always seemed composed on the surface when speaking and nothing seems to rattle the man who weighed in only 3 pounds less then Lesnar at the UFC 141 weigh ins (263 vs. 266).
If issues outside of the cage are of effect on Overeem, you'd never know it...oh and to add just one more x-factor into the heap, this will be his fight fight inside the intimidating Octagon walls.
If you put much stock in experience/time inside the cage, then Overeem has got Lesnar beat by a mile.
'Reem has been knocking people out since 1999 while Lesnar first stepped into the cage in in 2007. People will counter by saying that Brock has fought and won over much stiff competition.
Overeem was never bale to beat the best of the best at light heavyweight and since moving to heavyweight it is fair to say he has not really faced that much elite competition. Lesnar on the other hand fought Frank Mir in his UFC debut and never looked back from there.
Lesnar also has the experience in actual Octagon time as this is Overeem's UFC debut. For whatever reason, there seems to be something real to the "Octagon Jitters" as many good fighters have had issues in their first fight where there its an eight sided cage vs. a six sided cage or ring.
It has also been said that wrestlers to have more of an advantage inside the Octagon vs. fighting in a ring where Overeem has fought many of his fights. Only time will how well 'Reem fairs in a UFC cage.
That is the respective line on both of these fighters. Add to it that people will question Overeem's cardio/durability.
But Lesnar can certainly take a hit and if Overeem stays busy striking fear into opponents with his punches, kicks, knees, and elbows then his chin is protected.
Lesnar hits hard and so one well timed/placed punch could in theory could crumple Overeem. Lesnar dropped a bomb on a very durable Heath Herring and send him doing a backward somersault.
Click here for a picture of the damage Lesnar can inflict with his big fists.
Overeem had made grown men look scared inside the cage (see Brett Rogers) and eviscerated the best of athletes (see Todd Duffee).
Click here for a quick video of the damage Overeem can inflict with a few well placed knees and punches.
Victor Decolongon/Getty Images

The stakes are fairly clear, and high. Neither man has fought JDS and both are hungry for a title shot. The difference between the two being that Lesnar has held UFC gold, while Overeem has not. While what is at stake for the winner is pretty evident, what is at stake for the loser?
If Lesnar loses:
If Lesnar loses, especially in the crippling fashion that man expect Overeem to inflict upon him, many will call for Lesnar to consider retiring from the UFC and possibly return to the WWE. Lesnar may consider it as well due to his persistent health issues along with the fact that it would be the third fight in a row where he got beat down (if you include the Carwin fight where he actually won).
Lesnar never got into this to be an average fighter so a loss here would essentially render him a high profile gatekeeper which is not likely something he is interested in unless he is just interested in collecting whatever paycheck Dana White is willing do dish out.
Perhaps, in a loss, a third fight with Frank Mir might make some match making sense although people just may not be interested in that anymore. He could also rematch Cain Velasquez if he wants to try and avenge that loss.
But retirement may be the most likely option.

If Overeem loses:
A loss would not be detrimental to his career given that it is his first fight in the UFC. Overeem is marketable both due to his imposing look and appealing fight style so the UFC can easily book him into a second fight with a match up against a fellow striker being very appealing. A fight with the winner of Cheick Kongo vs. Mark Hunt who fight at UFC 142 in Japan might be just what the doctor ordered.
What does Vegas have the line at?
The line always fluctuates based on what site you go to but one site has it at: Alistair Overeem -150, Brock Lesnar +120. That means, for every $1.50 wagered on Overeem, a $1 profit is incurred should he win. And for every $1 wagered on Lesnar to win, a $1.20 profit is incurred.
Some might be surprised that Lesnar is the underdog with Overeem making his UFC debut. But there are so many variables/unknowns that really it should be a coin toss at this point. With Lesnar and his wrestling, it may be worth placing a small bet on him, but if you are absolutely convinced Overeem will wreck with his potent striking, put your money where your mouth is.
At the end of the day, all you really need to know is that they are two of the biggest and baddest heavyweights around - Lesnar wants to take the fight to the ground and Overeem wants to keep it upright.
So which 260 pounder will impose their will. The picture atop will let you know who this miser is picking (as in I wont be placing a bet) but your guess is as good as anyone's. So just sit back relax and enjoy 529 pounds of brute force collide inside the Octagon as we get set to reign in the new year.
Salud..and, what did we miss?!