Debunking the "Duke Basketball Doesn't Produce NBA Players" Myth
December 30, 2011
Chris Trotman/Getty Images
Since he's taken over the head coaching job at Duke, no coach in college basketball has been better than Mike Krzyzewski.
His accomplishments have been talked about like crazy, especially since he passed the all-time men's Division I wins record. I'll save you from reading the accomplishments one more time and skip over that part.
What Coach K also has a reputation for, however, is an inability to develop solid NBA players. The talks center around the fact that players at Duke succeed and dominate, then go to the NBA and don't do the same.
It also doesn't help that eight miles down the road, UNC produced some of the greatest players ever, namely Michael Jordan and James Worthy.
As a Duke fan, the notion has always baffled me. It's something Duke haters cling to. And it's a baseless assumption, really.
One of the names I hear most is Christian Laettner. He did set an incredibly high standard by making it to four Final Fours in four years. He was picked third overall by Minnesota, setting the bar higher.
However, he wasn't a bust by any means. He spent 13 years in the league, was named to the All-Rookie first team, and was named an All-Star in 1997, mid-way through his career.
In his first five years, he averaged over 16 points and a seven rebounds. He had exactly 100 double-doubles in his career and certainly was no slouch.
For those fans who love the metric stats, his career win shares totals are similar to the likes of Antonio McDyess, Hedo Turkoglu and Jermaine O'Neal. His 11.6 win share total in 1996-97 is also a very impressive number.
To say he was a star is certainly a stretch. But to say he wasn't a good NBA player is also wrong. Dead wrong.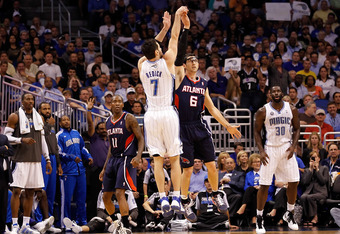 J. Meric/Getty Images
For the more current fans, I hear the name J.J. Redick often mentioned as a bust. I'll readily admit that he wasn't very impressive in his first three years in the league.
He was nothing more than a great shooter in college and had a lot of work to gain playing time in the big leagues.
However, in his last three years, he's shown vast improvement. Two years ago, his playing time increased significantly and so did his scoring, averaging 9.6 points a game. Last year, same story. More playing time, more scoring, this time up to 10.1 points.
This season, despite playing only three games, J.J. is averaging more points on less minutes—a true sign showing he's improving. Again, it's another case of not necessarily being a superstar, but Redick is definitely a very important role player and a good pro.
Then there's the players that no one cares to bring up: Elton Brand, Corey Maggette, Carlos Boozer, Luol Deng, Shane Battier, Chris Duhon, Dahntay Jones, Shelden Williams, Josh McRoberts and Gerald Henderson.
All of them have been or are starters in the league and played big roles on their teams.
Of that list, Brand and Boozer have each made two All-Star teams and many of the players received All-Rookie team and even Rookie of the Year awards.
And that's not even mentioning quite possibly the biggest "what-if" in NBA history for players who've played. This player put up LeBron James-like numbers before LeBron.
He was a seven-time All-Star and made five All-NBA teams. Most of that happened before injuries seriously derailed his career. Most of you know by now that I'm referring to Grant Hill.
Hill's best years had him averaging over 20 points and near 8 rebounds and 7 assists a game. In 1995-96, just his second year in the league, he put up 20.2 point, 9.8 rebounds, and 6.9 assists with 1.3 steals a game.
His last year in Detroit saw him average 25.8 points, 6.6 rebounds and 5.2 assists.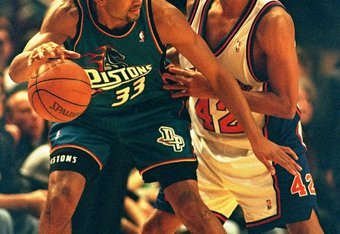 Jamie Squire/Getty Images
Then the injuries hit. A series of ankle injuries and complications that nearly cost him his life kept him off the court. In his first three years with Orlando, he played just 47 total games. In his six years with the Magic, he played just 190 games, or just under 32 games a year.
Since then, he's revitalized his career in Phoenix and reinvented himself as a defender. The most surprising stat is that through all his injuries, he's averaged double digit scoring in each game throughout his career.
Hill isn't the only Dukie to be hurt by injuries. Both Bobby Hurley and Jay Williams had their careers derailed by nearly fatal crashes, Hurley's in a car and Williams on a bike. Each had promising futures cut short.
However, there's plenty of proof that the notion of Duke players not being successful in the NBA is wrong. While Duke may not produce superstars, they certainly do produce high level players in the NBA.