The Craziest Meltdown Videos in Sports
Gene Lower/Getty Images
This slideshow was what I thought it was, and I LET IT OFF THE HOOK! Which isn't acceptable, because I'M A MAN!
And if people don't like this slideshow, that's just not fair, man (sniffle). This is my slideshow, man. And if you think this is funny, this (BLEEP) isn't funny! I put my heart and soul into this (BLEEP) each and every day!
So don't talk to me, alright! KNOCK IT OFF!
These are the biggest meltdowns in sports.
Honorable Mention: Baseball Meltdowns
Hey look, a Bleacher Report list of the 13 Worst Meltdowns Ever! Hooray!
Note: Pedro Martinez should probably be switched with Don Zimmer on this list, but hey, you get the idea.
Honorable Mention: Mike Tyson
15. George Brett's Pine Tar Freakout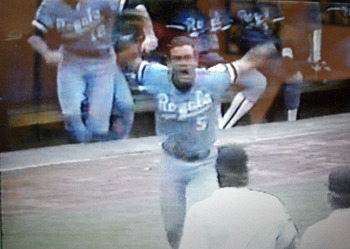 For video of the incident, go here.
This might be the greatest angry sprint in the history of the world.
Yes—THE WORLD!
14. The Handshake Seen 'Round the World
I really hope they get a chance to do this again in the playoffs. That will be as scrutinized as the freaking game, believe me.
13. Boris Wants a Piece of Biffle
Boris Said is willing to go to Greg Biffle's house and give him a "whupping."
See, this is how athletes should use the postgame interview—to set up fights. It's just like middle school all over again!
12. Kevin Borseth Is Not Pleased
My favorite part is when he just sighs and says, "I'm not going to sleep tonight."
The full range of emotion was just priceless.
11. Didier Drogba Thinks It's a Disgrace
So this one isn't safe for work. Which is a disgrace, I know.
10. Kellen Winslow Isn't Actually a Soldier
He was sort of a punk, however.
9. Interview of the Year
Larry Merchant, you are my hero.
8. Nothing Is Funny to Derek Anderson
"I'm done."
And with that, Derek Anderson was never heard from again.
7. Don't Talk to Ryan Leaf
Hey, Indianapolis, this could have been you if you had the second pick in the 1998 NFL draft.
Just something to think about this weekend, that's all.
5. The Bears Were, in Fact, Who Dennis Green Thought They Were
How many dentists do you think ran with "If you want to crown them, then crown their ass!" during appointments or while hanging out with their other dentist friends?
4. Jim "Chris" Everett Has Enough
Haven't we all wanted to do this to Jim Rome at some point?
3. Angelo Mosca and Joe Kapp Have Missed One Another
The CFL don't play, yo.
By the way, how about that right hook?
2. Heeeeeeeere's Buddy!
See, Rex and Rob are normal.
By comparison, at least.
1. That Is Terrell's Quarterback, Man
This marked the first time Terrell Owens ever used the term "we" in his life.
My name is Timothy Rapp, and I put the "grrrr" in Swagger.
Keep Reading