Brian Kelly's Game-Day Decisions Wearing on This Fighting Irish Supporter
December 31, 2011
John Gress/Getty Images
'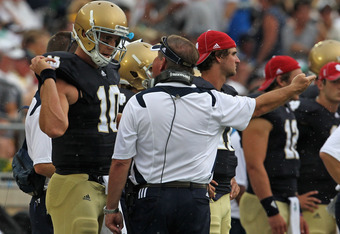 Jonathan Daniel/Getty Images
OK, I wasn't going to do this.  I swore to God, I wasn't.  Over and over again. To myself and then aloud, just to be sure.
I vowed two nights ago—after the hideous display of football that I was subjected to from Orlando—that I was done talking about, thinking about and worrying about—let alone writing about—Notre Dame football until the opening kickoff next season.
First, I vowed not to subject myself to the wailing, the beating of breasts and the gnashing of teeth that would surely be all the rage on Bleacher Report shortly after Armageddon, when the Irish failed to get that elusive ninth win.
Surely, everyone but Pope Benedict would be blamed here for the failures of the Fighting Irish on Dec. 29, and I just did not want to hear it.  I was worn out and tired from watching another game that was theirs to win get away from them, and from enduring a season of false hope that had just finished crashing in on me.
I in no way planned to partake in all of the next-day finger pointing that is spawned by losses like this, and I surely had no plans to read any articles by the haters who would be gloating as the sun rose on another day of BR mania.
And then, even days and weeks from now—after the Champs Sports Bowl smoke has cleared and the wreckage of this past season has been surveyed, and then sliced and diced and pureed one last time—I vowed I would refuse to get entangled in the endless recruiting speculation and analysis and the subsequent cyber-babble that is its by-product.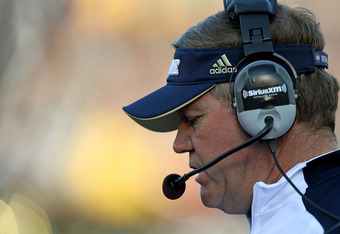 Jonathan Daniel/Getty Images
I vowed I would not—could not—watch or place any real credence in what happens in spring practice or in the Blue-Gold Game.
After this game, I was absolutely positive the next time I would discuss—or even want to hear about Notre Dame football—would be when the ball was in the air in Dublin.  I was exhausted, disgusted and disillusioned.
After all, I am pushing 55 and I'm not sure my heart can take it anymore.  At least I wouldn't risk it by getting personally involved post-mortem—or so I promised myself.
Yet, here I am less than two days later, pecking away on the old keyboard and going back on every single promise I made last night to myself and to my wife and kids and to my dog, Gipper.  Hell, they didn't believe me anyway.
I am not going to dissect every decision and every play and participate in the "what if" game that is so popular following close losses. 
After all, everyone knows that IF the Irish hadn't turned the ball over 10 times in the first two games and IF they hadn't fumbled at the goal line versus USC, they would have been playing in a BCS game.  See?  The Irish were only 11 plays away from a return to glory!  
And IF my aunt—oh, never mind.
First, let me say I have been a Brian Kelly supporter since day one.  I have not allowed individual losses, however preventable or frustrating to watch, to cloud my belief that, overall, he has a good vision for the program, and with a little more time will have all the pieces in place to be successful in both the short and long term.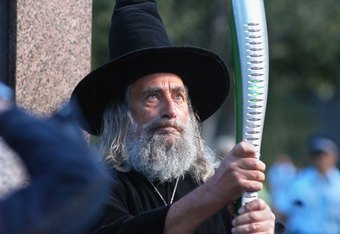 Handout/Getty Images
Some of you out there (and you know who you are) have been anti-Kelly ever since his fateful decision making in the Tulsa game last season.  I merely chalked that game up to his learning curve at this level, having recently arrived from that vaunted behemoth of college football dominance, the Big East. 
As the months progressed I continued to find little fault in his actions, convincing myself it was just a matter of time until good recruits mature and everything eventually clicks and goes like clockwork on our way to a showdown with (insert SEC team name here) in the BCS National Championship Game.
But last night, my mind began to change a bit. 
I have not given up on him, mind you.  I still think he is headed in the right direction, overall. He seems to be recruiting well, developing players well and getting them to buy into whatever sorcery he is trying to perform there in the cloistered and mysterious world known as "The Gug."
But on game days—in crunch time against quality opponents—I am really starting to question his judgement and decision making. And that scares me.
This humble writer and Irish fan of 50 years—who in no way considers himself to be an expert on football—wishes to comment on just two things.  And please, fellow Bleacher Creatures, correct me if I am wrong in my analysis. Because I really want to be wrong.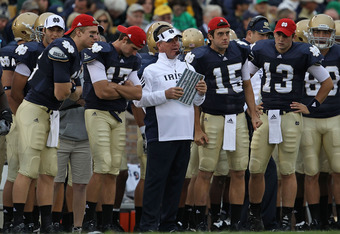 Jonathan Daniel/Getty Images
I know I can count on you to do that, can't I?  You betcha! 
First and foremost: Why in the hell did Kelly and defensive coordinator Bob Diaco call off the dogs when they had a 14-point lead and 20 minutes or more still left in the game?  I even predicted (or at least expressed fear) they would do exactly that in a text to a fellow Irish fan just before it (at least seemed to me to have) happened.
Again, I am no expert.  I never played or coached the game at any level that would qualify me to call myself one.  I just drink beer and eat things that clog my arteries and watch the game like the average guy does, not having the slightest idea what the hand signals from the guys in the red caps mean (though I wouldn't doubt that some of you here probably do—you guys scare me). They do make me laugh, though!
All of that aside, it seems to this humble contributor that in the first half the Irish were blitzing and rushing and taking advantage of the inexperience of the Seminole front five.  And it was working.  At least it was working enough to keep E.J. Manuel off balance and off his game.
Then suddenly, with the Irish up by 14, the rush disappeared and it looked like they were in some sort of prevent defense and were actually trying to waste the clock and trying to sit on a 14-point lead with one of the best young QBs in the game on the other side of ESPN's imaginary black line in the grass.
The game announcers began to gush about how well the Seminole freshmen O-linemen had adjusted and improved over the course of the game.  Improved and adjusted?  They were just not being challenged anymore, allowing Manuel all the time and room he needed to get down to what he does so well.
I would think that once it was apparent that this new defensive strategy was not working, Kelly would have kindly invited Mr. Diaco to revert to the more aggressive pass rush that had kept the Seminoles off balance the entire first half.  But noooo!  Why not?
Please tell me, Bleacher Creatures, because I don't want to mistrust and have doubts about my head coach, especially a good Irish Catholic one like Mr. Kelly.
Second and no less important: What in the world does Kelly see in Tommy Rees?  After all but promising more playing time for Andrew Hendrix in this particular game, all we got was the usual abbreviated, sporadic appearances from him.  I will be the first to agree that Hendrix was not great when he was in last night and he did throw a pick. 
But what can you expect when he is not allowed to stay in for any significant amount of time or consecutive number of plays?  It can take time to get into a groove, and as usual he was never given that time or opportunity.
The one series when he was in and moving the ball down the field—albeit primarily with his legs—he got yanked as they approached the end zone.  Then Rees comes in and nearly threw ANOTHER pick after Hendrix had gotten them near the red zone.  Fortunately, Michael Floyd made an amusing catch and saved the moment.
But why didn't Kelly let Hendrix stay in and try to finish that drive himself?  He clearly had the Seminoles a bit off balance and was eating up yards. 
If he can run it all the way down the field himself before the Seminoles have time to adjust, so be it.  No one ever criticizes St. Timothy of Tebow for doing just that when the situation and defense let him get away with it.
Why throw if you don't have to and have a QB with Hendrix's legs if you are not going to let him keep using them when it is working for you?
Yet Kelly does not seem to see any virtue in this or in giving Hendrix a fair shot at trying to do something to completion.  It's as though Kelly is afraid to give Hendrix a real opportunity to shine, for whatever reason.  I have my theory on why, but that's another subject.
Reportedly, Hendrix still has a ways to go in understanding, executing and getting comfortable with the entire playbook.  Understandable.  But how is he ever going to get comfortable with it if Kelly keeps yanking him back to the sideline like a yo-yo every time he gets close to finishing the job he was sent in to do? 
From what I know of him, Hendrix seems like a class act and a gentleman, so I doubt you will hear him complain. But I think he's been jerked around by Kelly unnecessarily and he has every right to be upset about it, especially when you consider how ineffective Rees has been in big games.
So those are my two big complaints about the Champs Sports Bowl and perhaps about Kelly's game-day decision making in general. 
He seems to miss the obvious when it is there right in front of him.
And, he is too stubborn for his own good with the QB situation. 
He needs to go with what works, even if it's not what he would like to see work or what the "formula" for a situation calls for in his football brain.
But then, I'm no expert.