Wisconsin vs. Oregon: Game Time, Radio and TV Coverage Info for Rose Bowl
December 30, 2011
Gregory Shamus/Getty Images
The Wisconsin Badgers are hoping for a better outcome in the Rose Bowl this time around, but beating the Oregon Ducks is no easy task. 
Both teams excel on offense, with the Badgers averaging 44 points per game and the Ducks averaging 46. Neither will stray from this, meaning it'll be a high-scoring affair sure to please all those who tune in.  
The elites in this game are some of the most dynamic playmakers in college football. Look for LaMichael James, Darron Thomas, Russell Wilson and Montee Ball all to have outstanding games. 
With that said, let's take a look at some specifics in this postseason showdown. 
When: Monday, Jan. 2 at 5:00 p.m. ET 
Where: Rose Bowl, Pasadena, CA
Watch: ESPN, ESPN3.com 
Listen: WIBA 1310 AM in Madison, KUGN 590 AM in Eugene 
Betting Line: Oregon (-6) per vegasinsider.com
Key Storyline 
Will the Badgers fare better in the 2012 Rose Bowl? 
Last year, Wisconsin faced TCU and many expected it would have no trouble. That wasn't the case and the Badgers lost in an upset. 
This time around, the Badgers have a better offense, but they're also up against a prolific offense that scores at will. 
Who Might Not Play for Wisconsin
*According to USA Today
LB Ethan Armstrong (leg): Questionable 
WR Fred Willis (ankle): Questionable 
OL Dallas Lewallen (knee): Questionable 
OL Peter Konz (ankle): Questionable 
QB Jon Budmayr (elbow): Questionable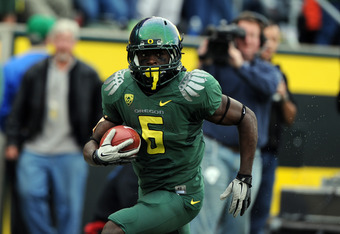 Steve Dykes/Getty Images
Who Might Not Play for Oregon 
*According to USA Today
DE Terrell Turner (elbow): Probable 
DE Dion Jordan (ankle): Probable 
CB Anthony Gildon (neck): Probable 
WR Keanon Lowe (foot): Probable 
RB De'Anthony Thomas (undisclosed): Questionable 
WR Justin Hoffman (knee): Questionable
LB Rodney Hardrick (knee): Questionable
WR Ben Butterfield (undisclosed): Questionable
TE Curtis White (leg): Questionable
What They're Saying 
Jeff Potrykus covers the Badgers for the Journal Sentinel, and he tweeted a quote from Montee Ball on how the team is doing with coaches departing for other jobs.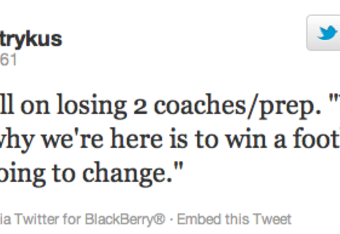 Wisconsin lost offensive coordinator Paul Chryst and offensive line coach Bob Bostad will coach for Pittsburgh next year. 
The focus is still on winning, and while losing the coaches hurts some, the Badgers will still be fine. The players on the field know their job and they will execute. 
John Canzano covers the Ducks for The Oregonian, and tweeted a quote from Ducks athletic director Rob Mullens on the new uniforms.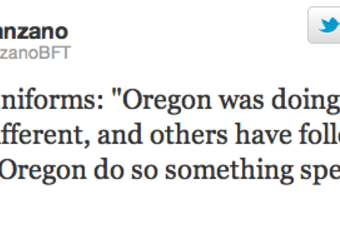 Oregon set the mold for flashy uniforms in college football, and this being a huge game, Nike and Oregon decided to step it up and unveil new digs.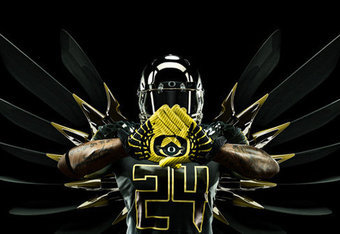 As you can see above, the gloves are the best part, and thankfully Nike decided on the dark green as opposed to lime or some disgusting yellow. 
No doubt the players will be excited to play in new uniforms on the big stage. 
Wisconsin Player to Watch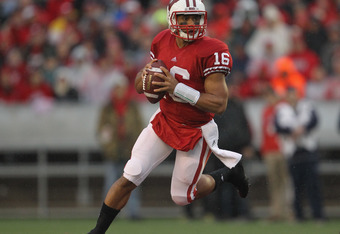 Jonathan Daniel/Getty Images
The Badgers would not be in the Rose Bowl if it weren't for the stellar performance of Montee Ball, but in this game, the player to watch has to be Russell Wilson. 
He transferred from North Carolina State for this season and he has helped put the Badgers back in the national spotlight. Ball is going to get his yards, but it's up to Wilson to deliver in the crucial moments of the game. 
Oregon Player to Watch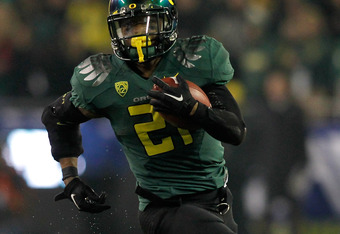 Jonathan Ferrey/Getty Images
LaMichael James is the star of the Oregon Ducks and all eyes will be on him once again in what could be his final collegiate game. 
It's possible James could bolt for the NFL, but I think the outcome of the 2012 Rose Bowl will have a big impact on his decision. The Ducks top rusher has been banged up this season, and if Oregon hopes to win, it will need James to have another outstanding performance. 
Key Matchup 
Oregon's rushing attack versus Wisconsin's run defense is the matchup to watch. James, Kenjon Barner and De'Anthony Thomas are all serious weapons for the Ducks on the ground, meaning the Badgers will have their hands full trying to stop them. 
The Ducks had the fifth best rushing offense this season and the Badgers run defense is ranked 47th. Stopping Oregon's ground and pound is priority No. 1 for Wisconsin, but it won't be easy considering how much speed the Ducks have. 
Prediction 
This will be another fantastic bowl game that comes down to the wire. Back and forth scoring will be had all night long.
However, in the end, the Badgers will prevail in the clutch thanks to Russell Wilson. The senior QB has proven he can win the close games, and he'll do exactly that in the 2012 Rose Bowl. 
Badgers 38, Ducks 35