UFC 141 Live Results and Five-Star Analysis of the UFC's Last PPV of 2011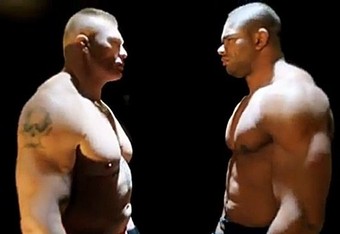 The most anticipated UFC Heavyweight bout is now officially in the books, but it was the ending that shocked many in the MMA world, as Alistair Overeem made a successful UFC debut and retired Brock Lesnar in the same night.
Lesnar looked as healthy as he's looked in a long time, but despite catching a kick from Overeem, Lesnar was not able to mount much offense on "The Reem" at UFC 141, as Overeem picked his shots and picked Lesnar apart with knees to the body and heavy punches that rocked Lesnar badly enough to where he eventually could not recover.
After the fight, Lesnar tipped his hat to Alistair for a great performance, and shocked the MMA world by announcing that he would retire from Mixed Martial Arts as per a promise made to his wife and kids.
Only time will tell what the future has in store for Lesnar, who should be saluted for going out the only way he knows how, but one thing remains clear: Junior Dos Santos has himself a date with a "Demolition Man".
All this and more went down at UFC 141: Lesnar vs. Overeem, which looked to close 2011 off with a bang, and did not disappoint!
UFC 141: Lesnar vs. Overeem and Diaz vs. Cerrone, live (blog results and coverage) and direct on Bleacher Report MMA!
Brock Lesnar salutes Overeem and unless my ears have deceived me, Brock Lesnar has announced that he promised his wife and kids that he would retire if he did not beat Alistair Overeem tonight.
A Stone Cold Salute to Brock Lesnar, and I have to hand it to the man.
Like I said earlier, nobody ever draws Frank Mir in their debut, scores Heath Herring in their third pro fight, beats Randy Couture in only their fourth pro fight, snaps Shane Carwin's formerly unblemished streak in the second round of one of the biggest UFC events in history, and draws Alistair Overeem in the first eight fights of his career, but Lesnar did all of that, and I applaud him for the decision he promised his wife and kids.
Diverticulitis nearly took his life and shattered all the dream fights we had in mind, and if he had kept on going, who knows what might have happened?
Thank you Brock Lesnar, for you certainly did change the game, and you went out in your prime even though it didn't end the way you wanted it to.
Lesnar kicks twice early but misses a chance to take Reem down.
Caught the leg of Overeem, but Reem fended off.
Overeem gets knees in every time he pins Lesnar against the cage and nearly gets him every time.
Lesnar backs up but takes a few shots and an Uberknee followed by a few sick punches and say "Sayanora, Brock Lesnar!" because The Demolition Man has just wrecking-balled himself into the 2012 schedule of Junior Dos Santos!
Winner by first round TKO: Alistair Overeem, who (sorry, anti-Reem fans) has finally beat somebody worth mentioning!
Don't blame the diverticulitis--diverticulitis can take your life, but it can't force a man to stand up.
Only solid takedown defense can do that, folks.
Alistair "The Reem"...really, Bruce?
Should have stuck with "The Demolition Man"
Ovations for both, and the staredown was intense!
Lesnar is out next, but not to "Enter Sandman".
The trunks are the same red and black that he's rocked before and he's running around the ring, so definitely thinking that footwork will be a factor in Lesnar's performance.
Overeem's had a lot of stuff go on leading up to this fight, but he's lighter than Brock, taller, younger, and only gives up one inch of reach to Lesnar.
If Lesnar outstrikes Reem worse than Diaz outstruck Cerrone, I will give Lesnar a chance to knock out Junior Dos Santos.
Site maintenance kept us down for DIaz-Cerrone, but how about that fight though, eh?
Initially had it 29-28 for Diaz, but after learning that Diaz landed 258 strikes while Cerrone only got 68 in, I can understand the 30-27.
Emotions ran higher than they were supposed to, but nobody's saying anything negative about that man.
Anyway, Alistair Overeem is out first in the white trunks, and that only means that we are about set for the main event of the evening.
Cerrone walks out first, and his trademark hat rocks the Muscle Pharm logo.
Never watch any card with Cerrone on it and expect him to not walk out to "Cowboy"...there's your rule of the day, kids.
Cerrone is in the black trunks, and whenever he bounces up and down intensely in the cage, there's something menacing about his stare.
Diaz comes out next, and he'll have three inches of reach on Cerrone, but will it matter much?
In short, all three rounds were more entertaining than everyone else might have you believe but the whole fight was about the drastic improvements Kim made to his striking and to his takedown offense, but at times the switch kick came off a bit forced.
Nonetheless, great fight for its worth, and my Fight of The Night pick is up next as Donald Cerrone takes on Nate Diaz...and if you think they're shaking hands before or after the fight, you don't know either man.
Okay, so Fitch landed a quick jab and showed whatever comes close to footwork, by Fitch standards, but as the replay shows, the left hook and the one punch landed on the ground were all he needed to send Fitch's claims of being the 2nd best Welterweight in MMA up in flames.
If you watch the replay, the shot is similar to how Alexis VIla knocked Joe Warren out in terms of how the recipient of the punch fell back.
Fitch's head hit the canvas and dude was out.
Dong Hyun Kim and Sean Pierson re-airs.
Johny Hendricks vs. Jon FItch is up next, and FItch walks out after Hendricks.
The Purdue Boilermaker is six feet tall and his reach has five inches on Hendricks, but Hendricks weighs 170 pounds without the beard, 171 or 172 with it.
Big ovation for the returning Fitch as he takes on "The Big Rig" right now!
Fight begins and before I can even mention the trunk colors I see Hendricks knock out Fitch...DID THE FIGHT EVEN START?!
Gustafsson is in the blue "GSP" trunks. Not quite Vale Tudo shorts.
Vlad misses a big shot and Gustafsson looks like he's more on point.
Vlad comes in too close and runs into a right hand by Gustafsson!
Ground and pound to put Vlad out real fast and say "Sayanora, Vladimir Matyushenko!" because The Mauler has done it again.
Winner by first round TKO, Alexander Gustafsson!
Unsure why Alexander Gustaffson is running out with headphones again, but he walks out first.
He is predominantly a striker but Gustafsson is stepping his game up everywhere else, and he'll need to have stepped his game up against Vladimir Matyushenko tonight.
Antoni Hardonk is out with Vlad, who is in the white and blue trunks.
The Swede will have the edge on reach and the reach on edge, waiting to fly towards Vlad at any moment.
I'm still kind of in awe of how lopsided Hettes made that fight.
I mean, I gave Alistair Overeem a 30-25 due to two rounds where I thought Fabricio Werdum stalled the fight this past June, but there was no stalling tonight.
There's beast mode, and then there's whatever mode Hettes was in tonight...this guy has a hell of a future.
Hettes showing that he's not afraid to stand but he takes Phan down again in round three.
Little bit more of the same as the first two rounds, except Phan looks cut open above the right eye.
Phan looks better with his striking this time, but Hettes again with the takedown.
The scary think about the kid is that he's a new face, but he's making Phan look worse than he actually is right now.
Hettes loses an arm triangle but does work for the finish on the ground, and despite not getting it, Hettes will not lose a round on my scorecard.
Got a few score sent in through Twitter Mobile that said two judges had it 30-25 for Hettes while one had it 30-26 for Hettes.
I dare you to challenge those scores.
Round two underway and Hettes mounts the pressure on Phan before taking him down.
Hettes risks giving up his leg and barely gets close to a rear naked choke but Phan gets on top and this one is definitely going to be a 10-9.
They get up and Hettes is doing serious work from the clinch.
Hettes with a takedown attempt but they get back up.
Yet another takedown from Hettes, and the Judo is really taking over as the round ends.
10-9 for Hettes. Y'all can say 20-17 if y'all want. Hettes WAS that first round.
Hip escape from Phan as he gets taken down from the start of round one, and one can tell that this kid is going to be a problem from the get go.
He loses a guillotine attempt and Herb Dean watching Phan to make sure he's not going to go out as Hettes is delivering the ground and pound.
Hettes knows how to prepare his victims for his favorite "death penalty", which is his submission offense.
Hettes holds his own in the stand-up despite getting tagged, takes Phan down and mounts his foe. He can go wherever he wants with this and he looks like he wants the armbar.
Spiderweb from Hettes to control Phan in the fading second of round one, and you really can't argue against this round for Hettes.
Would a 10-8 be too much?
Maybe, so I'll just say 10-9, but I'm being nice to Phan.
Jim Hettes is a Ricardo Almeida product who will be in the gray-and-black trunks, and he gets unconditional respect from me for walking out to Damien Marley.
For a purple belt in BJJ and a brown belt in Judo, the kid is a beast with submissions, but he's never had to grapple with a dude like Phan.
Phan has his own school in Orange County, and will rock the red and white trunks.
Hettes is taller and the difference is only one inch of reach.
The Rules of The World's Most Famous Proving Ground are run down, and now we are underway with the first fight in the night as Nam Phan and Jim Hettes are set to do battle right now!
Pardon the technical delays (my computer, not the reception on my TV, thank goodness), but for those of you wondering, Ross Pearson made a successful Featherweight debut against Junior Assuncao. The way I understand it, Pearson took the first and the third. Hope to have the specifics later in the night.
The opener plays, which only means that we are LIVE for UFC 141: Lesnar vs. Overeem!
Get comfy with Mike Goldberg and Joe Rogan, because you're not going to hear their voices for another two weeks after tonight!
Third round started off with plenty of takedown defense, but Castillo was able to get a better grip on the later takedowns and eventually took him down at will.
Close fight that could have gone to Njokuani, but I have it 29-28 Castillo.
Two judges agree, but one gives it to Njokuani, and Castillo wins a split decision.
Njokuani tries to establish his striking early as round two opens.
Njokuani defends a takedown attempt and finds a way to dictate with his Muay Thai while keeping his distance with his own striking.
Second Round sees most of the same, and definitely goes 10-9 Njokuani.
Anthony Njokuani vs. Danny Castillo is up first. Njokuani weighed in under the Lightweight limit and holds the advantage in height and his almost-76-inch reach.
Njokuani in the white trunks, Castillo in the red trunks.
Round 1 underway, and I can already tell Castillo may have trouble with Njokuani's footwork.
Njokuani gets taken down almost a minute into the round, and gets back up but finds himself getting controlled against the cage.
Last couple of minutes see both men scrambling for control and a huge slam to break a tight guillotine choke attempt from Njokuani.
Good first round and a 10-9 for Castillo.
As you folks can already tell, Matt Riddle was out due to falling ill hours before UFC 141, so Luis Ramos gets his show money.
Decent night of fights, but definitely want some of whatever isn't going to show up on Jacob Volkmann's drug tests.
That said, folks, we welcome you to UFC 141's prelims-- Njokuani vs. Castillo and Pearson vs. Assuncao--live on Spike TV!
This article is
What is the duplicate article?
Why is this article offensive?
Where is this article plagiarized from?
Why is this article poorly edited?