Philadelphia 76ers: 4 Players Bound for a Big Year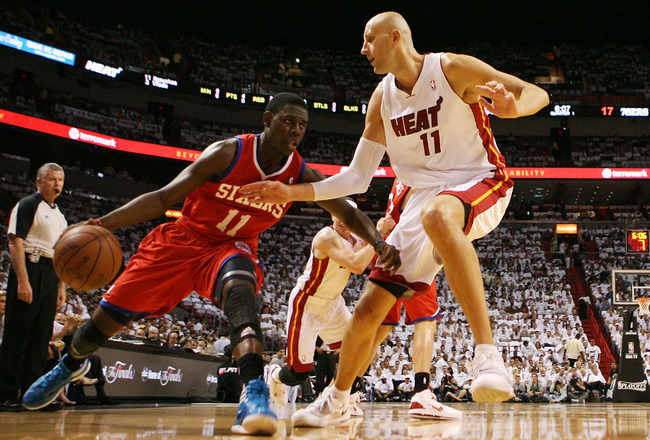 Marc Serota/Getty Images
The Philadelphia 76ers are a very young team with a lot of talent. They have been on the rise for a while, especially coming off of a solid season. This year is when they start to put all the pieces together.
Many NBA fans may not be able to tell you much about this squad because Philadelphia is generally overlooked, but this team has potential.
After growing and maturing as a team for a few years now and with a great coach behind them, this year is when a few players will really break out and the Sixers will make the playoffs as a serious team.
Evan Turner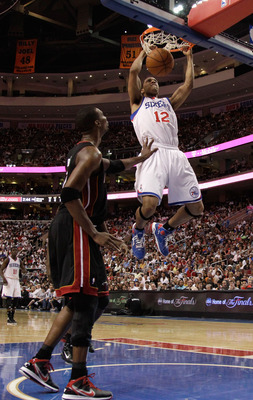 Rob Carr/Getty Images
Evan Turner had a quiet rookie season, but in his defense, he didn't see a lot of playing time. And when the time came, he showed up during the playoffs against the Miami Heat, so hold off on your negative labels of the young player. He's got potential.
In two games thus far, he has done a decent job. Against the Suns, he shot 6-of-9 from the floor recording 12 points and seven rebounds.
He has gained a lot of confidence this year, and you can tell in his play.
Turner didn't shine at Ohio State until his second year, and maybe, the same thing will happen here.
Jrue Holiday
Rob Carr/Getty Images
Many fans believe Jrue Holiday has a lot of potential to become a great point guard, and last year, he showed he can take charge of the offense.
This year, despite some early struggles, he will really break out.
When it's all set and done, Holiday will be a top point guard in the league.
Spencer Hawes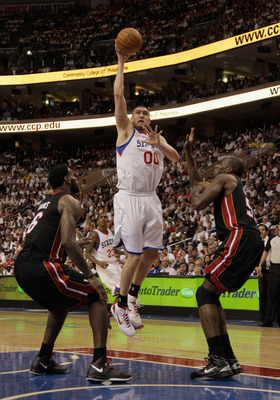 Rob Carr/Getty Images
Who leads the team in rebounds? Assists? Steals? Recording nearly a double-double a game? That's right, you didn't say it... Spencer Hawes.
The Sixers are just two games into their NBA season, and Hawes is already establishing himself. He's averaging just under 10 points and almost 13 rebounds per game (also six assists and two steals).
OK, OK, I know we're only two games through the season, and maybe we shouldn't jump the gun. I get it. It could just be a hot start. But I believe there's more to come. I'm drinking this guy's Kool-Aid.
Hawes is just 23 years old, and maybe, this is the year where he puts everything he has learned all together. It has happened before with many players, and I think Hawes is about to experience it this season.
Andre Iguodala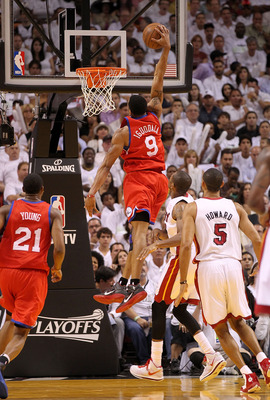 Mike Ehrmann/Getty Images
Andre Iguodala always puts up good numbers.
He has always been a good player for this team, whether you choose to acknowledge it or not. But this year, I really think everyone will appreciate him.
He's started off on a good note averaging 18.5 points, six rebounds and 4.5 assists per game. He even ranks fifth in the NBA in PER (Player Efficiency Rating).
And true, we are only two games into the season, and it will most likely go down but still. He's off to a hot start.
Entering this season, Iguodala had a lot of weight on his shoulders with all eyes focused on him.
With the same squad as last year, I think Iguodala steps up and has a great season.
Conclusion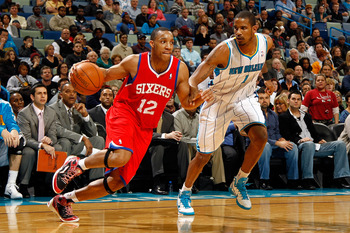 Chris Graythen/Getty Images
The 76ers are in for big year, no question. At best, they could reach a fourth seed if everything falls their way, believe it or not.
There's a solid, young core here that could go somewhere in the near future. And if everyone plays to potential, the Sixers could make a serious run at top player on the trade market.
All of these guys will really spark this season and play to their best ability (maybe give Turner an extra year or two). But even aside from these guys, the rest of the team should have good a good season too.
The list doesn't stop here.
Keep Reading

Philadelphia 76ers: Like this team?