Sugar Bowl 2012: Predictions and Spread Info for Michigan vs. Virginia Tech
December 30, 2011
Gregory Shamus/Getty Images
While there are BCS bowls that are far too close to call, the Sugar Bowl matchup between Michigan and Virginia Tech is a blowout waiting to happen.
Michigan is quite possibly the most underrated team in the nation, while Virginia Tech is on the other side of the spectrum. Both teams will show why when they take the field this Tuesday.
Let's take a closer look to see how it's going to play out.
When: Tuesday, Jan. 3 at 8:30 p.m EST
Where: Mercedes-Benz Superdome (New Orleans)
Watch: ESPN, ESPN3.com 
Key Storyline
Which of these teams belongs in the Top 15? Both Virginia Tech and Michigan are entering a game that will validate the winner's place in the Top 15 and even build their case for breaking into the Top 10, while the loser will only validate critics' concerns.
Spread: Michigan -2.5, according to SportsBook 
Take Michigan. Virginia Tech comes into this game after getting rolled by Clemson. Michigan is coming off three strong victories, taking down Illinois, Nebraska and Ohio State. Not a single one of their 10 victories has been decided by the margin of a field goal and this one won't either.

Over/Under: 51, according to SportsBook

Go with the over here. Michigan has scored over 30 points nine times this season. Virginia Tech scored 30 or more seven times this season. Both teams have the offensive firepower to really get going and should cover the over with ease.
Who Might Not Play for Michigan:
Brennan Beyer, LB: Leg, Questionable
Ricky Barnum, OL: Ankle, Questionable
Will Heininger, DE: Foot, Doubtful
Darryl Stonum, WR: Suspension, Out for season  
Who Might Not Play for Virginia Tech:
Tyler Weiss, PK: Disciplinary, Out
Cody Journell, PK: Suspension, Out
Bruce Taylor, LB: Foot, Out for season
Jeron Gouveia-Winslow, LB: Foot, Out for season
Antoine Hopkins, DT: Knee, Out for season
Dyrell Roberts, WR: Arm, Out for season
David Wang, G: Foot, Out for season
Kwamaine Battle, DT: Knee, Out for season
 
Injuries according to USA Today
What They're Saying:
CBS Sports tweeted that Virginia Tech had to send its place kicker home after missing curfew. It's already suspended one kicker, and if this game comes down to the wire, this could be huge.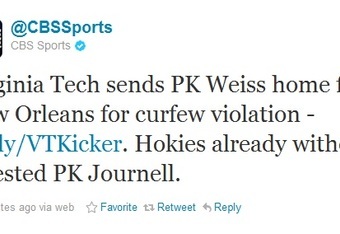 CBS Sports Michigan says Denard Robinson expects to return to Michigan. While it's no surprise, the timing of it was well planned, as it has the power to give Michigan momentum and faith in its leader before the game even begins.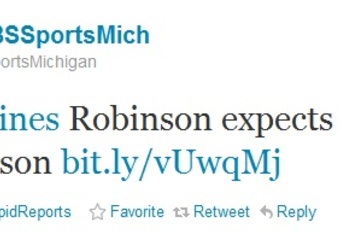 Michigan Player to Watch:
Denard Robinson has the power to take over this game. He's got more than 1,000 yards on the ground and is a true dual-threat nightmare.
Robinson is the one guy VA Tech's defense can't afford to let loose and unfortunately, there is nothing they can do to stop him.
Virginia Tech Player to Watch:
David Wilson has rushed for more than 100 yards 10 times this season. He's the heart of the offense and can't afford to have a 32-yard dud like he did against Clemson.
He's got to come up big for his team and you can expect him to have a huge day once again.
Key Matchup:
Denard Robinson vs. Virginia Tech's front seven.
Forget about what Robinson can do with his arm. His 170 yards and two touchdowns against Ohio State's defense is a testament to how lethal he can be on the ground, and if Virginia Tech's front seven fails to corral him, it's all over.
Prediction:
Michigan 38, Virginia Tech 27