Peyton Hillis: Browns RB Moronic to Use "Madden Curse" as Cop Out
December 30, 2011
Rob Carr/Getty Images
Peyton Hillis wasn't there for his team this season, put himself first, made multiple selfish moves and regressed from a hero in Cleveland to a sniveling crybaby.
To make it worse, he's using the "Madden curse" as a crutch to deflect accountability for his actions.
According to Jodie Valade of The Plain Dealer, "Things haven't worked to my favor this year," Hillis said. "There's a few things that happened that made me believe in curses. Ain't no doubt about it."
Seriously? Issues with his contract have had him kicking and screaming all season long.
The debacle with his strep throat, injuring and reinjuring his hamstring and getting married instead of putting all of his efforts into getting healthy, the disgusting lack of production and an intervention of sorts by veterans in the Browns locker room have made this a soap opera year for Hillis and the Browns.
He can blame the Madden curse all he wants, but the real culprit behind his decline is Hillis himself. He bought into his own hype. Breaking onto the cover of Madden had him thinking that he was one of the best players in the NFL.
He failed to realize what made him so special to the fans of Cleveland. He was a hard-nosed back and wildly productive. His blue-collar mentality and more than 1,600 all-purpose yards in 2010 made him a fan favorite.
He seemed like a guy who would play this game for free, but he made it glaringly obvious he's not the hero Cleveland thought it had in the backfield.
Rather than manning up, performing during his contract year and proving he is worthy of a blockbuster deal, he demanded one and pouted when it wasn't handed to him.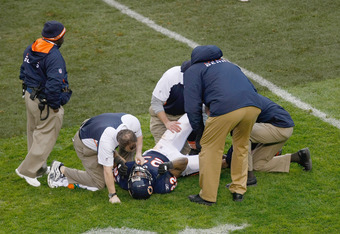 Scott Boehm/Getty Images
Matt Forte may have fallen to injury, but there is no question which back is going to draw more suitors in free agency.
Hillis can blame whomever he wants for being completely worthless. The fact of the matter is he's responsible for how this season shook out. He hit a few bumps in the road, but his inability to overcome any adversity whatsoever made every obstacle he encountered the worst it could possibly be.
Let's hope if Aaron Rodgers, Drew Brees, Patrick Willis or DeMarcus Ware get on the cover of Madden next season, they don't suddenly fall off the face of the earth and find themselves at odds with their team.
Then again, real stars who grace the cover of the video game don't tend to become non-factors in the manner that Hillis did.
There have been an uncanny amount of players injured after being featured on the cover of Madden. Hillis' strep throat isn't exactly Michael Vick's broken leg.
Hillis is a cancer in the locker room and it's safe to say Cleveland can't wait to see him hit the road. Hopefully three years from now, when he still feels he's underpaid and is griping about being unappreciated, we aren't hearing about how the Madden curse is still affecting him.