NHL Winter Classic 2012: 5 Reasons to Be Excited for the Alumni Game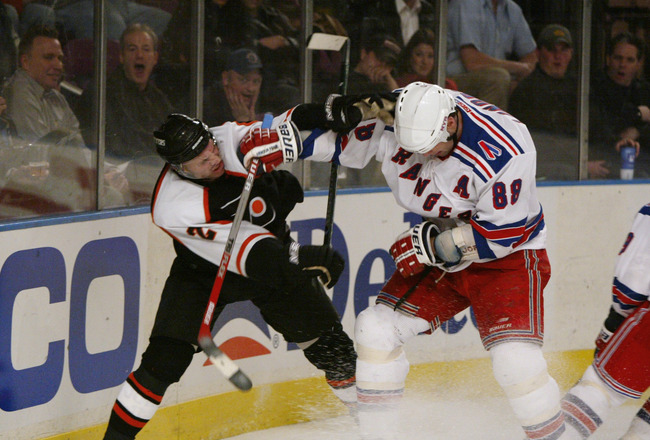 Al Bello/Getty Images
The Winter Classic is something that most hockey fans look forward to, whether their team is participating in it or not. So far, the Classic has been very successful for the NHL and continues to attract more media attention every year. Not only that, but it seems as though every year it just gets bigger.
This year, the 2012 Bridgestone NHL Winter Classic will be hosted by the Philadelphia Flyers at Citizens Bank Park, home of the Philadelphia Phillies. Hockey fans will get to watch the Flyers and the Rangers square off in what is one of the most heated rivalries in the NHL.
That said, the Winter Classic won't be the only major event held in Citizens Bank Park. The Adirondack Phantoms are set to play a game outside against the Hershey Bears, and of course, there's the Alumni Game.
In this slideshow, I'll list five reasons why I think people should be just as excited for the Alumni Game as they should be for the actual Classic itself.
As always, feedback is appreciated.

Follow me on twitter @ManayunkMike for the latest news, rumors, and more.
5. Hockey Legends Will Once Again Take the Ice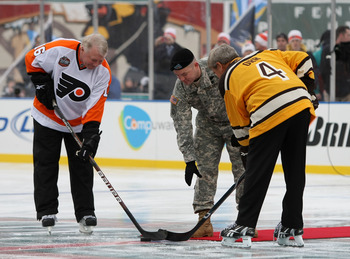 Elsa/Getty Images
This one seems pretty obvious, but I get the feeling some fans don't really fully appreciate just how much this means to the sport of hockey, and how big this really is.
Philadelphia and New York fans will get one last chance to see some of their most favorite players of all time, but it isn't just Flyers and Rangers fans who get the special treat. The guys taking the ice are living legends in the sport of hockey, and to see guys like Bobby Clarke, John Vanbiesbrouck, Jeremy Roenick and Mark Messier on the ice again is certainly a once in a lifetime opportunity.
This certainly does a great justice to the NHL, and I couldn't think of a better way for old-time hockey fans to tune in watch the players that they grew up with hitting the ice for one more game. It is the epitome of awesome, if you ask me. It brings new and old fans together for their common love of the sport of hockey, and it really shows the world that hockey is not a dying sport and that these guys have a ton of passion about what they do and what they've done.
For me, it will be most exciting to see Bernie Parent and Eric Lindros. Who are you looking forward to seeing out there?
4. The Rivalry Continues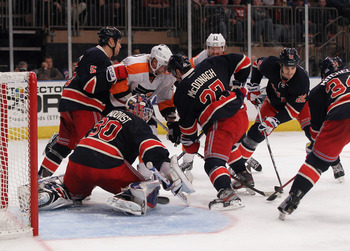 Bruce Bennett/Getty Images
It's no secret to anybody who has watched a Flyers-Rangers game that these two teams don't like each other very much. All you have to do is tune in to any Flyers-Rangers game to see that. But most people haven't yet realized something.
The legends playing in the Alumni Game were all at some point part of the Philadelphia and New York rivalry, and some guys like John Vanbiesbrouck and Eric Lindros have seen both sides of the coin.
There could still be some bad blood between certain guys, even though it's been years since most have them have seen each other. The Alumni Game could turn out to be just as entertaining, if not more entertaining than the actual Classic itself.
While I don't expect any real rough play or fights to break out (how cool would that be?), I could certainly see some exchanging of words between the two teams. Some guys may feel they have some unfinished business that they left out on the ice years ago.
It will be interesting to see how the game unfolds.
3. You're Witnessing History in the Making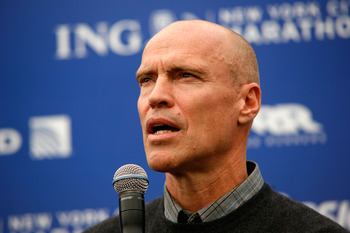 Andy Kropa/Getty Images
It's likely that you'll never see most, if not all, these guys ever step foot on the ice again for another hockey game, which makes this a very special and historic event.
All of these guys participating in the Alumni Game are way past their prime, but that doesn't mean they've forgotten how to play hockey. It's something you don't exactly forget how to do after you've done it for most of your life.
Fans lucky enough to get tickets to the Alumni Game will witness hockey legends live in person, battling it out one last time for their team. That to me is very special. These guys have all moved on from the sport of hockey and went their separate ways in life, but they all will answer the calling on Dec. 31 and suit up one last time in this little piece of NHL history.
Hockey is still a part of them, and they have defined the sport. These guys gave their blood, sweat, and tears to the sport, and even after all these years, they'll do it again.
2. The Alumni Game Is Just the Beginning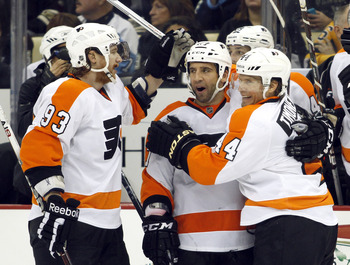 Justin K. Aller/Getty Images
While I can honestly say that I'm just as excited for the Alumni Game as I am for the Classic itself, I can't help but feel like I'm being a bit spoiled. After all, it's not like the festivities end once the Alumni Game is over.
The Alumni Game is just the beginning of the festivities in Philadelphia, as Philadelphia and New York fans alike will get to experience a total of three games at Citizens Bank Park. Not only that, but there will be plenty of vendors and games and merriment around the ballpark for days.
If you can make it down to Philadelphia, even if just for one day, I'd do it. The events set to take place here are absolutely amazing. The ballpark and the city alike will be buzzing for days. You don't have to be a Philadelphia Flyers or New York Rangers fan to appreciate all the fun and interesting things they have going on. Heck, you don't even really need to be a hockey fan to enjoy it.
Maybe you're not a huge hockey fan, but you know somebody who is. If that's the case, take one for the team and bring them to Philadelphia if possible. You won't want to miss all the exciting action and activities going on, the Winter Classic probably won't be coming back to Philadelphia for the rest of our lifetime.
1. You Don't Need a Ticket to Enjoy It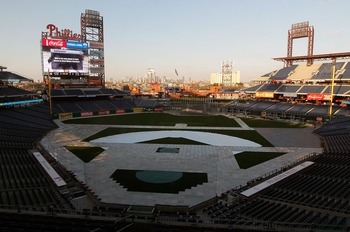 Paul Bereswill/Getty Images
While the new year has crept up on some people (like myself), I feel as though the Winter Classic sort of came a bit too fast this year. Maybe it was because I wasn't prepared to buy a ticket because of all the Christmas stuff I bought my son this year, or maybe I just was simply too busy with work to pay a heck of a lot of attention to it. Whatever the case, I'm a bit bummed I won't be able to attend, and I'm sure there's a ton of other people just like me who feel the same way.
Then I got to thinking. I don't really need a ticket to enjoy all of the great things that will be going on down there. I might not be able to attend one of the games, but I can certainly go down to the ballpark and take part in all the festivities.
What I'm trying to say is, there is unlimited potential to still have just as much fun down at the ballpark. You don't need a ticket to enjoy the events. Besides, unless you have a really close seat, do you really want to have to squint your eyes to see who scored a goal?
The Winter Classic is still new to the NHL, and every year it gets bigger. I've grown to enjoy the Classic as a whole, not just because I like the teams playing in the events. What's better is this is just the beginning for the NHL. There will be more Winter Classics after this one, and it will only continue to get bigger over the course of time.
This is just the beginning, hockey fans.
Keep Reading

Philadelphia Flyers: Like this team?