2012 NFL Draft: Why No Team Should Mortgage Its Future for a Top Pick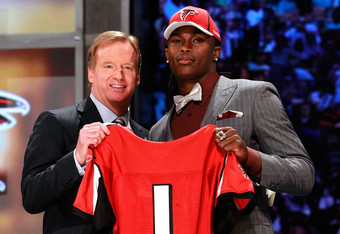 Chris Trotman/Getty Images
In the 2011 draft, we saw Atlanta trade all the way up from the 26th spot to take Julio Jones with the sixth overall pick. They saw the potential in the physical freak from Alabama and determined that he was worth two first-round picks, a second-rounder and two fourth-rounders—a tall price to pay for an unproven rookie.
In today's NFL, draft picks are extremely valuable, and giving away future picks can set a franchise back years. Atlanta has squeaked into the playoffs this season, but Carolina is closing in on the Falcons. Without a first round pick, Atlanta will be unable to add cap-friendly talent to fend off their division rival for the second rank in the NFC South.
Trading down and up comes down to future versus present. If you're on the verge of Super Bowl contention, it can be awfully tempting to take a risk on a young talent, but if that player does not pay immediate dividends, it's back to the drawing board. A team will now lack youth due to the amount of picks they had given away, and they can quickly fall behind if they lose a key veteran or two.
The Patriots have been the masters of taking advantage of teams that are rushing success. Year after year, the team has traded down and compiled loads of second day picks. In the last three seasons combined, they have drafted in the second round an astounding nine times. That correlates to six trades and many key contributors that keep this team consistently atop their division.
No team has had more sustained success than the Patriots, and it's about time that the front office's around the NFL begin to follow this winning formula. Giving up a future first-round pick for a second-rounder now is just not smart management. This often occurs if a lame-duck head coach or general manager is trying to save their job, but the owner is paying the bills. They need to be more assertive in stepping in to preserve the future interest that they have in their franchise.
Craig Jones/Getty Images
Despite my sincere advice, there will likely be more drama at the top of this draft than any other in recent memory. This will all be created by the immense talent at the quarterback position near the top of this class. Stanford's Andrew Luck has already been crowned the next Peyton Manning, and Robert Griffin is not far behind after an amazing season.
Both will be drafted near the top of the draft, but therein lies a problem. The two teams drafting in the first two slots of the draft have a franchise quarterback. The Rams have their future set with Sam Bradford—despite a disappointing which has led to some questioning of his talent—and the Colts have a Hall of Famer in Peyton Manning.
The asking price to trade up will be extremely high and could rival the Ricky Williams trade of 1999, which had the Saints trade up to the fifth pick and give up every pick that they had in that draft to the Redskins. Ultimately, that trade was mutually unrewarding for both franchise's as Williams failed to live up to the hype and the 'Skins missed on nearly every pick of their draft.
The Redskins have been through this so they—as well as the Seahawks, Browns and other teams interested in the services of this year's top quarterbacks—should heed my advice: no player is worth multiple first-round picks, second-round picks and certainly not an entire draft. Build your team with the picks you have and never put all of your eggs in one basket. It will bite you in the end.
This article is
What is the duplicate article?
Why is this article offensive?
Where is this article plagiarized from?
Why is this article poorly edited?