Champs Sports Bowl 2011: Grading Florida State's Win Against Notre Dame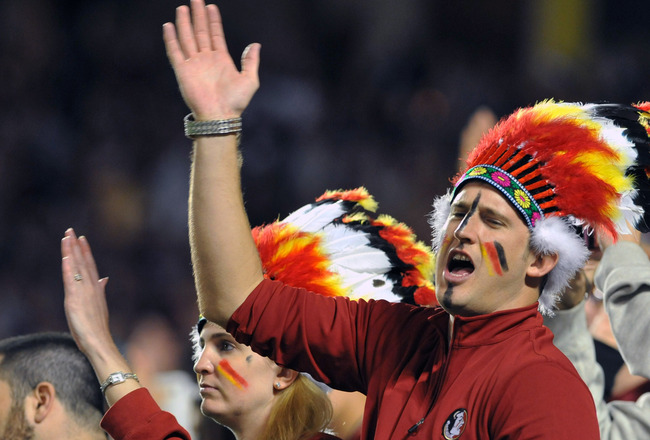 Al Messerschmidt/Getty Images
Florida State overcame a 14-point deficit by scoring 18 unanswered points in the second half to pull off the thrilling come-from-behind victory in the Champs Sports Bowl.
FSU battled through injuries and were able to force the much-needed turnovers, on top of protecting E.J. Manuel in the pocket. It truly was a proud night to be a Seminole fan, and we all can finally hope for that dream season in 2012.
Any way you look at it, the Seminoles have a boatload of talent, but they still have things to work on. Grading the offense, defense, special teams and overall, I will review the 18-14 Florida State victory over Notre Dame.
Offense
Florida State amassed 290 total yards of offense against the 34th-rated Notre Dame defense. The Irish were able to force just one turnover, although that turned into a fumble recovery for a touchdown.
Devonta Freeman had hauled in a pass out in the flats, but failed to tuck the ball (or move it to his other hand while tucking it) as Manti Te'o poked the pigskin loose, and Zeke Motta rumbled in for a 29-yard touchdown.
Plus, the rushing attack was nonexistent, as the Seminoles ran for 41 yards on 29 rushing attempts. FSU came into the game ranked 99th in rushing offense, and most already knew they were not going to win this game by running the football.
Instead, E.J. Manuel did not panic after getting sacked four times in the first half, and he found Rashad Greene five times for 99 yards and the game-winning touchdown. Manuel overthrew a few receivers in the first half, but he made some clutch throws in the second half.
Bert Reed was not expected to play about a month ago (even perhaps a few days ago), but he started the comeback with a tremendous 18-yard touchdown catch to put the Noles within five.
No play was better and bigger than Greene's 42-yard catch on a 3rd-and-6 that would have given the Irish great field position. The catch led to a 29-yarder by Dustin Hopkins, and the Noles were able to hang on thanks to a masterful performance in the fourth quarter (as opposed to an ugly showing in the first half).
Grade: B-
Defense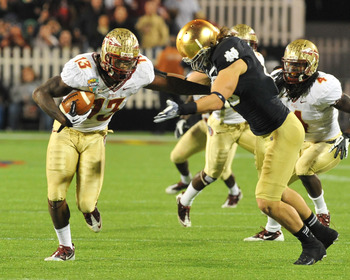 Al Messerschmidt/Getty Images
Florida State showed why they were the second-best team in the country against the run.
The Seminoles allowed just 93 yards and avoided getting gashed thanks to stellar play from the defensive line and smart reads by the linebackers.
Nigel Bradham, Lamarcus Joyner and Terrance Brooks all came away with game-changing interceptions that were vital to the victory. Joyner's was right out of the gate, which prevented an early touchdown, Bradham's pick started the comeback and of course Brooks sealed the victory.
This was a game where key injuries took place in the second half, and it did not look good for Florida State. Xavier Rhodes injured his knee on a play in which Michael Floyd took a decent lick from Joyner (who continues to impress).
Then Greg Reid got hurt and was not be able to come back in the game after he landed on his neck and appeared to suffer a concussion. It happened as Floyd juggled in a 5-yard jump ball touchdown.
On that play, though, Floyd took a shot right in the chest from star linebacker Bradham. Floyd was also dinged up with a hip pointer earlier in the game, but the Noles' defense and secondary were able to contain the Irish receiver.
Joyner and Michael Harris were sensational at corner, but it was the safeties (Nick Moody, Terrance Parks, Brooks and Joyner) who played great in the clutch.
Grade: A-
Special Teams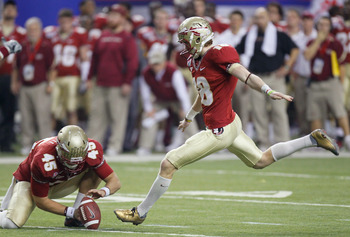 Kevin C. Cox/Getty Images
Greg Reid did not get a chance to bring many punts back, but he hung on to the ball and still set his team up well.
Shaun Powell had a solid game, though he had arguably his worst punt of the season when most would have preferred him to kick it to the moon.
However, the Noles' defense had his back like great teammates do, and let us not forget the final punt that Powell booted 53 yards.
Dustin Hopkins made his two kicks and set up the special teams well by placing the kickoffs all inside the 5-yardline, but just outside the end zone where the Irish had no choice but to run it out.
Outside of the 37-yard return by Notre Dame's George Atkinson, the coverage team did well. Florida State also had a beautiful return from Lamarcus Joyner that went for 77 yards and led to the first three points of game for FSU.
Overall, the special teams got the job done and proved to the nation why they were one of the better units in America.
Grade: A
Coaching
Al Messerschmidt/Getty Images
Having been able to watch every bowl game, there are many decisions by coaches that have not only backfired but were questionable to begin with.
Jimbo Fisher pulled out a few stops that I loved, even though the fake punt run backfired by two chain links. The gutsy call showed Jimbo was willing to do anything to spark his offense since they were abysmal in the first half (allowed four sacks, four first downs).
However, Mark Stoops had his defense playing like men possessed in the second half. The three forced turnovers were crucial, but I was thoroughly impressed by the linebacker play. Vince Williams and Telvin Smith played significant time alongside Nigel Bradham and Christian Jones.
The defensive line was unstoppable off the edges in the later stretches of the game. Brandon Jenkins, Tank Carradine and Bjoern Werner made life miserable for Tommy Rees and Andrew Hendrix.
Stoops dialed up an amazing game plan and was never timid about bringing the house. It helped Michael Floyd missed the entire fourth quarter and the Irish had a few drops that played a small role in the game. The only beef I had was All-American Tyler Eiffert being left alone on an island on a few occasions.
Other than that, the Seminoles' defense proved to the nation that they are ready to go off in the 2012 season.
Grade: A-
Overall Grade: B+
Thoughts for 2012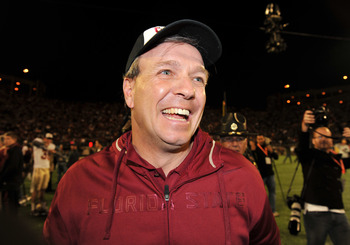 Al Messerschmidt/Getty Images
Florida State pretty much gave me exactly what I had expected in terms of the end result, but this was a comeback to remember for a long time.
Last year's victory over a good South Carolina team went for naught with some injuries and brutal stretches of games, but next season, that non-conference slate gets a whole lot easier.
West Virginia comes to Tally, and this defense should all be back. Brandon Jenkins may have a tough decision, but if he comes back, this defensive line will be among the top two or three in the country.
The linebackers will lose Bradham, but so many other studs will step up. Telvin Smith, Jeff Luc and Vince Williams are all reliable, and they will get significant time with the next budding star at FSU, Christian Jones.
At the end of the day, this team will go as far as their offense takes them, and the second half gives us a great indication that these young receivers grew up in front of our very own eyes.
Rashad Greene has star written all over him, and Christian Green, Rodney Smith, Nick O'Leary and Kenny Shaw will build a great rapport with Manuel in the offseason. If Andrew Datko can be granted a medical redshirt from the NCAA, the offensive line will no longer be a major weak link.
Even without him, I look for improvement, which will open up the passing game since James Wilder Jr., Devonta Freeman, Chris Thompson and Mario Pender (hopefully he signs LOI) should provide a talented backfield.
Enjoy the Champs Sports Bowl victory, Happy New Year and stay tuned for weekly updates on the Seminoles during the offseason!
Keep Reading

Florida State Football: Like this team?