Oregon State Beavers: Fall Short After Comeback to Huskies 95-80
December 30, 2011
Jeff Gross/Getty Images
University of Washington Husky fans had a lot to cheer for tonight as their football and basketball teams both played in big games. However, one team didn't do as well as the other did, but at least their basketball team gave them some dramatic entertainment as the Huskies beat the Oregon State Beavers 95-80. 
With Alamo Bowl clips running on the video board flashing Huskies football updates against Heisman trophy recipient, Robert Griffin III and Baylor, the Alaska Airline crowd had a lot to cheer for and a good dose of added drama. 
Oregon State looked to turn the Washington crowd's attention to them as Tony Wroten played the game of his young career. Jared Cunningham did his high-flying acrobatics, Joe Burton flipped balls in the hoop like a kid playing with a ball of yarn and the Beavers succeeded as the attention quickly turned to the hardwood. 
Just like their football team the Huskies lost a 20-point lead and found themselves in what the Beavers like the most: fast-paced, back-and-forth battles. In the Pac-12 opener for both teams, the Beavers (10-3, 0-1) got the score to 83-80 with three minutes left before Washington found a way to get back ahead and hand the Beavers their ninth straight loss in Seattle. 
Robnson's Beavers got off to their best start in 22 years, winning 10 of 12 games where eight of them came with a margin of 20 points or more. But OSU had to prove itself on the road and have not faced a team with the length and quickness that Washington has this season. Especially freshman Tony Wroten. 
Wroten scored a game-high 26 points to help his Huskies to what seemed like an easy victory.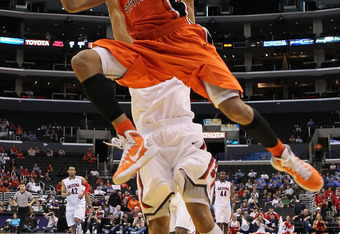 Jeff Gross/Getty Images
The Beavers did not start well as the team was down 12-4, missing seven of their first nine shots looking extremely out of sync. Angus Brandt, who is the Pac-12's field goal percentage leader, missed three of his first four shots. 
Washington was able to take a 6-0 lead after Wroten grabbed an inbounds pass and put it in. Bunningham did his best to keep the Beavers in it early, scoring nine of the Beavers' first 13 points, but then slowed down as the Huskies started to push the temp into their favor. 
Within a heartbeat the Huskies were up 40-20 and running for more, but the Beavers weren't done as they went on a 13-4 run. All while Cunningham was on the bench. 
In the second half Oregon State came out with the energy they were lacking in the first 20 minutes. Burton scored on a hook shot and Cunningham was all over as the Beavers were throwing down buckets just as much as the Huskies. 
With a three point shot by Roberto Nelson the score was cut to 66-60 with just 12 minutes left. Then Wroten took over, hitting three pointers to give the Huskies a nine-point lead and gave him his first points of the half. He finished with 14 points in the final 12 minutes. 
Every team needs to hit free throws and tonight that wasn't the case for either team as the Huskies hit 17 of 20; the Beavers only 9 of 17. Turnovers were also a big factor of this game but the Beavers did not force that many, even with the pace of the game. 
Oregon State will look to rebound and find their way back to the dominant team they have become in the Pac-12 this season as they get set for Washington State on Saturday, Dec. 31st in Pullman. Tip off is 3:00 pm.