Rex Ryan May Have Lost His Luster, but He Can Still Save His Job
December 30, 2011

Bill Wippert/Associated Press
I used to be a Rex Ryan fan. Correction, I used to be THE Rex Ryan fan.

That's no small admission coming from a die-hard Steelers fan who lives and breathes hatred for the Ravens; hatred that usually extends to their entire coaching staff, both past and present.
So when the Jets hired former Ravens defensive coordinator Rex Ryan in early 2009, I was fully prepared to hate him, and by extension, the Jets.

Which is why it was so stunning that I didn't. Not only did I not hate the brash and bulky Ryan, I actually kind of liked him. He seemed genuine and confident at his press conferences; eschewing the customary 'coach speak' clichés in favor of definitive statements about expectations.
Ryan was willing to identify the enemy, evaluate him on the record and take whatever heat came his way for it. He wasn't afraid to stand in the front of a room full of reporters in August and talk about the Super Bowl, and he showed up every Sunday thereafter ready to back it up, win or lose.

In 2010, when the Jets were featured on HBO's Hard Knocks, it was clear that Ryan's loudmouthed persona wasn't manufactured. In fact, it wasn't a persona at all; it was just Rex being Rex.
He could make conditioning fun, he could make classroom time interesting, and he could make eating a Goddamn snack hilarious. It was obvious that Ryan was relishing his new role as a celebrity head coach and even more obvious that Gang Green loved playing for him.

Ryan may have been thinking Super Bowl or bust early on, but the organizational pressure was relatively low his first two seasons. As a first-time head coach with a rookie quarterback, he was awarded a little leeway.
Even the media, many of whom were enamored with Ryan early on, went relatively easy on the man who was literally, and figuratively, a very large target.  

That was then.

Today the honeymoon with Ryan is officially over. After reaching the AFC Championship in each of his two seasons, the Jets are a long shot at best to even reach the playoffs in his third.
The media has grown tired of his shenanigans and are starting to pile on the criticism. And all the little reasons Ryan was loved early on are the same reasons he's becoming more unlikable by the day.

Boring as it may be, NFL head coaches are notoriously reserved and almost universally vague because they understand who puts asses in the seats.
In 2011, a record 111 million people watched Super Bowl XLV and, excluding their immediate families, none of those people tuned in to watch Mike Tomlin and Mike McCarthy frantically pace the sidelines.
Surely, Mike Tomlin and Mike McCarthy are well aware of this fact, but it's not certain Rex Ryan is.

That major misconception aside, the reality today is that problems are really starting to mount for Ryan in New York. Jets owner Woody Johnson has made it clear his head coach's job is not in jeopardy, telling ESPN that he backs Ryan, and trusts his judgment 100 percent; even describing him as "brilliant."
Johnson is known as a straight shooter and he's got an obvious affinity for Ryan, so there's no reason to believe the coach is in any immediate danger; that will change if the Jets continue to struggle in 2012.
Since acquiring the franchise in 2000, Johnson has gone through four head coaches and starting quarterbacks, which suggests he won't be afraid to pull the plug in 2012.

That means Ryan has exactly one year to address a number of major problems, find solutions for most of them and get the Jets back in contention. Obviously, that's a tall order, but Ryan may be a lot of things, one thing he isn't is a quitter. He can save his job if he does the following five things:


Talk Less, Say More
While he surely wouldn't agree, Rex Ryan running his mouth incessantly is bad for the Jets. Giving Ryan the benefit of the doubt, let's assume the in-house opinion of him hasn't deteriorated as public opinion has, and that he's still a revered figure in that locker room. Then consider how it affects those players to hear their coach labeled a joke, a punch line, a mistake or even a disrespectful bastard.

For three years, Ryan's mantra has been "I stand by everything I said; I won't change." Well, he doesn't have to change much, but he'd have a lot less to stand by if he would just say less in public.
Someone on the inside needs to sit down with Ryan and explain to him that behind closed doors, Rex is free to be Rex, but when he's on television or addressing the media, he is representing the franchise.

Every head coach in the NFL thinks his team is going to win come Sunday, so there's no reason to say it.
Nobody thinks Rex accepted the Jets job because he wanted to kiss Bill Belichick's rings. Nobody thinks Rex wants to play second-fiddle to the Giants. Nobody thinks that Rex doesn't want to win a Super Bowl.
At this point, we know all we need to know about Rex Ryan, and we know one thing for absolute certain--when it comes to him running his mouth, less is always more.


Change the Culture he Created
It's safe to say that Rex Ryan is no fan of the nearly-extinct authoritarian coaching style of Bill Parcells, considering he used it as a guide of what not to do when creating his own, polar opposite, style.
Ryan has replaced restraint with trash talk, discipline with chaos, and dignity with bravado...and he's proud of it. Today's players don't want to play for a coach like Parcells, but surely there's something in between a dictatorship and a three-ring circus where the only rule is: There are no rules!

Actually there is something in between; Steelers' head coach Mike Tomlin, who is tied with Ryan as the coach players would most like to play for.
Tomlin has a great relationship with his players and is often seen laughing and joking on the sidelines, but you don't get the sense that he spends his weekends at strip clubs with Mike Wallace and Antonio Brown.
Tomlin, and guys like Jim and John Harbaugh, manage to be friendly and well-liked, without letting their guys forget who wears the metaphorical pants.


Stop Ignoring Personnel Deficiencies
Let me go on the record and concede that I am in no way qualified to run the day-to-day operations of an NFL franchise, but it doesn't take a GM to recognize that the Jets are deficient on both sides of the ball.
Collectively, they are one of the older teams in the league, and it's time to say goodbye to under-producing veterans like LaDainian Tomlinson, Plaxico Burress and Bart Scott.

Ryan's drafts have been largely disappointing, but in his (sort of) defense, the Jets had only 13 total picks in his first three years. Unfortunately, that makes the fact that no less than 10 of them were complete misses all the worse.
Ryan's "best" draft picks to date are (arguably) Shonn Green and Mark Sanchez; second year bench-warmers Kyle Wilson and Vladimir Ducasse are still question marks.

Compare that to former Jets coach Eric Mangini's best draft picks: David Harris, Dustin Keller, D'Brickashaw Ferguson, Nick Mangold and Darrelle Revis; all of whom are current roster standouts. And he was fired after three seasons.


Redefine Success and Failure
In his first three seasons with the Jets, Rex Ryan has made his preseason Super Bowl victory guarantee an annual tradition.
Time and time again, he's made it clear that winning the Super Bowl is the only thing he considers a success, and everything else is a failure. In theory, this sounds great, but it's far more complicated in practice.
First of all, even if you have an elite quarterback, a solid defense, a talented supporting cast and a favorable schedule, winning the Super Bowl is hard. If that's the only measure of success for a franchise, then, even in the best-case scenario, it's not succeeding 364 days a year.  

Any benefit Ryan thinks his posturing provides the team is far outweighed by the negatives. The media spotlight is already intense in New York and Ryan's words create unrealistic expectations for the Jets and put undue pressure on his players, who often feel they have to defend their coach from public scrutiny.
Ryan certainly isn't doing himself any favors either; he's been calling himself a failure on a national stage for three years now. Good luck trying to get another job if things don't work out in NY.

Ryan's shtick has inadvertently created an atmosphere of perceived failure that could ultimately cost him his job. Ryan has been calling himself a failure for three years, and now he's got throngs of journalists and fans backing him up.
Never mind the fact that even with the Jets missing the playoffs in 2011, Ryan has strung together the most successful three-season span in the last 20 years.


Address Mark Sanchez Situation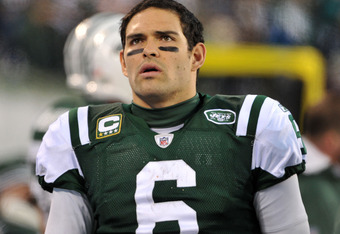 Christopher Pasatieri/Getty Images
The question of Mark Sanchez's future with the Jets is looming large on the horizon for Ryan. Sanchez thinks he's got a successful future ahead of him with the team, and Ryan has said that Sanchez will be the quarterback for as long as he is coach.
Although, since Ryan has never met a bad decision he wasn't eager to publicly avow, who knows what he's really thinking?

Ryan doesn't appear to realize that if he doesn't find the right solution, or dissolution, to the current quarterback situation, he's in grave danger of having his entire career defined by Mark Sanchez.
Drafting Sanchez was the first major personnel decision at his first draft as an NFL head coach, and he seems inexplicably prepared to go down with the ship. Ryan is unlikely to pull the plug on Sanchez completely, but if 41-year-old Mark Brunell is their plan B again in 2012, expect all three of them to be gone in 2013.

And that's it! All Rex Ryan needs to do to save his job, and his coaching legacy, is change his personality, coaching style and approach with the media, put together an A+ draft, and determine whether Sanchize is the future of the franchise. Sounds simple enough, right? Just pass along my guide to Ryan and all of these problems will be solved.

In all seriousness, it might not seem like it, but Ryan is actually in a very good position. Let me conclude by breaking it down in gambling terms. The situation is far from ideal, but Ryan has a lot of 'outs' compared to someone like Norv Turner, who is 'drawing dead.'
Unfortunately, Ryan is the type of guy who doubles down on threes when the dealer is showing an ace, which means we're probably in for an epic meltdown. It probably won't be pretty, but it will sure as hell be something to watch.

I hope I'm wrong, but I'm usually right.
Original Post at DoubleGSports