College Football World Say Hello to Washington Quarterback Keith Price
December 30, 2011
Otto Greule Jr/Getty Images
We will never forget the Alamo—the 2011 Alamo Bowl, that is.  Baylor and Washington set a record for the most points scored in a non-overtime bowl game, with 123 points.  Baylor running back Terrance Ganaway rushed for a ridiculous 200 yards and five touchdowns on only 21 carries, earning him the Alamo Bowl MVP trophy.
The most impressive performance, however, didn't come from Ganaway, Heisman winner Robert Griffin III or any Baylor player wearing the matte green helmet.  The most impressive performance of the 2011 Alamo Bowl was that put on by previously unknown Washington Huskies quarterback Keith Price.
Price put on the performance of his career, stealing the spotlight from RGIII and ultimately outperforming the Heisman-winning quarterback.  
Price accounted for seven total touchdowns, which is an all-time bowl game record.  On his way to accounting for those seven touchdowns (four passing, three rushing), Price threw for 438 yards with a stellar 62.2 percent completion rate, while rushing for 39 additional yards.
Even more impressive than his stats is the fact that the sophomore quarterback didn't throw any interceptions, didn't fumble the ball and even avoided being sacked the entire game.  While those statistics might reflect just how bad Baylor's defense is, being able to put up those kind of numbers without turnovers is something special no matter who you're playing. 
Now that college football fans know about Keith Price, let's go back and look at his 2011 regular-season production.  Spoiler alert—it's pretty impressive!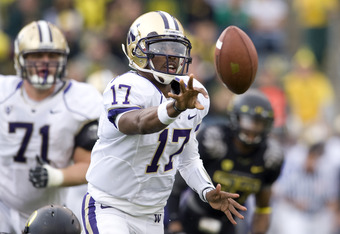 Steve Dykes/Getty Images
In 2011, Keith Price threw for 2,625 yards and 29 touchdowns, with an impressive completion percentage of 67.4 percent.  It needs to be known that Price's yards-per-game average of 235.6 yards was sixth in the Pac-12, directly behind Andrew Luck, who had a yards-per-game average of 264.2.
Not including his Alamo Bowl statistics, Price's 29 touchdown passes ranked third in the Pac-12, only behind Matt Barkley (39 touchdown passes) and Andrew Luck (35).
When it comes to overall quarterback rating, Keith Price, with a regular-season rating of 157.9, ranked third in the Pac-12 again, only behind Barkley (161.22) and Luck (167.49).
I'm not trying to say that Keith Price is on the same level as Luck and Barkley, especially since Price plays in a more spread-style offense, but his statistics are impressive nonetheless.  Price hasn't yet integrated his athleticism into the Huskies offense when it comes to running the ball; once that happens, he will be even more dangerous than he is now.
Price has an uphill battle to fight next year because he will most likely lose star running back Chris Polk to the NFL, in addition to definitely losing his top two receivers, Devin Aguilar and Jermaine Kearse, because of eligibility.  If the Huskies can replace those key offensive players with young, athletic talent, they will have quite a season because of the experience Price has under center.
Only time will tell what the next year or two holds for Huskies quarterback Keith Price, but one thing is for sure: He wisely used the 2011 Alamo Bowl as his platform to let the college football world know who he really is.
Say hello to Keith Price.  He's here to stay and he's undoubtedly a player to keep your eyes on in the near future.