2012 NFL Mock Draft: RG3 and More Answers to Burning NFL Draft Questions
December 30, 2011
Sarah Glenn/Getty Images
Robert Griffin III just finished a back-and-forth Alamo Bowl game in which he was taken to task by another quarterback. As we will see, this will hardly figure into where he falls on the draft board. 
The mock draft has a few caveats that will surely be stressed in just about every board out there. The final breakdown is fluid and will no doubt go through changes after the final week in the NFL. 
Aside from that, there is another thing that should be said, and that's the board will change well into next year and up to draft day. A team's needs now may be different in a few months. A stud prospect may fall from draft workout malaise. 
For now, this is how the NFL draft is stacking up heading into the final week of NFL play. 
*Draft order determined by combination of current record and projected finish.
No. 1. Indianapolis Colts (2-13): Andrew Luck, Stanford, QB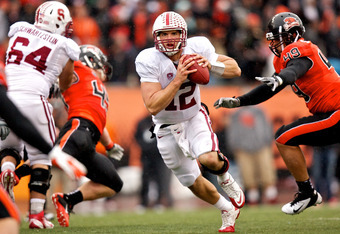 Craig Mitchelldyer/Getty Images
The obvious pick remains despite some somber moments for Stanford this season. Andrew Luck will no doubt have to amaze at the combine, but he remains the most well-thought of player to date. 
At 6'4", Luck has the size, arm and precision that scouts drool over. The man is a natural leader and will fit in well with the Colts. He has the maturity to understand that he needs to bide his time behind one of the greatest quarterbacks to ever play the game in Peyton Manning. 
The Colts have no choice but to take the best player in the draft with Luck. 
No. 2. St. Louis Rams (2-13): Matt Kalil, USC, OT
A couple of weeks ago we might have the Rams taking Justin Blackmon or another stud receiver. The Rams still need a man to get out wide and help out Sam Bradford. 
But the offensive line is in shambles, and Bradford can't pass if he can't stand. The Rams need to ensure their franchise player is healthy and Matt Kalil does just that. 
No. 3. Minnesota Vikings (3-12): Morris Claiborne, LSU, CB
The Vikings are soft in the secondary and need a shot in the arm like Morris Claiborne. Don't be surprised if the Vikings deal this pick to a team that is in dire need of a quarterback. 
The impetus of this board looms for a team in the next couple of picks, making this slot very valuable. If not, Claiborne is the perfect player to come in and light the defense immediately. 
No. 4. Cleveland Browns (4-11): Trent Richardson, Alabama, RB
So much for Peyton Hillis coming in a stealing the show for years to come. The Browns could use a great many things, but will settle on the best running back in the nation. 
You can't fault the Browns for falling in love with such a dynamic player that will be the dynamo they need in the backfield. 
No. 5. Jacksonville Jaguars (4-10): Justin Blackmon, Oklahoma State, WR
Poor Blaine Gabbert is suffering from the same thing hitting Sam Bradford, and that is a lack of depth at receiver. Blackmon will have to solidify himself as the top receiver at the combine.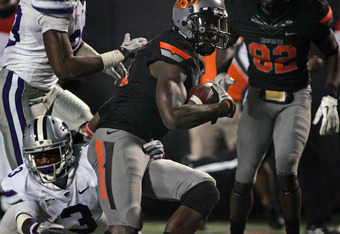 Brett Deering/Getty Images
For now, you have a burner with great strength and amazing hands. This is a star in the making, and the Jaguars could use him to tandem with Gabbert for years to come. 
6. Tampa Bay Buccaneers (4-11): Dre Kirkpatrick, CB, Alabama
The Buccaneers need a cornerback to come in and take over the cause, especially if Ronde Barber leaves. 
Kirkpatrick is not getting nearly as much love as Claiborne but is just as strong and smart a player. The draft process could be very kind to the second-best corner thus far on the board. 
7. Washington Redskins (5-10): Robert Griffin III, QB, Baylor
And so we arrive at the man of the hour. This is an extremely tenuous position for Griffin so Redskins should not get their hopes up. The board can shuffle, and the Browns may want to usurp Colt McCoy with some like Griffin. 
There is also the thought that another team would trade up for the Heisman winner who continues to blaze up the charts. 
The Alamo was an ugly game that shouldn't go a long way to judge Griffin. The Baylor quarterback is a big-time player with amazing mobility. I still say we haven't seen him top out in draft boards. Wait until we see what his combine looks like. 
8. Miami Dolphins (5-10): Riley Reiff, OT, Iowa
With Matt Moore killing the Dolphins' Andrew Luck campaign, he pretty much wins the starting job going forward. Reiff is as dependable as they come in protection. 
9. Carolina Panthers (6-9): Quinton Coples, DE, North Carolina
The Panthers could use just about any amount of defensive help. I am confident that Coples will the surprise player to continue a rise on most draft boards. 
10. Buffalo Bills (6-9): Zach Brown, OLB, North Carolina
The Bills may like Coples more, but they still need help in linebacker. Brown is the best player available at the time. 
11. Kansas City Chiefs (6-9): Jonathan Martin, OT, Stanford
The Chiefs will need some depth on the offensive line. The best part about Martin is his run block that should help the Chiefs flourish next season. 
12. Arizona Cardinals (7-8): Luke Kuechly, LB, Boston College
The Cardinals could use a wide receiver here to help out the Kevin Kolb experiment. They really need a linebacker for a defense that showed it had no way been fixed this season. 
Kuechly has amazing instincts and will help all aspects of defense for a team that is soft all over the place. 
13. Philadelphia Eagles (7-8): Michael Floyd, WR, Notre Dame
Trust me, the Eagles would love to see Kuechly fall to them. The fact that the Cardinals are horrible in that regard negates that from happening. 
No matter, because they will have a stud at receiver in Michael Floyd. DeSean Jackson has obviously worn out his welcome in Philadelphia. Here is to hoping Floyd is not as big a prima donna as Jackson was with the Eagles.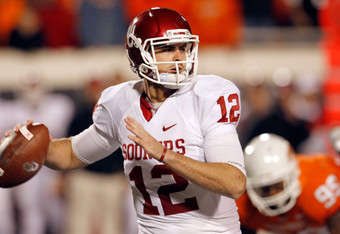 14. Seattle Seahawks (7-8): Landry Jones, QB, Oklahoma
Here is to hoping Jones pulls it all together for the final game of the season and the combine. Accuracy is now an issue, but the Seahawks are no doubt in the market for a proven arm. 
15. San Diego Chargers (7-8): David DeCastro, G, Stanford
The Chargers are desperate for help at guard. If the Chargers are ever going to escape a season of doldrums like they just did, they will need to address this with a player like DeCastro who has fantastic footwork. 
16. Chicago Bears (7-8): Andre Branch, DE, Clemson
The Bears may have some serious turnover on defense and will be looking for help in the pass rush department. Branch is one of my more favorite players in this year's crop. 
He has great instincts and has a fantastic first step. The Bears would keep up their ethos of defense first with this pick. Of course, they could also use a great deal of help on the offensive line as well. 
17. Tennessee Titans (8-7): Cordy Glenn, G, Georgia
The Titans could really trade this pick to a team that would covet such things. If they are going to take anything, it would have to be help on the line which has been called out before.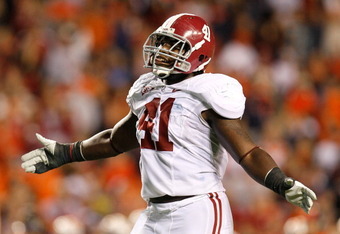 Kevin C. Cox/Getty Images
18. Dallas Cowboys (8-7): Courtney Upshaw, OLB, Alabama
The Cowboys would be getting a player that is tough and talented. More than anything, he is playmaker that is as versatile as they come. 
19. New York Jets (8-7): Devon Still, DE/DT, Penn State
The Jets love to run blitz after blitz. It would be nice to have a player that can wreak havoc all on his own. Still has a great motor and would allow the Jets much more freedom defensively, freeing up the rest of the players on the field. 
20. Cincinnati Bengals (via 8-7 Oakland Raiders): Alfonzo Dennard, CB, Nebraska 
The Bengals need a great deal of help in the secondary. Dennard's fate rests in the draft process as he is one player that is a jack of all trades and a master of none. 
If he can show elite speed and power, you can expect to see his stock to rise immensely. This is a solid player that only needs to prove he can bang with the big boys as a shutdown corner. 
21. New York Giants (8-7): Lamar Miller, RB, Miami 
Call me nuts, and I know you will. The Giants have tried and succeeded with a two-headed monster at running back for far too long. It's time for the Giants to groom a back to take over for someone like Ahmad Bradshaw who has aggravated Tom Coughlin at times. 
Miller will officially hit the draft making him one of the more intriguing players to date. It's clear that Trent Richardson is the first to be taken as of now, but it will be a clean bill of health that really makes Miller shine for teams. 
The shoulder injury is a non-issue. Once he proves that through the draft process, you might just see a running back that flirts with the top 15. 
22. Denver Broncos (8-7): Janoris Jenkins, CB, North Alabama
The Broncos are getting mighty geriatric in the secondary and could use a young player to take over for the old regime in a season or two. 
23. Cincinnati Bengals (9-6): Mark Barron, S, Alabama
The Bengals don't have a great many needs, but they can use a strong safety and Barron is the best in the nation. The fact is Barron may be gone by this time as his stock continues to rise. 
24. Detroit Lions (10-5): Zebrie Sanders, G, Florida State 
A great run blocker with a fine first step. He will need some grooming but could really make the Lions run game deadly. 
25. Houston Texans (10-5): Kendall Wright, WR, Baylor
We have seen how solid the Texans are in regards to their personnel. They could use another receiver to line up opposite Andre Johnson. Wright would make the Texans deadly.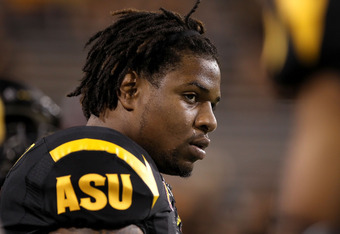 Christian Petersen/Getty Images
26. Baltimore Ravens (11-4): Vontaze Burfict, ILB, Arizona State
He's a bad man, a bad man, a bad man. This is a perfect match as Burfict would have the best mentor for his skills in Ray Lewis. 
Burfict is powerful and explosive, but he plays with a chip on his shoulder and that's what will make him a star. 
27. Cleveland Browns (via 9-6 Atlanta Falcons): Kevin Reddick, LB, North Carolina
I am confident the Browns are settled at quarterback despite what most people think. With the running back accounted for, it will be time to answer the defense. 
Reddick is a smart player that just knows where to be. The Browns can build off that as this young team continues to grow. 
28. San Francisco 49ers (12-3): Jarvis Jones, OLB/DE, Georgia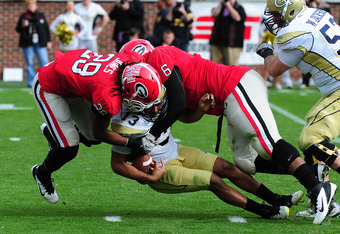 Scott Cunningham/Getty Images
The 49ers are set on defense, but there is a chance that the usual turnover has them scrambling for a pass rusher worth his salt. Jones may not drop this far considering his talent. 
29. Pittsburgh Steelers (11-4): Dontari Poe, NT, Memphis
At some point the torch will need to be passed, and this is the perfect player to take on the future for a hard-hitting Steelers squad. Anything else would be a reach. 
30. New England Patriots (via 12-3 New Orleans Saints): Jared Crick, DE, Wisconsin
The Patriots get a steal in Crick who is a versatile end that will flourish in the NFL. My only worry is if he proves that he is indeed healthy because then he won't be here at this point. 
31. New England Patriots (12-3): Markelle Martin, S, Oklahoma State
This defense needs a great deal of help. I could see the Patriots trading up for help in the secondary. If not, a safety like Martin will do. 
32. Green Bay Packers (14-1): Fletcher Cox, DE/DT, Mississippi State
The Packers continue to shore up their teams with underrated studs that will flourish in the league. There is nothing sexy about this pick, but it's still a great one.