Kansas State vs. Arkansas: Game Time, Radio and TV Coverage Info for Cotton Bowl
December 30, 2011
Wesley Hitt/Getty Images
Kansas State and Arkansas were both left out of the BCS bonanza, though playing in the Cotton Bowl isn't a half-bad consolation prize.
The Wildcats enjoyed a resurgent campaign during Bill Snyder's third season back in Manhattan, finishing second in the Big 12 behind only Oklahoma State. The Razorbacks would've been a title contender in just about any other conference, but were instead stuck behind LSU and Alabama in the SEC West.
Both teams have high hopes for 2012 and will look to start the New Year off on the right foot in Dallas.
Where: Cowboys Stadium, Dallas, Texas
When: Friday, Jan. 6 at 8 p.m. EST
Watch: FOX
Spread: Arkansas -8 (according to sportsbook.com)
Take Arkansas here. The Razorbacks sports a multidimensional offense and a defense capable of holding down the Cardiac 'Cats.
Over/Under: 62.5 points (according to sportsbook.com)
Go with the over. These two teams combined to average 70.5 points per game this season. Neither is noted for its defense, unless we're talking about a general lack thereof.
Key Injuries
Kansas State—Broderick Smith, WR (probable, undisclosed); Laton Dowling, DL (questionable, knee)
Arkansas—Knile Davis, RB (questionable, ankle)
Top 25 Implications
Both of these teams figure to be in or near the Top 10 in the polls when the first preseason rankings are released in 2012. For now, the winner in this No. 6 vs. No. 8 matchup will have a chance to creep into the Top 5 in the year-end edition of the polls while the loser will likely fall out of the Top 10.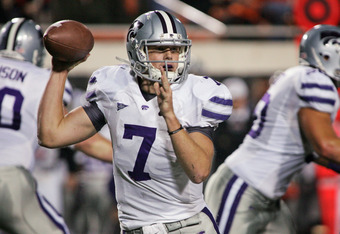 Brett Deering/Getty Images
Keys to Kansas State Win
Kansas State's success this season has been predicated almost entirely on the ground attack. The Wildcats rank 28th in the nation in rushing yards per game behind the efforts of quarterback (and leading runner) Collin Klein and 'back John Hubert.
Klein, in particular, enjoyed a remarkable season, piling up 26 touchdowns on his feet, just one behind the NCAA single-season record for rushing touchdowns by a quarterback set by Navy's Ricky Dobbs in 2009.
The ground game will be of particular importance for the Wildcats here, as they'll need to run the ball early and often to dictate tempo and keep Arkansas' explosive offense on the sidelines. 
Keys to Arkansas Win
For Arkansas, it's a matter of doing what it normally does (i.e. score points, throw the ball at will) with its coaching staff as depleted as it is. Bobby Petrino has seen the coordinators of his offense, defense and special teams bolt for new gigs since the Hogs' season finale in Baton Rouge.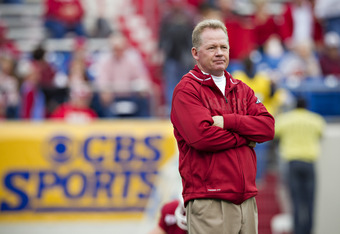 Wesley Hitt/Getty Images
At least Petrino still has talented players, and plenty of them. If Tyler Wilson can find Jarius Wright and Joe Adams as easily as quarterbacks in the Big 12 found their targets against K-State's D this season, Arkansas should be well on its way to victory.
The return of running back Knile Davis, who's missed the entire season while recovering from a fractured ankle, would boost the Hogs' ground game and, as a result, make their offense that much more unstoppable overall.
Prediction: Arkansas 41, Kansas State 28
K-State's success has been one of the biggest surprises of the college football season, but it's just about midnight and Cinderella's horse and carriage have some pumpkin-esque matters to attend to. The Hogs are just too explosive on offense for the 'Cats to keep pace and sport just enough ability on defense to make sure this one isn't particularly close.