Big Ten Bowl Week: What Marcus Coker's Suspension Means for Iowa's Offense
December 30, 2011
Eric Francis/Getty Images
These days it seems like it is safer to be the drummer for Spinal Tap than play running back for Iowa. Running backs in Iowa City just don't seem to last.
Since Shonn Green left campus after the 2008 season, the Hawkeyes have seen every running back miss time or flame out for a variety of reasons.
Jewel Hampton looked to be the heir apparent, but he tore his ACL before the 2009 season then tore his other ACL the next year. Hampton eventually transferred. His replacements in the 2009 season were Brandon Wegher and Adam Robinson.  
Wegher led the team in rushing in 2009 but left the team the next summer for personal reasons. He ended up transferring to Oklahoma. Robinson led the team in rushing for the 2010 season but got busted with drugs and suspended for last year's Insight bowl. He transferred.
Robinson's replacement in 2010? Marcus Coker. Coker proved himself capable in the role, rushing for 645 yards in seven games including 219 yards and two touchdowns against Missouri in the Insight Bowl.
This year Coker came in as the unquestioned top dog on the depth chart and fulfilled the hype all season. Coker was second in the conference in yards (1384) and tied for third in touchdowns (15).
Now, Coker has befallen the same fate of those who came before him: He got himself suspended.
Iowa wasn't working with much margin for error to begin with. The Oklahoma offense is as dangerous as they come and has dealt well with the loss of its starting running back, Dominique Whaley, midway through the season.  
The Sooners are more of a pass-first outfit to begin with, so the injection of Whaley into the lineup early was simply another weapon to throw off a defense. Quarterback Landry Jones is on his second 4,000-plus yard passing season and even without the injured Ryan Broyles, the duo of Kenny Stills and Jaz Reynolds has a combined 1,500 yards receiving and 13 touchdowns.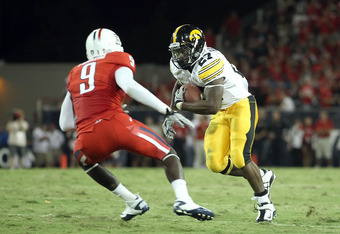 Christian Petersen/Getty Images
Iowa is going to have to keep up, and now it will be forced to do so without a major part of its offense. Unlike the Sooners, Iowa is the kind of team that relies heavily on a workhorse running back to grind out yards, control the pace of the game and open up downfield passes by drawing safeties and corners into run support.
Iowa quarterback James Vandenberg has passed for nearly 1,500 fewer yards than Jones on the season. Vandenberg does have a very good comeback victory on his resume against Pittsburgh in a game where he went off for 399 yards and three touchdowns, but he only passed for more than 270 yards two other times on the season.  
Iowa has to hope that Oklahoma will give up yards in the Insight Bowl at the same pace it did during the regular season (243.6 ypg allowed, 89th in the nation). If Vandenberg and receiver Marvin McNutt can find enough holes in a secondary that has been good, not great this year, it might open up some lanes on the ground that will provide a nice change of pace.
The question is, who steps up? Freshman Mika"il McCall has spent most of the season injured or suspended and is now looking to transfer. McCall was third on the team with 65 yards on 11 carries. Second on the team is De'Andre Johnson with 79 yards on 18 carries. Good luck, De'Andre. You're going to need it.
No matter who is taking snaps at running back, the Hawkeyes are going to need to find a way to pick up yards on the ground—outside of relying on the statuesque Vandenberg or reverses to McNutt (six carries, 58 yards). There will be yards in the passing game, but Iowa doesn't win games without producing rushing yards.
Can Johnson make the leap that Coker did last year? Evidence points to no, but keep this in mind: Every time Iowa has lost a running back to injury/suspension/freak occurrences, another has stepped up and filled in better than anyone could have imagined.
Maybe it is the system. Kirk Ferentz better hope so.