Penn State Football: 10 New Year's Resolutions for the Nittany Lions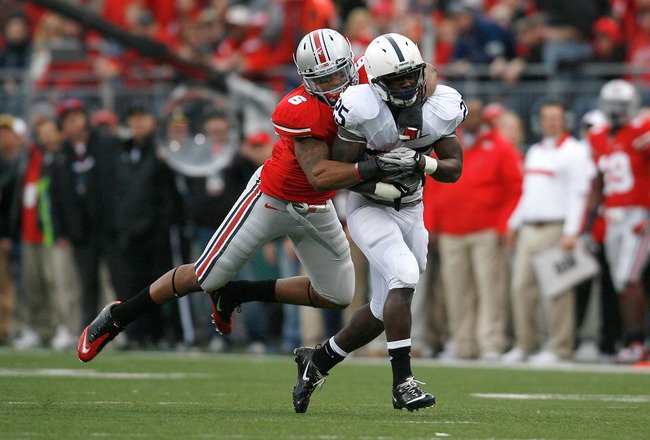 Kirk Irwin/Getty Images
The New Year is approaching. The Nittany Lions, and other college squads, will think about their New Year's resolutions, like many do.
Penn State has had an interesting 2011 season. Bad offense plus good defense equaled an overachieving Nittany Lion squad. Grabbing nine wins with a shameful quarterback situation is a feat in itself.
The Nittany Lions have their share of hurdles in front of them. They will need to make these resolutions happen in order to improve for 2012:
Send the Senior Class out the Right Way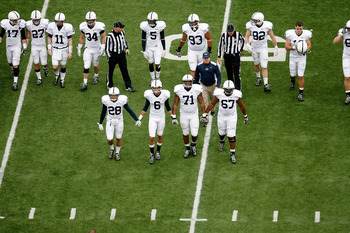 Kirk Irwin/Getty Images
Derek Moye, Drew Astorino, Devon Still and others are all graduating after this season.
Penn State returns talent on both sides of the ball, but key contributors will be lost. The secondary loses three major contributors and the offensive line will lose four key pieces.
The Nittany Lion defensive line loses three players, including Big Ten Defensive Player of the Year Devon Still.
Penn State's leading receiver graduates, but the Nittany Lions return talent at the skill positions.
Veteran players will be fired up for this matchup, given how Penn State's season has ended.
The Nittany Lions need to send this solid senior class out the right way against Houston.
Come Together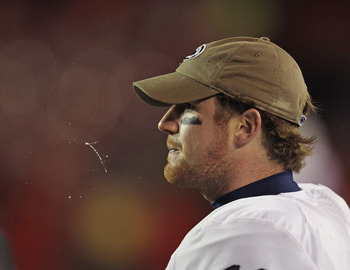 Jonathan Daniel/Getty Images
Matt McGloin and Curtis Drake got into a scuffle in the Penn State locker room after a postseason practice session.
Whatever the issue is, Penn State needs to make sure it is resolved. The Nittany Lions don't need more unrest surrounding their football program.
Penn State needs to come together, in the TicketCity Bowl and in 2012.
If they can rally together, they could make some noise.
Get Michael Mauti Healthy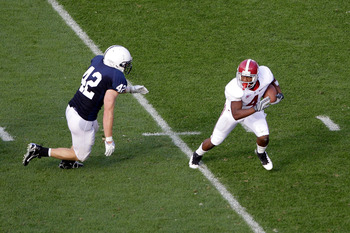 Rob Carr/Getty Images
This resolution is out of Penn State's control. Everyone can hope, and the Nittany Lions hope to see Michael Mauti back in the defensive fold next season.
When healthy, Mauti is arguably Penn State's best linebacker and defensive player. He is a sideline-to-sideline presence and has great instincts.
Mauti would have made a great Penn State defense even better this season. Next season, he will be needed to fill the void of some key graduating pieces.
Settle on a Quarterback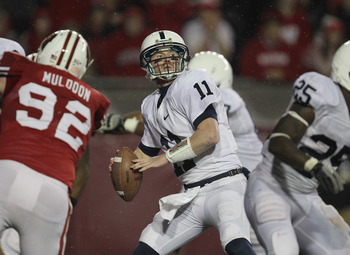 Jonathan Daniel/Getty Images
Penn State will have at least two quarterbacks to choose from next season—possibly three.
Matt McGloin will be back in the mix. Paul Jones should be too, as he returns from academic ineligibility. Jones will be the fan favorite entering spring practice.
Rob Bolden could transfer this offseason. If not, he will continue to be in the mix.
A possible dark horse could be freshman Skyler Mornhinweg. He isn't touted on the national scene, but he creates some buzz among Penn State faithful.
No matter how you cut it, Penn State's top priority in the personnel department is at quarterback. The situation needs to fall on one player's shoulders.
The early favorite could be Jones.
Work on the Wildcat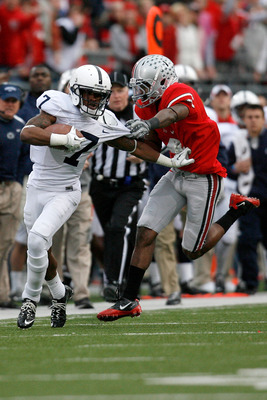 Kirk Irwin/Getty Images
The Wildcat formation gave the Nittany Lion offense a much-needed shot in the arm against Ohio State.
Penn State should look into making the gimmicky formation into a more permanent fixture.
Don't make the Wildcat the full-time offense, but give it eight to 10 looks per game. Curtis Drake and Bill Belton excelled in the makeshift backfield, and freshman Eugene Lewis could as well.
The Nittany Lions will probably not have a great passing attack next season. Silas Redd will shoulder a heavy load offensively.
The Wildcat provides a nice change of pace to a vanilla Nittany Lion attack.
Establish Second Option in the Backfield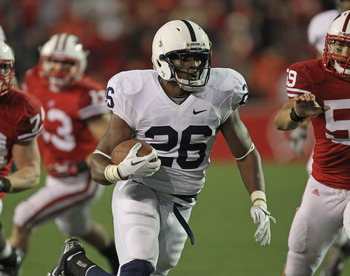 Jonathan Daniel/Getty Images
Brandon Beachum and Stephfon Green are graduating. Curtis Dukes will need to shoulder a much larger load in the Nittany Lion backfield.
Dukes is an explosive downhill runner, and showed it at times in 2011. He runs hard between the tackles and has deceptive speed in the open field.
Silas Redd could be a dark horse Heisman Trophy contender in 2012. Dukes will need to keep Redd fresh by providing quality carries in a run-heavy Nittany Lion offense.
Maintain Recruiting Class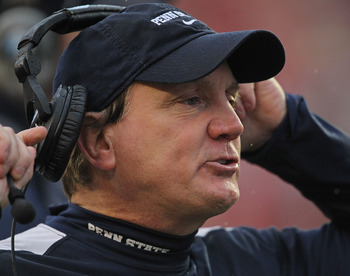 Jonathan Daniel/Getty Images
Tommy Schutt decided to take his talents to Columbus, as did Noah Spence. Two heavy blows to Penn State's 2011 recruiting class.
Penn State still has talent. Eugene Lewis could see time at wide receiver early in his career, and Armani Reeves could see the field a la Adrian Amos this season.
Penn State would help this situation by hiring a head coach as soon as possible. Restore stability to the program, and hold on to whatever recruits are standing by.
Restore Integrity to the Program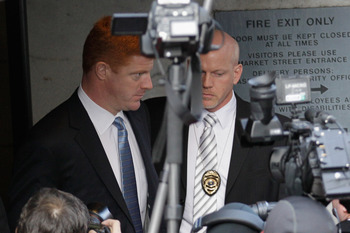 Rob Carr/Getty Images
No matter where you stand on the issues concerning Penn State this season, it is hard to argue against Penn State's tainted integrity.
Penn State has been judged in the public forum. Many look at the program differently.
The Nittany Lions need to have a quiet offseason. No trouble, just football.
Penn State will need to be focused coming into 2012. They need everything to calm down in order for that to happen.
Find a New Head Coach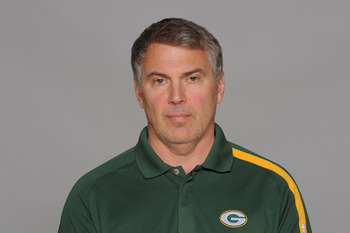 Handout/Getty Images
Mike Munchak isn't interested. Dan Mullen isn't interested. Eric Mangini and Tom Clements may, or may not, be interested in the Nittany Lion head coaching job.
Joe Paterno will not take the field with the Nittany Lions next season. Penn State must find another leader for their program.
Returning players need to know and incoming recruits will leave if it remains uncertain. The Nittany Lions have to act fast.
Penn State may need to take a chance on a coaching candidate. At this point, something is better than nothing.
Win the TicketCity Bowl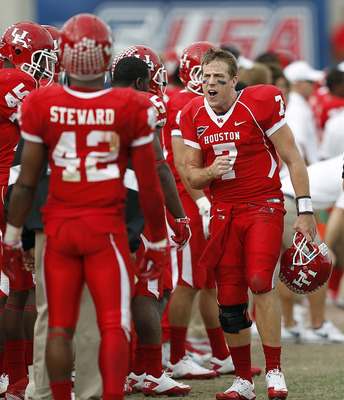 Bob Levey/Getty Images
Penn State plays one day after the New Year. So, their No. 1 resolution is to win their TicketCity Bowl matchup against Houston.
Two overachieving teams with contrasting styles.
Houston's aerial assault is daunting. Case Keenum throws more touchdowns than many thought humanly possible, and Patrick Edwards is a frequent beneficiary.
Penn State relies on their defense and running game to win football games.
It's simple. If this game stays in the 20-30 point range, Penn State has a chance. But if it gets higher than that, it's advantage: Cougars.
Keep Reading

Penn State Football: Like this team?