Predicting the 2012 Preseason College Football All-America Team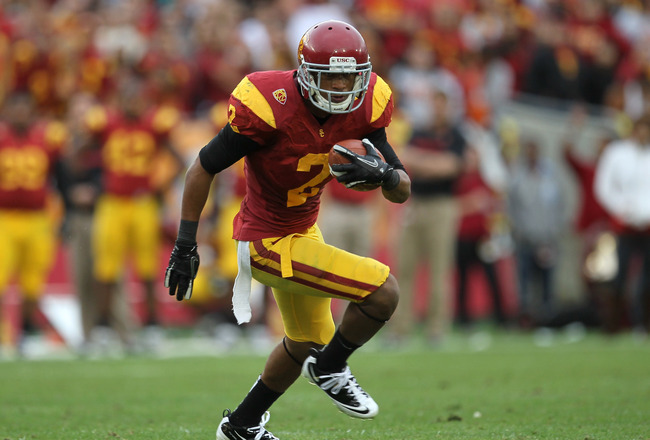 Stephen Dunn/Getty Images
With the bowl season in full swing it's interesting to look forward to which names might be included on the preseason award lists as 2011 winds down and 2012 inevitably cranks up.
One of the most anticipated honor rolls coming into any season is the slew of preseason All-American lists that will begin to identify who is expected to be among the elite players in the nation by position.
And that's exactly what the following slideshow will attempt to do in establishing a very early peek at a preseason All-American list for 2012.
The task of lining up next season's preseason All-Americans is made more difficult from a timing perspective as we are still awaiting the decisions of athletes with remaining eligibility to declare their intentions for the NFL draft.
The other aspect that makes this list difficult at such an early date is the fact that there are still certain pending injuries among high-caliber players that make future plans murky at best (i.e. Knile Davis, Marcus Lattimore etc.)
Despite the challenges associated with such a premature list it's intriguing to look forward and if nothing else we know that the talented athletes named in this presentation will more than likely be impact players regardless of which level they choose to play at in 2012.
QB: Matt Barkley, USC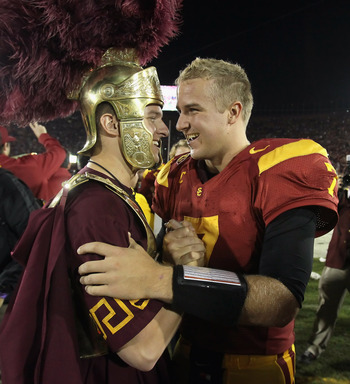 Jeff Gross/Getty Images
The QB position is tricky but since we know Barkley will be back in 2012 we'll give him the nod over Robert Griffin III who has yet to make his intentions for the draft clear.
Barkley went 308/446 for 3,528 yards, 39 TDS and only seven sacks as a junior in 2011, earning him the No. 7 spot nationally in terms of QB rating.
More importantly, Barkley led the Trojans to a 10-2 record in a destination unknown 2011 and if he and USC can continue to gain momentum in 2012 the sky is literally the limit for everyone involved.
RB: David Wilson, Virginia Tech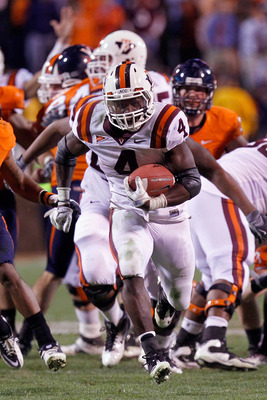 Geoff Burke/Getty Images
David Wilson is another player whose pro plans are murky but we do know that this guy is freak-like on the field and if he returns to Virginia Tech for his senior season he's likely to explode.
This season, Wilson carried the ball 266 times for 1,627 yards and nine scores on his way to becoming the No. 5 ball carrier in the land and a member of the AP All-America second team.
If I'm a Hokie, I'm hoping Wilson stays on campus for his senior season.
RB: Ronnie Hillman, San Diego State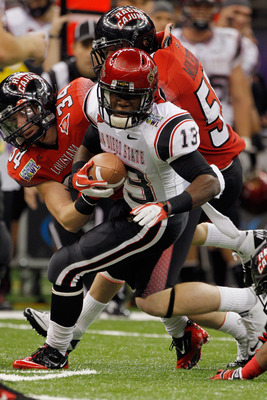 Chris Graythen/Getty Images
Is it too early to jump on the Ronnie Hillman band wagon?
Certainly not, as the 5'10", 190-pound sophomore was the No. 2 rusher in the nation in 2011 with 1,711 yards and 19 TDs on 311 carries.
If healthy, Hillman may be supplanted atop the charts by names like Marcus Lattimore and Knile Davis, who have the benefit of bigger institutions, but this doesn't take anything away from the fact that Hillman is a beast who will leave his mark on college football.
OT: Riley Reiff, Iowa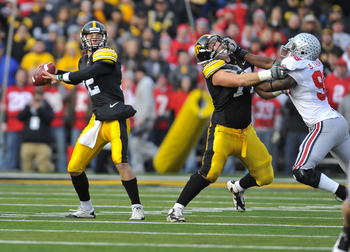 David Purdy/Getty Images
Reiff is one of the top-rated offensive linemen in the country and if he does decide to declare for the 2012 draft some mock-ups have him as a top-10 selection.
If Reiff opts to stay at Iowa for his senior season the 6'6", 300-pound product will be the top offensive tackle in the FBS in 2012.
OT: Alex Hurst, LSU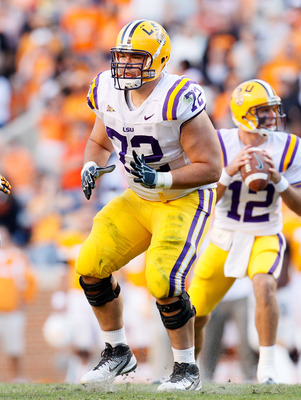 Kevin C. Cox/Getty Images
Hurst seems more likely to stick around for his senior season than do others on this list, which is good news for Tiger fans as he was the heart of an O-line that allowed only 14 sacks all season in 2011.
Hurst is another beast who at 6'6", 340 will be a top pro prospect whenever he decides to leave the friendly shores of Baton Rouge.
G: Gabe Ikard, Oklahoma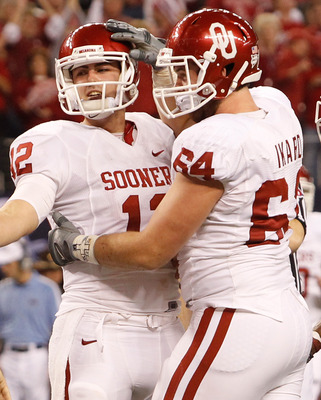 Tom Pennington/Getty Images
Gabe Ikard is a 6'4", 295-pound product of Oklahoma City who has been a major impact player in both of his first two seasons in Norman, earning him AP third-team All-American honors as a sophomore in 2011.
G: Larry Warford, Kentucky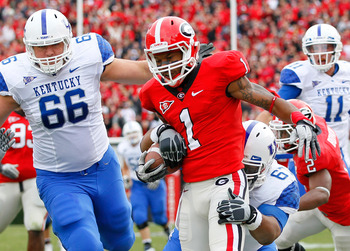 Kevin C. Cox/Getty Images
As a junior in 2011 Warford allowed only one sack and was the team leader in knockdown blocks with 37.
At 6'3", 336 pounds, Warford is a top pro prospect who is likely to further blossom as a senior.
C: Peter Konz, Wisconsin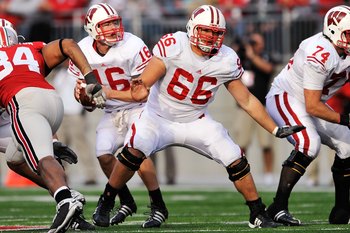 Jamie Sabau/Getty Images
Konz is another guy who is yet to have made his draft intentions clear but if he sticks around in Madison for his senior season he's likely to improve on a junior year that culminated with second-team All-American honors from the AP.
Konz is 6'5", 315 pounds and he anchored an O-line that cleared the way for the No. 11 nationally-ranked rushing offense.
WR: Robert Woods, USC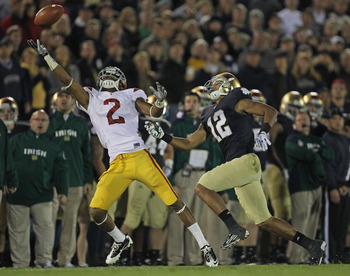 Jonathan Daniel/Getty Images
Woods' 1,292 yards and 15 scores dazzled as a sophomore in 2011 and earned the speedster first-team All-American honors from the AP.
With QB Barkley and a host of other returners back on campus in 2012, Woods could be primed for a very special season.
WR: Marquess Wilson, Washington State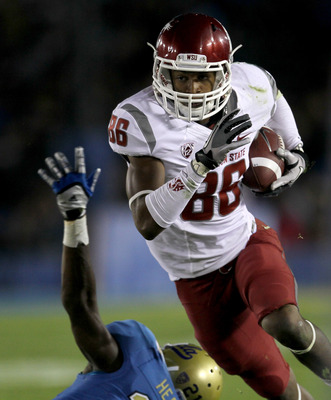 Stephen Dunn/Getty Images
Marquess Wilson is a bit of a wildcard at this spot but don't forget that the Tulare, California product was the No. 6 receiver in the nation as a sophomore in 2011 with 1,388 yards and 12 scores on 82 catches.
Wilson's productivity combined with new Washington State head coach Mike Leach could be a lethal combination that may be more suited for postseason honors than those in the preseason, but he's the perfect sleeper in 2012.
TE: Dwayne Allen, Clemson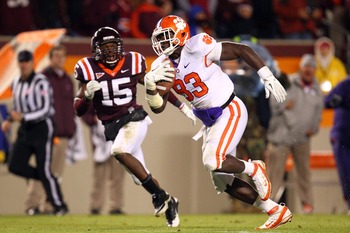 Ned Dishman/Getty Images
A first-team AP All-American honoree as a junior in 2011, Allen's fortunes should only improve if Clemson can continue to win.
Allen is a 6'4", 255-pound product of Fayetteville, North Carolina who caught 48 balls for 577 yards and eight TDs this season and was an integral part of the Tigers' winning formula and ACC title bid.
All-Purpose Player: Sammy Watkins, Clemson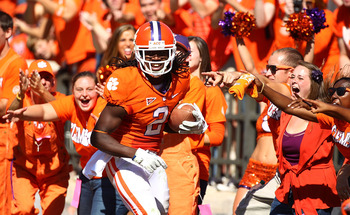 Scott Halleran/Getty Images
The exciting Sammy Watkins could also be an honoree at the receiver position but his versatility earned him first-team honors as an all-purpose guy as only a freshman in 2011.
Watkins racked up 1,153 yards and 11 scores as a receiver and tacked on 683 yards and another score as a kick returner and then added yet another 229 yards on the ground for good measure.
K: Caleb Sturgis, Florida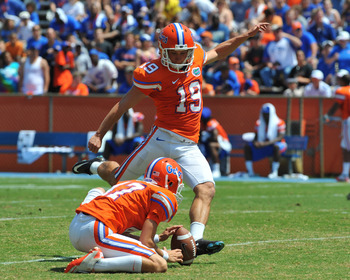 Al Messerschmidt/Getty Images
As a junior Sturgis earned first-team All-American honors from the AP, capping off a stellar season on special teams.
Overall Sturgis was 21/25 in field goal kicking and a perfect 28/28 on extra points which may not seem earth-shattering until you take into account that he was 3/5 on attempts of over 50 yards and 6/8 on attempts of over 40 yards.
Sturgis is about as beast as a kicker can get.
DE: Whitney Mercilus, Illinois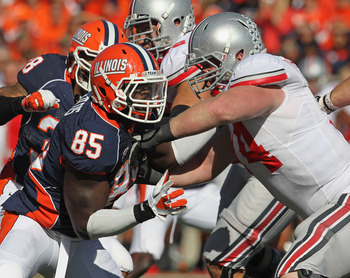 Jonathan Daniel/Getty Images
The Minister of No Mercy, Whitney Mercilus had a junior season of relentless proportions and if he sticks around for Tim Beckman's first year in Champaign all hell could literally break loose.
Mercilus is a 6'4", 265-pound product of Akron, Ohio who registered 52 tackles (26 solo) and 14.5 sacks on his way to earning first-team All-American honors from the AP.
If Mercilus takes his spot in the upcoming draft South Carolina's super recruit Jadeveon Clowney is a guy who could easily be on this list as a sophomore DE.
DE: Sam Montgomery, LSU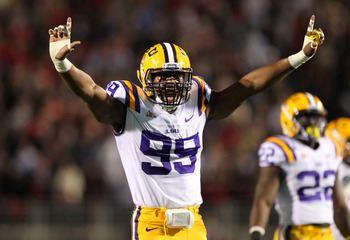 Joe Murphy/Getty Images
As a sophomore the 6'4", 245-pound Montgomery registered 44 total tackles (21 solo, 13 for a loss), nine sacks and one forced fumble, making a huge contribution to LSU's No. 2 nationally-ranked scoring defense.
Montgomery earned well-deserved first-team All-SEC honors this season as voted on by the conference coaches.
DT: Jerel Worthy, Michigan State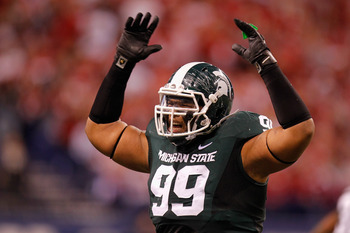 Gregory Shamus/Getty Images
Worthy has postponed his decision on whether or not to join the pro ranks until after the Spartans clash with Georgia in the Jan. 2 Outback Bowl.
Worthy was indeed worthy of praise in his junior campaign, registering 25 tackles (15 solo, seven for a loss) and 3.5 sacks on the way to becoming one of the most feared defenders in the country.
The Spartans were ranked No. 9 nationally in scoring defense in 2011 and Worthy earned first-team All-American honors from the AP for his part in the score stopping.
DT: Joe Vellano, Maryland
Photo from nationalchamps.net
In an otherwise woeful season for the Terrapins on the field junior Joe Vellano was definitely a bright spot in 2011.
Vellano, a 6'2", 285-pound junior from Rexford, New York piled up 94 tackles (54 solo), 2.5 sacks and one forced fumble on his way to earning a place on the AP's second-tier All-American team.
The truth is that awards are difficult to win when you play for a 2-10 team but Vellano's individual performance transcended a bad year from a team standpoint.
LB: Jarvis Jones, Georgia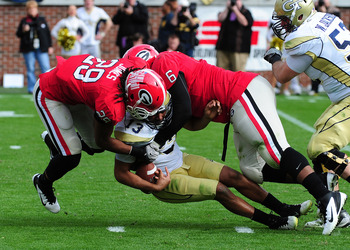 Scott Cunningham/Getty Images
Jarvis Jones is one of only a few sophomores to earn AP All-American first-team honors in 2011 and the rise of Georgia football combined with further maturation individually sets up a compelling situation in Jones in 2012.
Jones registered 69 tackles (39 solo), a whopping 13.5 sacks and one forced fumble in 2011, all critical contributions to a Bulldog D that went somewhat under the radar to a No. 16 national ranking in scoring.
LB: Manti Te'o, Notre Dame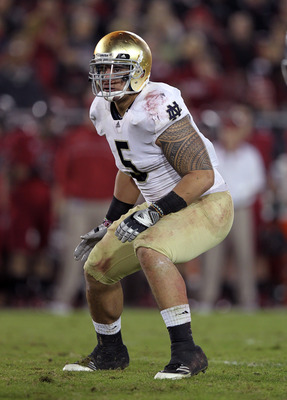 Ezra Shaw/Getty Images
We know that junior Manti Te'o will be back in South Bend in 2012 for his senior season at Notre Dame and if the Irish can finally get their act together he should be a nationally-acclaimed defensive player.
Te'o racked up 106 total tackles in 2011 (53 were solo affairs) and 4.5 sacks, helping the Irish to hold opponents to just above the 20-point mark per game.
LB: Dion Bailey, USC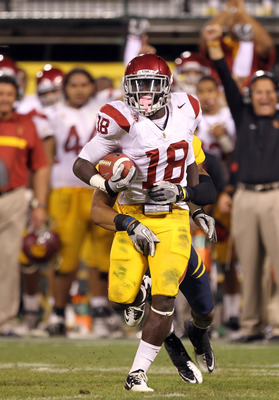 Ezra Shaw/Getty Images
Perhaps a bit of a reach for a full-fledged preseason All-American list, Bailey earned freshman All-American and Pac-12 honors in 2011 and showed as much promise as anyone in the nation.
Bailey had a whopping 80 tackles as a rookie (47 solo) and registered two sacks, one forced fumble and two interceptions on his way to turning heads from coast to coast.
CB: Tyrann Mathieu, LSU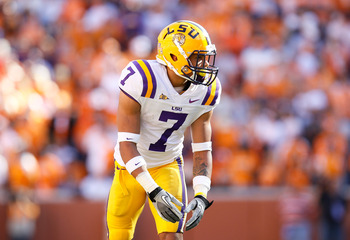 Kevin C. Cox/Getty Images
The Honey Badgers' name here shouldn't surprise even the biggest SEC skeptic.
In 2011 Mathieu had 71 total tackles (54 solo), 1.5 sacks, five forced fumbles and two picks to go along an impressive couple of scores as a return artist on his way to being a Heisman finalist.
What happens next could be as thrilling as a case of moon pies is to a pregnant woman.
CB: David Amerson, NC State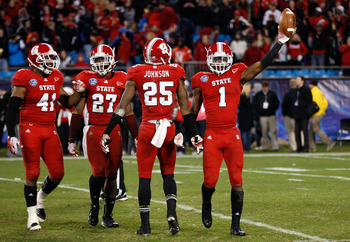 Streeter Lecka/Getty Images
Though there is a host of other corners who could easily make sound arguments as to why their names belong here instead of Amerson's, he's the only guy who individually had more interceptions in 2011 than did 70 teams in the FBS.
Amerson's 13 interceptions is all-world and if he keeps a' picking in 2012 he'll no doubt ascend from a second-team All-American selection to a first-team honoree by season's end.
S: Bacarri Rambo, Georgia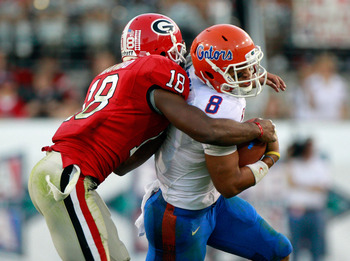 Sam Greenwood/Getty Images
Rambo is another guy who hasn't declared "I'll be back" (yes, I know that is a Terminator reference and not one from Rambo) but if he returns to Athens in 2012 look for Georgia's fortunes to increase accordingly.
Rambo registered 53 total tackles in 2011 (32 solo) and seven picks (one for a score) on his way to helping earn the Bulldogs a No. 7 ranking nationally in pass defense.
S: Eric Rowe, Utah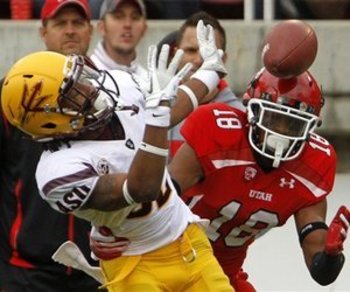 Photo from houseofsparky.com
Proving that we're not afraid to go out on a limb on this list, Eric Rowe might not be on a bunch of All-American lists going into 2012 but that doesn't mean he isn't a special talent that deserves a nod.
As a freshman Rowe piled on 65 tackles (33 solo), one sack and one pick on his way to becoming a member of the many of the national freshman All-American registries.
Utah's 7-5 record and entry into the Pac-12 had the Utes' flying somewhat under the radar this season but don't forget that this is a defense that ranked No. 17 nationally in scoring with the quiet help from guys like Eric Rowe.
K: Brad Wing, LSU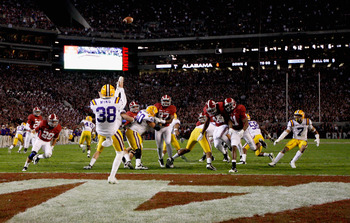 Streeter Lecka/Getty Images
If you are trying to think of some less obvious reason why LSU was so dominant in 2011, look to a special teams unit that provided advantageous field position as a winning staple.
Freshman punter Brad Wing booted 50 balls for 2,207 yards (an average of 44.1 yards per kick) which ultimately culminated in allowing opposing teams an average of only .35 yards per return.
Yes, that's correct, I said .35 yards per return…and that's No. 1 in the nation.
Wing is a 20-year old former Australian Rules football player who only played one year of high school football and may be the one of the biggest treasure-trove finds in recent college football.
Keep Reading