5 Reasons the Minnesota Vikings Should Not Play Christian Ponder on Sunday
Patrick Smith/Getty Images
Last Saturday, the Vikings finally won a football game, the first game they have won since they were given a gift by the Carolina Panthers on October 30. It was a win according to the box score, but with the major injuries, it felt more like a loss.
Everyone knows about Adrian Peterson's torn ACL and MCL, but lost is the concussion Christian Ponder was dealt. Ponder returned to full practice on Wednesday, and head coach Leslie Frazier said he'll start the season finale against the Bears on Sunday, but why?
Protect Your Quarterback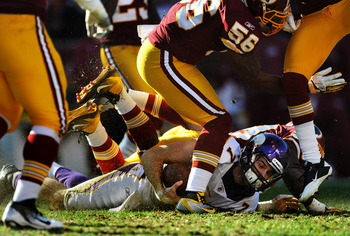 Patrick Smith/Getty Images
That's what the whole NFL is about now: protecting your QB. Teams try to bolster up their offensive lines to keep their million-dollar man healthy. Putting Ponder in the game just puts his health at risk, especially behind the Vikings offensive line.
The last thing you want to happen is to have Ponder get another concussion. Minnesota sports fans know the hurt of concussions; just look at how much time 2006 AL MVP Justin Morneau has missed due to a concussion. The only way to ensure Ponder doesn't get a concussion is by having him sit on the bench.
The Game Doesn't Matter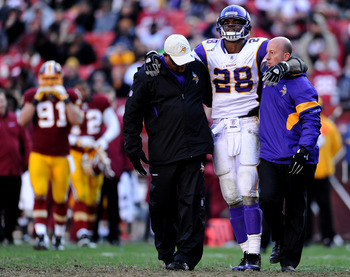 Patrick Smith/Getty Images
What are the Vikings playing for on Sunday? Nothing. So why put your most valuable player out there in harm's way?
You saw what happened to Adrian Peterson last week in a game that didn't matter, and who knows if AP will ever be the same after surgery. Don't take the same chance with Ponder. If he's your franchise QB, make sure he plays healthy for your franchise.
Free Joe Webb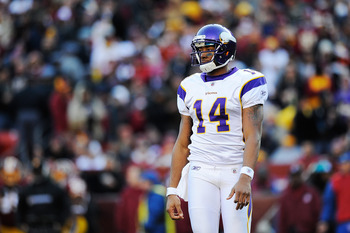 Patrick McDermott/Getty Images
He's exciting and he's doing his job. Look at what the Vikings do once Joe Webb gets in the game: they win. When Ponder got hurt last week, Webb came in and led the Purple to victory. When he came in against Detroit, he was one yard away from pulling the upset. He played a lot better than a certain No. 4 last season.
Play Webb and let Vikings fans be entertained for a change. If anything, the Vikings can improve his value and get something for him via trade. Ponder is your quarterback of the future, right?
You Don't Need Ponder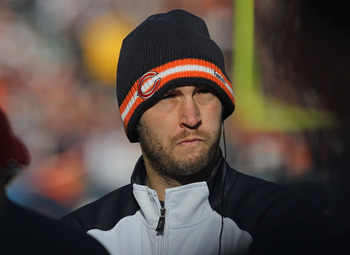 Jonathan Daniel/Getty Images
The Vikings are favored to win against the Bears. The Bears fell off the map after their quarterback, Jay Culter, got hurt, and nothing has gone right since.
If the Vikings want to win, I'm sure Joe Webb, Toby Gerhart and Percy Harvin can make it happen. Besides, all eyes will be on Jared Allen; no one will be watching the Vikings offense anyway.
Give Yourself a Quarterback Controversy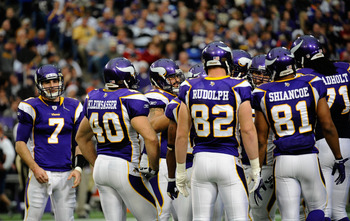 Hannah Foslien/Getty Images
There's nothing sports writers love more than a good QB battle. If the Vikings play Webb, he may very likely tear up the Bears and have Vikings fans calling for him to be the starter.
If anything, a QB controversy will distract Vikings fans for the offseason by keeping the focus off of their horrible record of either 3-13 or 4-12 and putting it on the debate of Ponder vs. Webb. Maybe the Vikings are playing Ponder this weekend just to avoid the QB controversy.
It's always hard for a GM to deal with controversies…oh wait.
Keep Reading

Minnesota Vikings: Like this team?