Tennessee Titans vs. Houston Texans: Spread Info, Line and Predictions
December 29, 2011
Joe Robbins/Getty Images
The Tennessee Titans will take their last stab at a playoff bid on Sunday when they travel to Texas to take on the Houston Texans.
Houston has clinched the AFC West and is locked into the AFC's No. 3 seed. 
A few different scenarios would bring the Titans to the playoffs.
What's certain is that they need to win and the Bengals need to lose. After that, it gets a little more complicated.
If the Jets win, then either the Broncos or Raiders must lose or tie. If the Jets lose or tie, then the Broncos and Raiders must win. 
If the Titans do make the playoffs, they'll make a return trip to Houston to take on the Texans in Wild Card Weekend.
Where: Reliant Stadium. Houston, Texas
When: Sunday, Jan. 1 at 1 p.m. EST
Watch: CBS
Spread
Titans (-3), according to Bodava. 
This is a good number for the Titans. They are playing for a lot more than Houston in this one.
Yes, the game is on the road, and Houston did flatten the Titans in Tennessee, but this is different. The Texans are more beaten up, and they're playing for nothing in this game. A three-point spread is manageable.
Over/Under
40, according to Bodava. 
Go under.
We're not going to see a lot of points in this one. The winning team won't score more than about 20 points. Lovers of offense will not enjoy this game.
Key Injuries
Per USA Today, Titans DT Jason Jones is doubtful.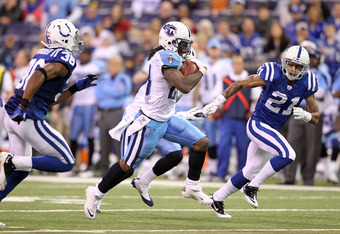 Andy Lyons/Getty Images
Titans LB Gerald McRath, DE William Hayes, WR Lavelle Hawkins, DT Shaun Smith, and TE Daniel Graham are questionable.
Titans RB Chris Johnson is probable.
Texans G Michael Brisiel is out. 
Texans TE Garrett Graham, WR Andre Johnson, CB Sherrick McManis, and S Troy Nolan are questionable.
Fantasy Big Plays
Either defense will be a good play. There will not be a lot of points in this game.
Titans WR Nate Washington is a strong play. He's becoming more a part of the team's offense, and is dependable for around five catches a game.
Keys to Titans' Win
Win the field position battle.
That's going to be the key to beating the Texans. Houston doesn't have many weaknesses, so Tennessee can't rely on long scoring drives. 
Keys to Texans' Win
T.J. Yates clearly can't throw too often. Arian Foster, Ben Tate, and the Houston running attack need to be heavily featured in this one. 
Prediction: Titans 20, Texans 10
First, the Texans are playing terrible football right now. They've shown some resilience, but the injuries are finally catching up with them.
Second, this game means everything to the Titans. They need to win to have a chance at the playoffs. 
Third, the Texans are locked into the No. 3 seed in the AFC, regardless of the result of this game. Given their injuries, it's hard to imagine them putting what healthy players they do have at risk.