Liverpool vs Newcastle: Why Liverpool Can Succeed Without Luis Suarez
December 29, 2011
Scott Heavey/Getty Images
Once upon a time strikers were judged solely on the number of goals they scored. Even in the modern game this ideal at times still rings true. 
Liverpool fans had little patience for the likes of Emile Heskey, whose boisterous style of play was undone by his lack of successful strikes.
It is now becoming more possible, however, for attacking forwards to focus a greater percentage of their potential on how they react altogether around the ball. 
Luis Suarez has been celebrated for forcing fear into opponents' penalty areas. His slick and at times clinical display of talent has made him an instant hero. 
Yet he has enhanced his reputation by being a striker capable of providing multiple assists as well as getting his own name on the score sheet.
It therefore could be deemed unfortunate that his credible status is marred with a controversial flair.
Such a turbulent nature has caused a one-match ban for this weekend's game against Newcastle, as well as a further potential eight-match ban for alleged remarks made towards Manchester United's Patrice Evra. 
It would be easy to hold up a white flag with the impending league game at Anfield. Without one of the most essential playmakers, and with the lack of goals coming from elsewhere it could be justified if Liverpool fans expected the worst.
But what we should remember is that for all the excellence Luis Suarez brings to the squad, the Liverpool side appears on the verge of a breakthrough.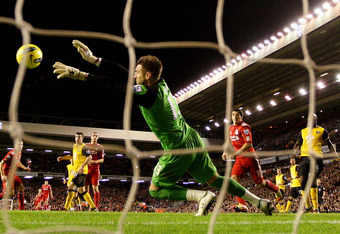 Scott Heavey/Getty Images
Under-fire players Andy Carroll and Stewart Downing are starting to look more threatening in front of goal. The former was frustratingly denied in the dying stages against Blackburn by a wonder save from Mark Bunn. 
Andy Carroll will meet his former club with a growing backing from Kenny Dalglish and his squad. We have to remember that he has youth on his side and therefore time to develop. 
Alongside the likes of Downing, Craig Bellamy and a rejuvenated Glen Johnson, there is a belief that Liverpool will eventually smash in four or five on match day. 
They have hit the woodwork more times than any other club, dominating possession and the shots on target, as well as letting in the fewest amount for any team at the other end. 
The return of Steven Gerrard may also afford a more stringent and effective service into the box, allowing the likes of Martin Skrtel and Andy Carroll the opportunity to add to their headed-goal totals as the season continues.
The loss of Suarez is consequentially not a disaster. Whilst the ambitions for a top-four finish hang in the balance, there is an evident improving team cohesion at Anfield.
A unit that can produce results is being developed. It may not be the level of progression that many will have wanted, but it is still a step in the right direction, and a signal of greater things to come. 
Imagine for example if Liverpool continue their impressive defensive run of results, and then increase the number of occasions when they net two or more goals. All that is required for this to happen is an increase in the conversion rate of shots on target. 
Suarez also has not struck gold on as many occasions in this campaign—yet others are threatening to do so. Stewart Downing, for example, has had some opportunist cracks at goal and is looking like he'll improve upon his clinical final touch. 
Liverpool have been slightly unlucky that against the likes of Swansea and Blackburn, the opponents' goalkeepers were the match-day heroes by keeping a barrage of goals out.
This will not always be the case. 
For that reason, I therefore will remain hugely optimistic about games without the Uruguayan superstar.