Robert Griffin III: Where Will RG3 End Up in the 2012 NFL Draft?
December 29, 2011
Ronald Martinez/Getty Images
Assuming he doesn't get broken in half in the Alamo Bowl against Washington, Baylor Bears quarterback Robert Griffin III is going to be a top 10 pick in the NFL Draft.
There's simply no reason why he wouldn't be. RG3 had a fantastic regular season in 2011, posting numbers that you and I couldn't put up in a video game. 
For his efforts, RG3 was awarded the Heisman Trophy. The next step in his journey involves a big payday from a QB-needy NFL franchise.
But which teams are actually in contention for Griffin? For that matter, which teams would even think about drafting him?
To answer these questions, we need to dive a little deeper. Using the current projected draft order, let's take a look at which teams might make RG3 a top 10 draft pick.
1. Indianapolis Colts (2-13)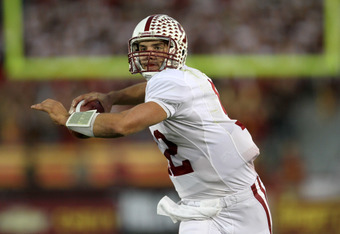 Stephen Dunn/Getty Images
All the Colts need to do to secure the No. 1 overall pick is lose to the Jacksonville Jaguars in Week 17.
I'd bet good money on that happening. I'd also bet good money on the Colts taking Andrew Luck no matter what if they end up with the No. 1 overall pick.
The Colts haven't come out and said that they are committed to picking Luck, but all signs point towards them doing just that. If you don't want to take my word for it, take Adam Schefter's word for it. He wrote late last month that Luck may as well start looking at houses in Indianapolis when the Colts secure the top pick.
I agree. RG3 is a great quarterback, but teams and scouts have been drinking the Andrew Luck Kool-Aid for too long at this point.
Odds: 50-1
2. St. Louis Rams (2-13)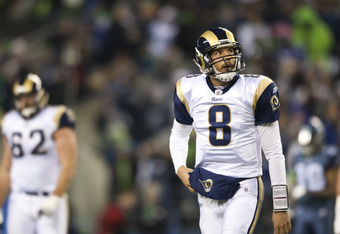 Jay Drowns/Getty Images
After the season he's had, would the Rams consider pulling the plug on Sam Bradford?
To put it bluntly, the answer is no. It's way too early for the Rams to give up on Bradford, and trading him just isn't very practical at this point. Nobody's going to give up anything of value for Bradford.
Having both Bradford and RG3 on the payroll is another thing that's not practical. The Rams guaranteed Bradford $50 million when they signed him in 2010, and 2011 No. 2 overall draft pick Von Miller signed a deal worth $21 million over four years. 
The Rams would have to give RG3 a similar deal. If they were to do that, they would have way too much money committed to two quarterbacks.
Odds: 100-1
3. Minnesota Vikings (3-12)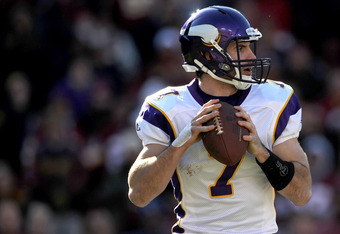 Patrick Smith/Getty Images
Now this would be interesting. The Vikings just drafted Christian Ponder with the No. 12 overall pick in 2011, but he's been just okay for the Vikings during his time under center.
Ponder has the potential to be a serviceable NFL quarterback, but he doesn't have star potential quite like Griffin's. And since the Vikings signed Ponder to an affordable four-year, $10.15 million contract (per Rotoworld), they could conceivably squeeze Griffin onto their payroll and then worry what to do with Ponder later.
I personally think the Vikings would focus their sights on a left tackle or a wide receiver, but it would be foolish to rule them out of the chase for RG3.
Odds: 20-1
4. Cleveland Browns (4-11)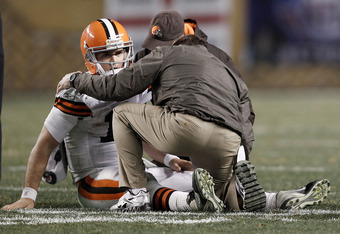 Jared Wickerham/Getty Images
Colt McCoy has very little upside as an NFL quarterback, and Cleveland's offense is sorely in need of a star player it can rally around.
Therefore, the prospect of drafting RG3 may be too good to pass up. He has enough talent to give the entire Browns offense a boost, and he's a player the Browns could build around for years to come.
You just can't say that about McCoy. He's solid enough when he's healthy, but he's nothing special. Instead of trusting that he will get better, the Browns may figure they're better off drafting a quarterback they know will get better.
And since Rotoworld has McCoy's contract at just under $5 million over four years ($1.7 million guaranteed), I daresay the Browns could afford RG3.
Odds: 4-1
5. Jacksonville Jaguars (4-11)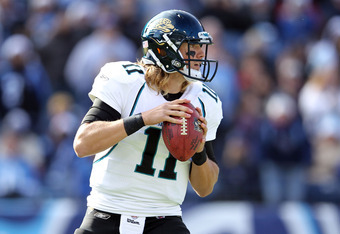 Andy Lyons/Getty Images
Blaine Gabbert has been pretty awful in his rookie campaign, so you obviously have to wonder if the Jaguars will move on from him the first chance they get.
Especially seeing as how the guy who drafted Gabbert, Jack Del Rio, is no longer in charge. For that matter, the Jaguars have a new owner too.
These realities make me think the odds are pretty good that the Jags will draft RG3. He's got way more upside than Gabbert, and the Jags could afford to have both of them on the payroll if need be. Rotoworld has Gabbert's contract at a mere $12 million over four years. 
Odds: 7-1
6. Tampa Bay Buccaneers (4-11)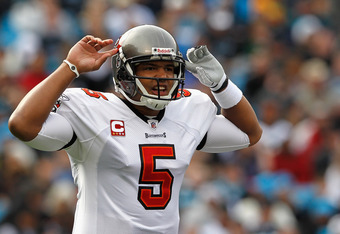 Streeter Lecka/Getty Images
The point is debatable, but I would say that Josh Freeman has been the most disappointing player in the NFL this season. He played very well in 2010, but has been downright awful in 2011.
That said, the Bucs would be stupid to give up on Freeman. He's responsible for a lot of the team's problems this season, but Raheem Morris deserves far more blame for the current state of the Buccaneers. If anybody loses his job, it will be Morris, not Freeman.
Instead of drafting a new quarterback, the Bucs would be better off building a stronger team around Freeman. That will start with upgrading their defense, which has been atrocious this year.
Odds: 50-1
7. Washington Redskins (5-10)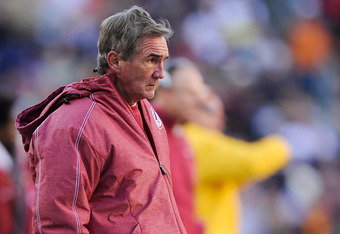 Patrick McDermott/Getty Images
The Redskins have the makings of a good football team, but they need a franchise quarterback.
It would be hard to ask for a better fit than RG3. Mike Shanahan has worked with mobile quarterbacks in the past, and Griffin's mobility is off the charts. So are all his other talents, which pretty much makes him a can't-miss pick for the Redskins.
Besides, the Redskins are going to need a quarterback. Rex Grossman is a free agent at the end of the season, and he's not coming back.
Odds: 3/2
8. Miami Dolphins (5-10)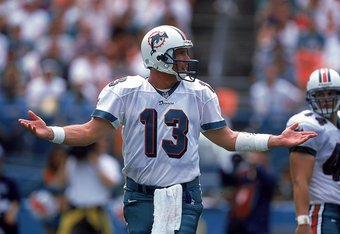 Andy Lyons/Getty Images
Dan Marino retired after the 1999 season, and the Dolphins have been looking for a long-term answer at quarterback ever since.
That's pretty alarming, and it's time they changed things. The only real question is whether or not they're even going to have a shot at drafting Griffin.
They won't if they finish with the same record as the Redskins. Ties are determined by strength of schedule when it comes to the NFL Draft, and Washington's SOS is much lower than Miami's. If the Dolphins want to pick ahead of the Redskins, they'll have to finish with a worse record.
If they do, it would be a true shock if they passed on Griffin.
Odds: 3-1
9. Carolina Panthers (6-9)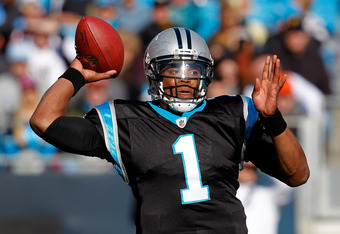 Streeter Lecka/Getty Images
Um, no.
Cam Newton.
That is all.
Odds: 1,000,000-1
10. Buffalo Bills (6-9)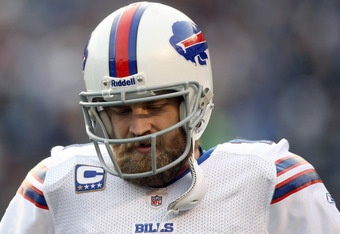 Donald Miralle/Getty Images
We may as well face facts. When the Bills signed Ryan Fitzpatrick to a six-year, $59 million extension, they made a huge mistake.
I'm sorry, but Fitzpatrick is not a franchise quarterback. He is a solid quarterback, but he is not a star who can bring the Bills back to their glory days.
But as Bleacher Report's Matt Miller pointed out recently, signing Fitzpatrick is a mistake the Bills don't have to live with. The Bills can rid themselves of him if they want, and at no cost.
If they do, they'll be in the mix for RG3. They wouldn't get him drafting at No. 10, but you have to think they would consider trading up for him. They need a young franchise quarterback that badly.
Odds: 15-1