8 UFC Fighters to Help You Survive a Zombie Attack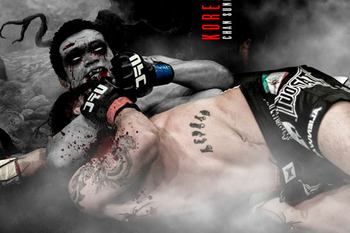 photo from sherdog.net
The world is filled with many dangers and potential threats to our very existence. One of the most media-flooded apocalypses to take place is the inevitable zombie attack. Video games like Call of Duty, and countless films have shown and trained us in the art of surviving an attack, but we could all use a little help.
This is a step-by-step walk-through of a scenario of zombies, accompanied by UFC fighters to help along the way. There are eight key areas that are essential to your survival. Each fighter represents the best man for each area of the task.
*This list is purely hypothetical. By beginning the slideshow the reader assumes full responsibility and the writer is waived of any negative occurrences that result from any altercation with the undead.
Join the MMA Facebook Page! and follow the @FightersCreed on Twitter!
Experience: Brock Lesnar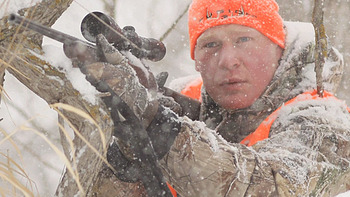 photo from cagetoday.com
Here we go. The zombie paranoia is valid and there is an attack upon you. Since you are currently safe, and the horde hasn't reached you yet, preparation is key. The best way to prepare is to have an experienced fighter alongside to help you. At the start of any threat, you have the chance to go on the offensive to meet the threat head on. This is where Brock Lesnar comes into play.
Not only does he have the physical presence to command and lead this attack, but he also has the hunting skills and experience to tactically help you take down some zombies. What zombie fight would be the same without firearms?
Lesnar is well-equipped and knows how to use them! All he needs is some white and blue face paint, and the battle can begin.
Close Combat Power: Dan Henderson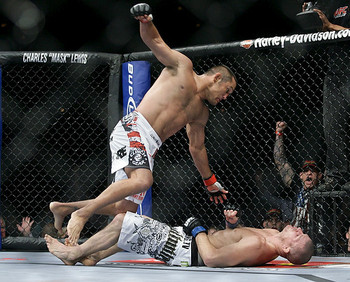 photo from shockblastmedia.com
The zombies have come strong in numbers, and your offensive strategies are becoming defensive ones. Now, it is all about holding down the fort. Whether you are in your house, a diner, or Kino Der Toten, you want to still put up a good fight, even with your back to the wall.
For this, we call upon Dan Henderson to help us defend. Henderson is known for his one solitary weapon of choice, the H-Bomb. When it comes time to drop bombs on zombies, Hendo is the man to call.
One overhand right from Hendo will knock any zombie back a great distance, or smash right through it and finish them. A quick and powerful weapon, it is crucial when the zombies are in a hand-to-hand range.
Decapitation: Mirko Cro Cop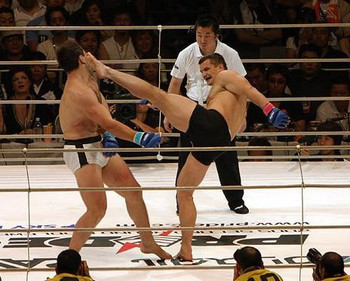 photo from fotolog.com
The zombie horde is gaining and numbers are growing strong. The attack is upon you and Hendo's H-Bomb is looking like Leonard Garcia's strikes. Pushing them back and knocking them out is not proving to be enough, you will have to go for the kill.
The best way? To take off the head.
While a machete or firearm may not be present, if you have Mirko Cro Cop along, you can get by just fine. Mirko Cro Cop also brings something unique to the fight. He brings two muscular legs that would make a sequoia blush. His kicks are legendary, and primarily because of the power they wield. To an MMA fighter, his headkicks make you go to sleep or can knock you into a coma. To a zombie, the head is coming right off.
Cutting through the midsection with a Cro Cop kick is like a hot knife through butter against rotting flesh, so even his body shots are crucial. What buys you more time than a crawling zombie if it is still alive?
Paired with the H-Bomb, the Cro Cop kick can make sure that every part of the zombie body can be broken down.
Quickness: Demetrious Johnson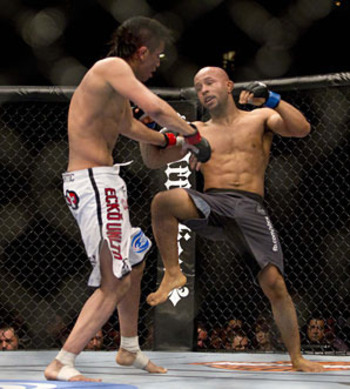 photo from si.com
Despite the countless zombies you punched and kicked into oblivion, it was not enough and you are being overrun. Retreat is the only option, but you need a gameplan. If Georges St. Pierre is around, consult with him.
Once a backdoor is found, exit and flee. You will need someone to run ahead and scout. Quickness is a trait all in the surviving party must share, especially the scout for where the party will be traveling to next.
You might want to reconsider using Roy Nelson, since it would be like attaching a drumstick to a snail. Also, you might never see your scout again. Apologies, no hate for Nelson, but the preferred scout would be Demetrious Johnson.
"Mighty Mouse" is a fighter who can match anyone's speed, and then run circles around them. In a tight situation where you need to figure out where you are going, Johnson can zip around and figure out the best route and bring back the intel.
He has the fighting abilities to hold his own out there while gathering info, and can keep up while the party is fleeing. Last thing you need is for your scout to pull a Patrick Cote while running away. Apologies.
Stamina: Clay Guida
photo from cagedinsider.com
You have fled, but the zombies are everywhere. It is like Dana White tweeted you had free event tickets in your brains. You are out-running the main horde finally, but are still fighting the patches of them here and there. With all this fighting until you reach a safehouse, you need a fighter who can carry on during all the battles.
This is where you call Clay Guida to help. Clay Guida is known for his aggressive and exciting style, and has the stamina to fight for days. While Dan and Mirko were the bazookas, the machine gun is always a trusty weapon to have with you, and you'll get more ammo out of it. Running is tiresome, and any fights or breaks you take must be handled accordingly. Clay Guida is there to always bring the fight.
Mantain Distance: Jon Jones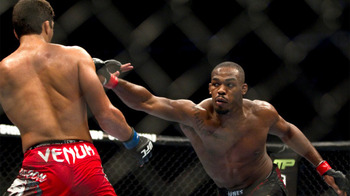 photo from theglobeandmail.com
Finally, here is some good news!
Demetrious Johnson found an old bunker that will securely protect you from the zombie masses. The only issue is the door to it is blocked off, and it will take some time to get inside it. To buy you the time you need during any getaway, Jon Jones is the man to have in the party.
Jon Jones has the longest reach of any UFC fighter, and has the fighting skills to hold his own in defending or attacking. While the others are working on the door, Jones can use his reach to throw strikes from afar and keep them at bay.
This only works until the swarm is too large, but he has his own youthful energy to keep them away for enough time.
Evasivenes: Lyoto Machida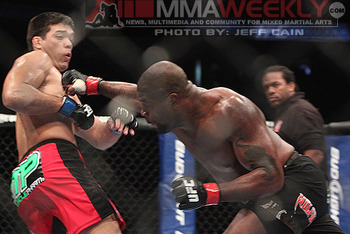 photo from thefightnerd.com
At last, the door has been exposed and now you can get inside. Your party flees inside and closes the door. For now, you are safe. The only issue is getting supplies and rations for everyone. Along the way, Demetrious had spotted nearby food and hardware stores. Now, it is time for Lyoto Machida to shine. Apologies.
Lyoto Machida is unparalleld in his unique way of evading his opponents, so effectively to the point where he rarely gets hit at all. Machida makes for the perfect errand-runner to go get supplies and bring them back. While there may be an ocean of zombies outside the bunker, he can bob and weave through it using his footwork and body movement.
Because of his speed, Demetrious can accompany him when needed.
Moral Support: Quinton Jackson or Chael Sonnen
photo form espn.co.uk
Machida and Johnson have run back and forth and gathered all the supplies you need for months and months. You are now safe to wait it out until someone comes and saves you, or until a safe base is established elsewhere by the government.
The issue is keeping the spirits up, and maintaining the psychological composure. You have all just gone through very traumatic times, and lost many heavyweights along the way. The tough times are not over yet.
This is why you have Quinton Jackson or Chael Sonnen with you. Rampage and Chael both have the uncanny abilities to make you laugh. Their personalities and the outlandish things they say and do are entertaining enough to keep even the Strikeforce company employees optimistic. Apologies.
While being great fighters themselves, they provide extra manpower as well as moral support for everyone.
Time continues to pass and it seems the military wiped out the zombie population.
Congratulations! You and your party have survived the zombie attack and a UFC after party is in order. Everyone gets fight of the night bonuses.
Thanks for reading!
Keep Reading