Miami Heat vs. Boston Celtics: Comparing Each Dynasty's Start to the 2011 Season
December 29, 2011
Mike Ehrmann/Getty Images
The Boston Celtics and the Miami Heat have been going in entirely different directions since the season's start and for a variety of reasons.
Miami's 3-0 start to the season has done nothing but restore the Heat's confidence in themselves while Boston's loss of Paul Pierce early on has done the opposite. Of course a player like Rajon Rondo or Kevin Garnett would not step to the forefront and admit it. But, the Boston Celtics are playing on their last leg and there is no stopping the freight train barreling through Beantown.
Boston has not had the pleasure of playing a single home game with all their losses coming in enemy territory — at New York, at Miami and at New Orleans. There could be an excuse meddling in their extending losses. Still, the Heat has bounced from Dallas to Miami to Charlotte and has yet to let a game slip through their fingers.
The implications from each team's records are on two different edges of the spectrum.
Leading Roles
Break some ankles, Rajon Rondo. Shake the defense, Rajon Rondo. Shoot the hell out of the ball, Rajon Rondo!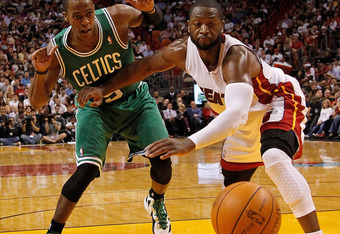 Mike Ehrmann/Getty Images
The Boston Celtics have asked Rondo to do everything short of shaking a tail feather to some old school Tina Turner tune so far this season while Paul Pierce has been relieved of his duties due to injury.
The standing problem is that Rondo cannot be the team's commander-in-chief and facilitator all in the same breath. Rondo has been playing lights out for his franchise after Danny Ainge undervalued his worth, but it is not enough. The emerging leadership role is not too much for him to handle, but it is not what is necessary for Boston to win games.
With Pierce out of commission, Kevin Garnett should be the standing man in charge. He should be reverting back to a few years ago when he was not all talk. That is not the case, or at least it has not been so far. Rondo and Ray Allen are Boston's true hopes right now with Rondo being the guiding light. With him holding that responsibility, the Celtics are out of their element. Why?
When he reverts back to playing the true point guard position, as he did against the New Orleans Hornets, the Boston Celtics are blown out.
Hence, the 19-point loss Wednesday night.
The Miami Heat, on the other hand, are sitting pretty. Not just because they have won each meeting they have participated in this season. They are comfortably atop the Eastern Conference because of how they have chosen to define the roles of each member of the Big Three, namely the roles of both LeBron James and Dwyane Wade.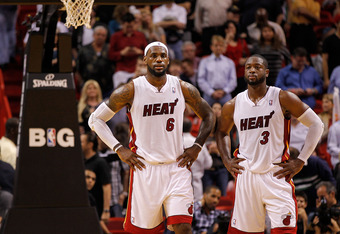 Mike Ehrmann/Getty Images
Whether or not you classify one or the other Batman or Robin, both players have realized something that everyone was hoping they would during the Dallas Mavericks series in the 2011 NBA Finals.
Get your tails around the rim and hit those mid-range jumpers why don't you?!
Both players have the ability to hit those outside shots. But, just because they have the ability does not mean that those are the opportunities they should readily go for. Operating within the free throw line and driving the ball is what both men excel at as they are ambitious under-the-hoop scorers.
Wade's game-winning shot against the Charlotte Bobcats was not an outside-the-lines three-pointer. It was a seven-footer while James was covered in the corner.
SEVEN-FOOTER!
As the true leaders of this team, they have finally figured out what makes their game so lethal. The selflessness between the two men is at an all-time high. Their egos have taken a step back and each player is playing to win the game and not to prove a point.
Defense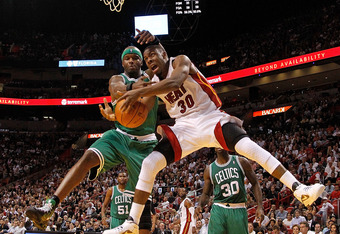 Mike Ehrmann/Getty Images
Boston is sinking terribly while Miami is spreading their wings and shutting teams down, at least when it matters. The Celtics were facing Carmelo Anthony and the Knicks in a season opener on Christmas and watched Anthony drop 37 points.
The next game? Miami's star-destined rookie, Norris Cole, scored 14 fourth quarter points to seal a close game that could have easily gone the other way.
A rookie!
Against the New Orleans Hornets, the Boston Celtics would have continued the trend of allowing at least 100 points in each of their losses had N.O. been allowed another outside score. This was without prolific shooter Eric Gordon on the court, so imagine how things would have been including his pure stroke recently acquired from the Los Angeles Clippers for Chris Paul.
There is no one energizing this squad and Garnett is continuing to dwindle in performance and appearance. New Orleans lived in the paint and the lack of big body strikes near the basket allows guards to shrivel through the scattered defenses that Boston is exhibiting. The pattern is the same with this squad. Play zone, have a chance. Play man, lose the game.
Boston cannot keep up with opposing teams' best shooters one-on-one and their age begins to show when they make the attempt to.
Miami is extraordinarily underrated as a defensive squad. YES, I SAID IT! Extraordinarily underrated as a defensive squad, Miami is.
The Charlotte Bobcats dropping 60 points on the franchise in the first half of the contest is unlikely to be repeated and it showed as Miami held them to only 35 in the second half. The third quarter was the most impressive showing from the Heat as LeBron took the reins of his team and led them to within one point (69-70). Whether or not you want to give them credit for it, Miami has a great defensive mentality.
Think about it. Why is Miami such a great transition team? They force the turnovers on one end of the court allowing them to capitalize off of raw speed and agility and outrun their opponents for the easy layup or highlight three-man lob.
What kills them is when teams become efficient in their perimeter-shooting and are able to hop into zone defense, like the Boston Celtics were able to do later on in the Miami eight-point win in South Beach. Other than that, Miami functions well off of blocked shots and forced turnovers. That is their bread and butter.
Playoff Implications
The Boston Celtics are still a team to contend with in the Eastern Conference. Not in light of their superiority, but in light of Eastern Conference inferiority. Teams like Charlotte, Philly, Indiana and even New York are showing growth, but not enough to withstand such a strained schedule against elite teams across the country.
The back-to-back games will start to wear down on younger team's psyche and without the mental toughness and chemistry to withstand it all, they will fall consistently. The frustration of other squads will play into the failures around the league and the Celtics will be one of the teams to take ample advantage.
Miami will end the season as the No. 1 seed because they are performing better than any other team in the NBA. They have the bench to assist when the fountain runs dry and they have the leadership in more than one man to ensure a clutch offensive or defensive play.
All lanes in South Beach are being set up to head to the postseason with 60 wins (Factors include Norris Cole's defense and clutch offense, LeBron's renewed sense of paint dominance and point guard passing, Dwyane Wade's Batman mentality, Chris Bosh's ability to show up and show command and an uncomfortable Mario Chalmers fighting for his paycheck.)
As long as Miami keeps their head on straight and injuries do not derail their success, their pathway is cleared.
It is not too early to crown Miami champions of the East. It is not too early to crown Miami champions of the league. But, despite their shortcomings, it is far too early to count Boston out.  
Follow @NyhlaaBlack on Twitter