NFL Week 17: 5 Keys to a Bengals Victory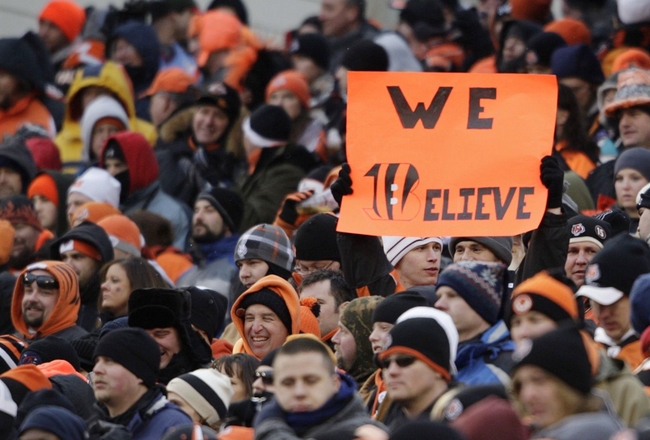 Andy Lyons/Getty Images
The Cincinnati Bengals come into their Week 17 showdown with far more at stake than most people would have ever thought coming into this season.
Rather than wondering about where they will be drafting next April, the Bengals and their fans know that if they can beat their division-rival Baltimore Ravens in the final week of the season, they will be heading to the playoffs as the AFC's sixth seed.
The Bengals and Ravens met in Week 11, with Baltimore holding on for a 31-24 victory in their home stadium. Baltimore led by as many as 17 points before stopping a fourth-quarter Bengal rally.
The season finale holds a lot of importance to the Ravens as well. A win and they will lock up a first round bye and at least one home playoff game. A loss puts them in jeopardy of letting the Steelers take the division title.
It all adds up to what should be a tough and entertaining matchup between two divisional rivals desperate to solidify their playoff hopes.
Let's look at five things the Bengals need to do to win this pivotal game.
1. Win the Turnover Battle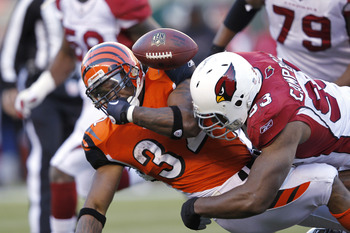 Joe Robbins/Getty Images
The Bengals have a +1 turnover ratio for the season, which is not bad for a team starting a rookie quarterback.
The first meeting between the teams was a different story, however, with the Ravens enjoying a three to one edge in turnovers and intercepting Andy Dalton three times. Dalton has only been picked off 13 times total this season, so I don't think he will repeat that Week 11 performance.
A disturbing trend has popped up in the last two weeks, with Cedric Benson coughing up the football five times after not doing so at all up until that point. Should Benson fumble early in this game, we may see a lot more of Bernard Scott.
2. Limit Ray Rice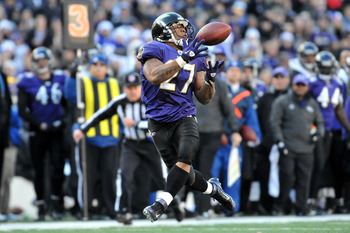 Larry French/Getty Images
Easier said than done. Rice is having another great all-around season, going over 1,100 yards on the ground and catching 74 passes out of the backfield.
While I don't think the Bengals defense will be able to prevent Rice from getting his usual five catches or so, they cannot allow a repeat of the 104 yards and two TDs he managed in the first game between the teams.
With guard Marshal Yanda questionable for the game with a chest injury, the inside yardage could be a little tougher for Rice this time around.
3. Contain Torrey Smith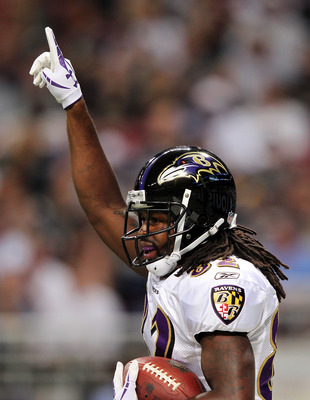 Jamie Squire/Getty Images
Smith has had a very good rookie campaign, ranking third among rookie WRs with 808 yards while adding seven TDs.
Much of Smith's production has come via the big play, as he has averaged over 18 yards per catch and has twice went over 150 yards in a game this season, including Week 11 against the Bengals.
In that game, the former Maryland star had six grabs for 165 yards, including a 38-yard TD that put the Ravens up by 17 points early in the fourth quarter.
With Anquan Boldin sitting out this week while recovering from knee surgery, Smith is the best option at WR for Joe Flacco.
With points looking to be tough to come by this Sunday, the Bengals can ill afford to let Smith burn them for a long TD.
4. Get Pressure on Joe Flacco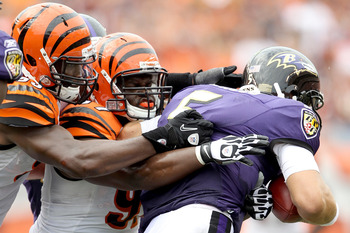 Matthew Stockman/Getty Images
The photo here represents an important piece of the Bengals' recipe to victory. That was the only sack the Bengals recorded in the first matchup against the Ravens, and more pressure is needed to keep Flacco from being able to use his big arm to get the ball downfield.
A return to full form by Carlos Dunlap would be a huge boost to the pass rush. Dunlap has been limited since injuring a hamstring in the Titans game, but managed to get a sack last week against Arizona.
As mentioned earlier, Baltimore may need to replace Marshal Yanda at guard, and Andre Gurode looks to be the replacement. While Gurode has been has been a Pro Bowl player at center in the past, he has limited experience at guard in the pros.
An occasional safety blitz from Reggie Nelson, who also had a sack last week versus the Cardinals, may help shake up Flacco a bit.
5. Keep the Game Close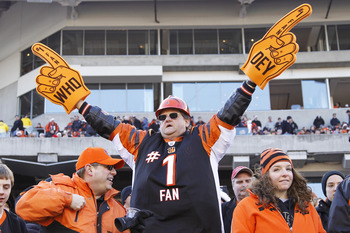 Joe Robbins/Getty Images
The Bengals put on valiant rally trying to overcome a 17 point fourth quarter deficit in Baltimore. If they should fall behind by that large of a margin again, there is no way the Ravens will let them come from behind for a victory.
Maybe a sold-out Paul Brown Stadium will help inspire a young Bengals team to a key victory in their rise to being perennial AFC contenders.
This game, along with the Dallas at New York Giants game, will be the two most interesting games this weekend. I am looking forward to watching this game unfold Sunday. The only thing better would be to be able to see it live!
Keep Reading

Cincinnati Bengals: Like this team?