Phoenix Suns Sign Sharpshooter Michael Redd
December 29, 2011
Jamie Squire/Getty Images
After a disappointing 0-2 start, it was clear that the uncharacteristically low-scoring Phoenix Suns needed an offensive boost.
According to their Twitter page, the Suns signed free agent Michael Redd.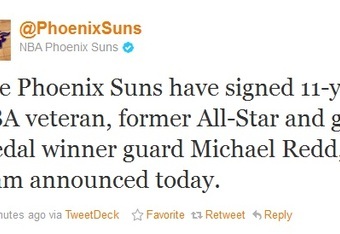 The 32-year-old sharpshooter fits their style of play and will help them get back to the fast-break team they've been over the years.
While Redd's age will be a factor, he lifts the offense and will be able to add an influx of points, even with a limited number of minutes.
Scoring 83.5 PPG won't be acceptable this season, and signing Redd is proof that Phoenix won't let itself become complacent.
With the season shortened, the Suns don't have time to let their two losses turn into a series of losses.
They get savvy veteran who can provide some leadership, scoring and a defensive lift to the struggling team.
This is a low-risk move for the Suns that has the potential to be a homerun. It's a great pickup by the Suns and is win for all parties involved.
Certainly injuries are a concern, but the Suns couldn't afford to sit on their hands and let their season slip away. This acquisition is exactly what they needed to kick start their team, as they look to recover after stumbling out of the blocks.