Philadelphia Eagles: A Fan's Lament About the 2011 Season
December 29, 2011
Patrick McDermott/Getty Images
I should have known better.
Living in the DC area, I've seen year after year of the Redskins "winning the offseason."  I've watched Redskins fans get excited as the team brings in big-name talent, only to watch the team suffer through another disappointing season.
And still I was fooled. 
The Eagles made several major personnel moves in the offseason, and I was hooked.  I bought into the "Dream Team" hype.  I thought that this year's team was going to be a bona fide Super Bowl contender.
For years, Eagles fans have been waiting for the team to make a serious run.  While the team has been a relatively reliable playoff participant, it felt as if the team was always looking toward tomorrow at the expense of today.
We've had too many years of trading away first-round draft picks.  Too many years of drafting Kevin Kolbs—players who might help down the line but aren't going to do much to help the team in the upcoming season.
But this year, the Eagles were finally making moves that indicated that they were ready to win now.  Team president Joe Banner even announced that the team was "all-in" on the upcoming season.
I think back to the good old days of August.  The NFL lockout had just ended, and with only a limited amount of time before training camps began, offseason player movement was greatly condensed.  It felt like the Eagles were making another big move every day.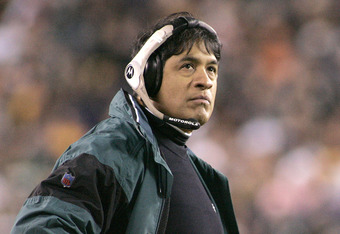 Joseph Labolito/Getty Images
They traded for Pro Bowl cornerback Dominique Rodgers-Cromartie.  They signed Pro Bowl end Jason Babin.  They signed the top free agent available in cornerback Nnamdi Asomugha.
They also seemed to address other weaknesses with less-glamorous moves. 
Right tackle was a problem spot, so they brought in veteran Ryan Harris.  They needed a pass-rushing defensive tackle, so Cullen Jenkins was signed.  Safety depth?  Here comes Jarrad Page!  Backup running back?  Let's try out blue chip running back Ronnie Brown.
When all this was happening, Redskins fans were quietly offering some warnings.  Actually, most Redskins fans were bitter about the whole affair and seemed to be doing their best to rain on the parade of Eagles fans.  But perhaps more attention should have been paid to what they said.
Most Eagles fans countered that the Eagles weren't anything like the Redskins in their spending spree.  The Redskins were a losing team trying to build a team via the big-name acquisitions.  On the other hand, the Eagles were simply adding the finishing pieces to what was already a winning foundation.
And really, it is hard to fault the Eagles' moves as the cause for this season's failure, even though some of the moves have been disappointing if not outright disastrous.
The real damage was that by making all of those flashy acquisitions, it blinded us to flaws that should have been glaringly obvious.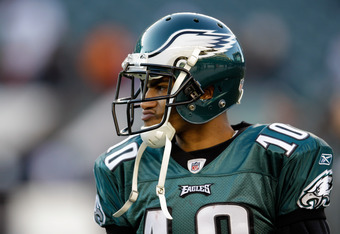 Rob Carr/Getty Images
But now, the Eagles are officially eliminated from the playoffs.  And those flaws which we couldn't—or wouldn't—see in the offseason, are much more visible in hindsight.
Here are the main flaws that caused the team to disappoint.
1. They Named Their Offensive Line Coach To Be the Defensive Coordinator
The 2010 Eagles were a poor defensive team, so the firing of last season's defensive coordinator made perfect sense.  Unfortunately, the team didn't seem to have a plan as to how to replace him.
They talked to several candidates, and then finally settled on one of their own coaches—Juan Castillo.
Normally, there would be nothing that unusual about promoting one of the team's coaches to the coordinator position.  The strangeness was due to Castillo being the team's offensive line coach.  He hadn't coached defense since his days as a high school coach.
The Eagles explained that Castillo had long wanted to get back to the defensive side of the ball, and as offensive line coach, he had firsthand knowledge of how to effectively attack an offense.
This didn't seem to make much sense at the time.  And there is probably a reason why no other team in recent history had made such a move.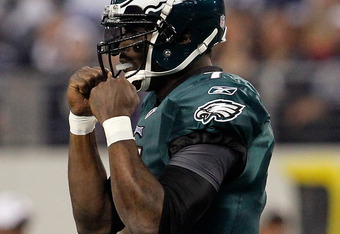 Tom Pennington/Getty Images
But then the Eagles started acquiring all of that defensive talent, and it looked like they were just going to put so much talent out there that Castillo would have an easy go of it.
I feel bad for Castillo, because he really wanted a chance to be a coordinator, and his failings aren't from lack of effort. 
But the move was destined to fail.  You can't hire an inexperienced coordinator, bring in a bunch of new players, give him a truncated offseason to get acclimated and expect the defense to play at a high level.
2. Flashy Names Aside, the Defensive Talent Isn't That Good
While the Eagles have a ton of big-name talent on the defensive line and at cornerback, they are still weak at linebacker and safety.  In fact, even while they were in the midst of their offseason shopping spree, many people couldn't figure out why they weren't upgrading their linebackers.
They actually seemed to get worse in the offseason, allowing established guys like Quintin Mikell and Stewart Bradley to leave. Instead, they went with guys who ranged from inconsistent to completely ineffective.
Of course, if the big names they had at cornerback had played up to their reputations, then maybe they could have helped compensate for the other weaknesses. 
But the heralded trio of Asomugha, Rodgers-Cromartie and Asante Samuel have not been able to mesh effectively, and cornerback has not been the strength it was expected to be.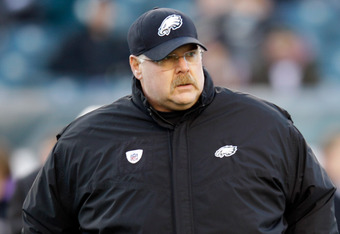 Rob Carr/Getty Images
3. Throwing So Much Money Around Has Caused Problems
Wide receiver DeSean Jackson and cornerback Asante Samuel are immensely talented.  But they are also known as locker-room divas.
By bringing in and paying other guys served to insult them, and the play—both individually and as a team—has suffered.
Through his first three years in the league, Jackson proved to be one of the most talented receivers in the game.  He was clearly underpaid from his rookie contract and wanted to be signed to a new deal.
The Eagles agree that he is underpaid and (at least before this season) wanted to give him a new deal.  Unfortunately, due to several factors, the two sides have been unable to reach an agreement.
There were already signs of this being a problem last season.  On more than one occasion, Jackson either pouted or acted distracted due to his contract situation. 
After a midseason game in which he took a big hit and suffered a concussion, Jackson seemed more reluctant to catch passes in traffic and seemed to shy away from contact a bit.
Naturally, that dissatisfaction has carried over into this season.  First, he held out of training camp.  After he reported, he still made not-so-subtle hints that he was unhappy about his situation.
It is probably not a coincidence that Jackson has had a disappointing year.  He still seems to shy from contact.  He was suspended for a game for missing a meeting.  And he has not been nearly the big-play threat that he was before this season.
On the other hand, Samuel—brought in as a free agent three years ago—is still well compensated.  But he's unhappy because after having a Pro Bowl year in 2010, the team brought in two other cornerbacks and made it known that they'd be willing to trade him.
Samuel was angry and went as far as accusing the Eagles front office of playing "fantasy football."
While I don't know if the unhappiness of either player contributed toward the losing, distractions are rarely helpful to a football team.  Both players are talented, and theoretically could be team leaders.  When the team hit some adversity, they could have been two of the guys who helped lead the team out.
Instead, the unhappiness of both players seemed to help make a bad situation worse.
3. They Had A Rookie Kicker and Punter
The team allowed kicker David Akers to leave as a free agent.  Akers is the franchise's greatest kicker, and a multiple-time Pro Bowler.  They replaced him with a rookie, and complemented him with another rookie as the punter.
Perhaps the most shocking thing about these moves is that the rookies haven't really cost the team.  Of course, when a season is a disastrous as this one, any struggles by special teamers are trivialized.
4. Michael Vick Is Not the Savior We Thought He Was
Michael Vick is obviously one of the most talented players in the league.  And it's always exciting to watch him play. 
Yet the evidence is piling up that a Vick-led team is never going to be a consistent winner.
Vick played amazingly well for most of the 2010 season and was probably the biggest reason the team captured an unexpected division title.  But even during 2010, there were several warning signs indicating that trouble might be ahead.
Due to his style of play, Vick is more vulnerable to injury than most quarterbacks.  He holds the ball for a long time and doesn't like to give up on plays.  He knows that even if all else fails, he can usually run his way out of trouble.
The problem is that the more time he holds the ball, the more opportunity the defense has to hit him.  Vick also compounds this problem by usually not sliding or going out of bounds at the end of a play.
He missed a few games with a rib injury last season, and toward the end of the year, the cumulative effect of all the hits he had taken seemed to be detracting from his play.
The injuries have been more of a problem this season.  Early in the year, Vick had to leave two games due to injury.  Both times, the Eagles were leading when he left the game but ultimately lost the game.
Last month, in a game against the Cardinals, he suffered broken ribs early in the game.  The injury clearly hampered him as he played poorly, and the team lost.  He then missed three more games in which the team went 1-2.
It is doubtful that Vick will make it through a full season healthy, so the team needs a reliable backup.  Vince Young—despite a nice comeback victory against the Giants—does not appear to be the answer.
Even when healthy, Vick has had a disappointing year.  Despite his claims that a full offseason as a starter would result in a monster year, there were reasons to believe that he might not match his performance of 2010.
As last season progressed, defenses seemed to have "figured him out" somewhat.  Most of his huge games came earlier in the season.  He also was very fortunate when it came to interceptions.  Many of his throws that could have been intercepted for some reason were not.  That kind of luck tends to not carry over season to season.
And sure enough, Vick has seemed to have bad luck in terms of interceptions, with several tipped or deflected passes getting picked off.
But bad luck aside, Vick has not had a good year.  He's made too many poor decisions and not enough game-changing plays to overcome them.
He has looked disturbingly like the pre-prison Atlanta Falcons version of himself: Talented and capable of just about anything—but also limited enough to keep him from ever being a championship-caliber quarterback.
5. Andy Reid Is Still Andy Reid
It is no secret that I am not a fan of Andy Reid.
I can't say that he's a bad head coach.  You don't last as long with one team and have that much success if you're a bad coach. 
For the most part, his teams play well, and his players seem to like and respect him.  Even in this disappointing year, the team has continued to play hard throughout the season.
His biggest problem seems to be an almost arrogant overconfidence at times and an inability to adjust when necessary.  He also doesn't seem to learn from mistakes, as the same problems plague this team year after year.
Clock-management mistakes?  Still happening!  Ignoring the running game despite having one of the league's best running backs?  Yes, that has been an issue this season as well.
So now that 2011 is officially a wasted year, is there any reason to hope that next year will be different?
I think so.  Problems aside, there is still a lot of talent on the team.  Some teams lose because they simply aren't as talented as their opponents.  Aside from possibly the game against the Patriots, that wasn't the cause for the Eagles' losses.
They still have a lot of offensive talent, and their problems are nothing that better play-calling, smarter play and better health by Vick can't fix.  Of course, under Reid, it's questionable whether any of those things will actually happen.
On defense, I expect Castillo to be replaced, and with a more experienced coordinator, the defense should improve.  And it seems improbable that they would go a second straight season without upgrading the talent at safety and linebacker.
So yes, there's hope for next year.  Unfortunately, that doesn't make the disappointment which we just suffered any easier to take.  It doesn't make it any better to watch a team that I had such high hopes for not even make the playoffs.
And the worst thing about it is—I should have known better.
Originally published on my blog: The Cutter Rambles