Alamo Bowl 2011: Baylor vs. Washington Not All About Robert Griffin III
December 29, 2011
Sarah Glenn/Getty Images
The Baylor Bears are hoping to get the first bowl game victory in nearly 20 years, and while much of the hype over the Alamo Bowl revolves around Heisman Trophy winner Robert Griffin III, he's not all this game has to offer. 
While many ponder whether Griffin III will leave early for the NFL, let's turn the focus to some other key components in Thursday night's showdown. 
The Washington Huskies aren't receiving any love in this game, which makes them dangerous. As serious underdogs, they have a chip on their shoulder and want to prove that they can take down the mighty "RGIII." 
Taking nothing away from what Griffin III has done this season (it was truly a remarkable year for the junior quarterback), there are other players who deserve attention in the 2011 Alamo Bowl. 
The Other Baylor Bears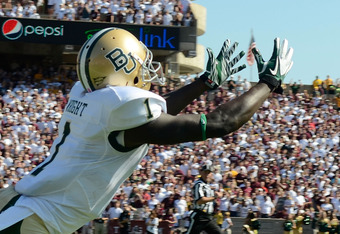 Sarah Glenn/Getty Images
RGIII is a definite lock for the first round should he opt to forgo his final year of eligibility, but he's not the only Baylor player getting a first-round grade. 
Kendall Wright has been RGIII's go-to guy this season, reeling in 101 receptions for over 1,500 yards and 13 touchdowns. 
The senior wide receiver is being looked at as a late first-round draft pick, and his performance in the Alamo Bowl will have a great impact on his draft status. 
Listed a 5'10", 190 pounds, Wright has the explosiveness to excel at the next level, but his size does worry some. His speed alone will garner attention, but he needs to deliver on the big stage with so many scouts watching. 
Senior running back Terrance Ganaway rushed for 1,347 yards and scored 16 touchdowns this season. It was his first year as the starting running back, and he did not disappoint.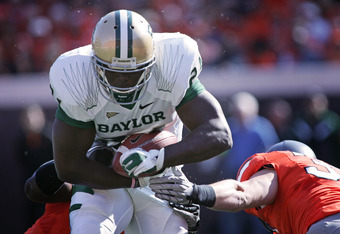 Brett Deering/Getty Images
Listed at 6'0", 240 pounds, Ganaway has the power for the NFL, and a strong showing against the Huskies 54th-ranked run defense will give him a rise on draft boards. 
As you can see, RGIII wasn't the sole reason the Baylor Bears had the second best offense in college football this year. 
Keep and eye on Wright and Ganaway in Thursday night's Alamo Bowl because the Bears will need them to be performing at a high level in order to get the victory. 
Washington's Star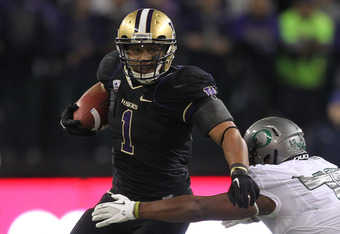 Otto Greule Jr/Getty Images
Much of the public knows that RGIII is the star player in the Alamo Bowl, but the Huskies also have some very talented players. 
Chris Polk finished the regular season with 1,341 rushing yards, and he also scored 15 total touchdowns. 
The junior running back has the potential the land in bottom of the first round of the 2012 NFL draft, but he needs a great game in the national spotlight for his draft stock to keep climbing. 
Listed at 5'11", 222 pounds, Polk has rushed for over 1,110 yards for three consecutive seasons. Sure, he could decide to return for another year, but with the possibility of being selected in the first round he may opt to leave early. 
Huskies quarterback Keith Price is also a player to watch in 2011 Alamo Bowl. The sophomore quarterback continues to develop, and his future looks very bright with Washington.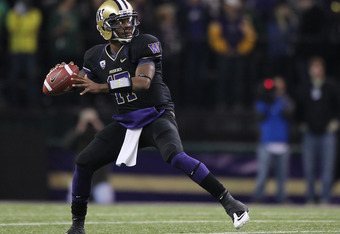 Otto Greule Jr/Getty Images
Price still has a lot to learn, but a bowl game victory over Baylor would give him a great boost in confidence to keep improving for next season. 
Washington will need Price on his A-game and to make smart decisions with the football. The last thing the Huskies need is to give the high-powered Baylor offense more opportunities. 
Win-Win 
Enjoy the 2011 Alamo Bowl because it's going to be a high scoring affair. The over/under is set at 79, which is the largest total ever posted by Vegas, according to insider RJ Bell.
It's a win-win because not only do you get to watch the Heisman Trophy winner do his thing, but there are plenty of other top notch players that must come through for their respective teams.
If you love offense, make sure to tune into the Alamo Bowl because there will be plenty of it. And it won't all be from RGIII.