10 Bold NFL Playoff Predictions for the Houston Texans
Bob Levey/Getty Images
With one game left to determine who the Texans' first-round playoff opponent will be on wild card weekend, Houston gets one final tune-up against division rival Tennessee this Sunday. The game is nothing more than a high-profile scrimmage for the Texans since they can neither help, nor harm, their playoff seeding.
For the first time in team history the Texans have not only clinched a playoff berth, but they've nailed down the first postseason football game in Houston in almost 17 years. To put that in perspective for myself, I was a freshman in high school when it happened.
Still, even without knowing who their opponent will be in the first round, there are plenty of predictions to be made about Houston's postseason chances. Which is why I'm going to ramble off 10 things I think could happen for the Texans in their first venture into the playoffs.
Reliant Stadium Will Be a Top Home Field Advantage
Ronald Martinez/Getty Images
As I've said in recent entries, I think that Houston is one of the most fair-weather sports towns in America. But what I won't deny is the way the city gets behind a winning team. Reliant Stadium is going to be rocking and loud for the first postseason game in team history.
If you go back and watch the game against the Falcons about a month ago, you'll be surprised at just how loud the stadium was. Well, I think this might eclipse that showing.
I have a hard time believing a young quarterback, which is what they'll most likely be facing, will be able to come into a hostile environment such as that and find a way to succeed.
And remember, if one of the top two seeds get upset in the first round and Houston advances, there will be a second home game at Reliant.
Andre Johnson Will Reintroduce Himself to a National Audience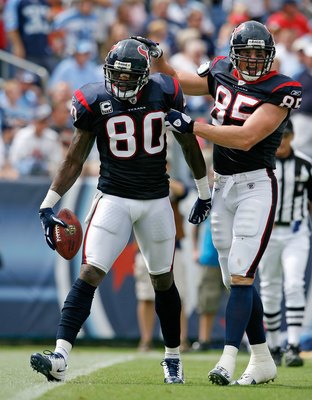 Andy Lyons/Getty Images
Andre Johnson has missed about 10 total games this season. You know who is the most upset about that? AJ himself.
There are guys in this league that seem content to mail it in with a lingering injury and just collect a paycheck. But you can look at a guy like Andre Johnson on the sideline and tell that it is simply eating away at him to not be able to go out there and do what he loves.
Being the longest tenured Texan on the team, Andre is going to be like an uncaged animal on wild card weekend and no one is going to be able to keep him contained. His first playoff game and a chance to do what Larry Fitzgerald did on a national stage a few years back has got to have Johnson frothing at the mouth.
Arian Foster Will Show People He's More Than Just a Fantasy Football Stud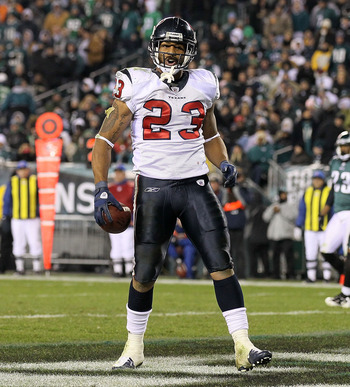 Jim McIsaac/Getty Images
Something that frustrates most Texans fans, as well as the man himself, is that you rarely hear the words "Arian" or "Foster" without hearing the words "Fantasy Football" closely behind.
With most leagues over and people actually being able to focus on real football finally, they will be getting a chance to see what arguably the best running back in the NFL can do on a national stage.
With a rookie quarterback, expect to see a healthy dose of Arian Foster in the postseason. With Andre Johnson back to take that safety out of the box, Foster is bound to have some ridiculous games. And your fantasy team won't even benefit from it.
The Defense Will Not Allow More Than 20 Points in the 1st Round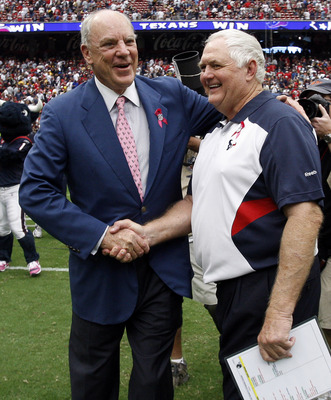 Bob Levey/Getty Images
Regardless of if Houston plays the Bengals, Jets, Raiders or Titans in the first round of the NFL postseason, I find a scenario in which one of those four teams puts up more than 20 points against the Texans defense in Houston.
It's true that the offense has struggled since Matt Schaub went down. but the defense has been up to the challenge of carrying the load. The Carolina game has been the one black eye on that, but hard to blame the defense when the offense turns the ball over that much on the wrong side of the field.
Getting Wade Phillips back on the sideline for the playoffs will be just the shot in the arm that the defense needs to carry the sluggish offense into the next round.
T.J. Yates Will Struggle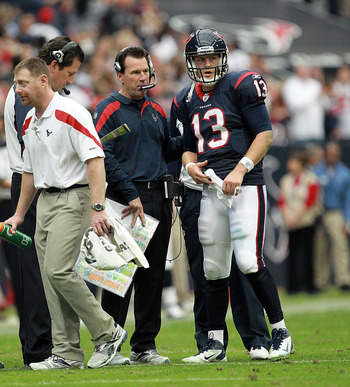 Ronald Martinez/Getty Images
After two pretty decent games followed by two pretty mediocre to poor games from the Texans rookie, it's a pretty safe assumption that T.J. Yates will struggle in his playoff debut.
What is confusing about the past couple of weeks is that it seems like Kubiak has taken throwing down the field out of Yates' arsenal. I realize that missing Andre Johnson is a big deal but you still have to do more than checking down every play to keep the defense honest.
Again, I'm not sure if this is a case of Kubiak playing in fear of losing another quarterback (could you blame him?) or if the jitters have finally caught up to the young man. He's going to have to air it out some to get the running game going. But if you expect Yates to not struggle at all, you're living in a dream world.
J.J. Watt Will Make Voters Think Twice About Defensive Rookie of the Year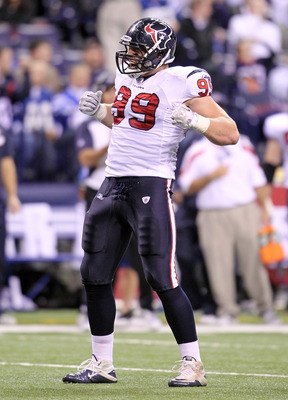 Andy Lyons/Getty Images
It's a shame what happened to J.J. Watt in Indianapolis last Thursday. He played the game of his young career and it was stolen by the officials. But don't think that is going to damage his performance in the future.
If anything, this is only going to fuel Watt to wreck some serious shop in the postseason. Of all the guys I've seen play this game before, I don't recall seeing too many of Watt's size have this much go in them before. The guy never gives up on a play and his motor is always running hot.
The higher draft status and national recognition that Von Miller has will earn him the defensive rookie of the year, no doubt. But I expect Watt to be of more importance to his team and make a bigger impact in the postseason.
Johnathan Joseph Will Even Further Earn His Big Contract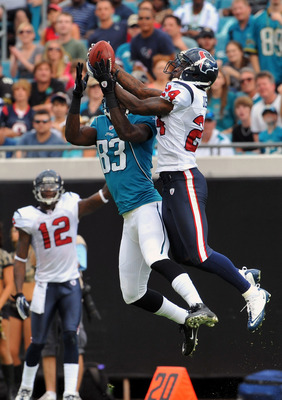 Al Messerschmidt/Getty Images
To say that a guy can still do things to earn a big contract he signed in free agency after he's already been named a pro bowler is a wild boast. But just wait until the playoffs.
No matter which of those aforementioned teams I brought up earlier, not only do I expect Joseph to lock down his man, but I expect him to lock down a side of the field and maybe even pick off a pass or two.
So we can listen to Jon Gruden ramble on and on about how Darren Sproles was the best offseason acquisition for any team this year until the stars fall from the sky. But no one transformed a unit of their team quite like Joseph did this year and he isn't done. Keep an eye on 24. Two eyes.
The Texans Will Beat Cincinnati, Denver, Oakland or New York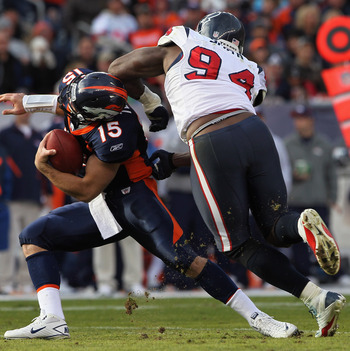 Doug Pensinger/Getty Images
With the Texans bound to cross paths with either Cincinnati, New York, Oakland or Denver, I couldn't be more ecstatic with that thought. Especially if they face one of them in the second round.
One reason is because if we're playing one of those in the second round, then that means they upset one of the top seeds and they would have to come to Houston for the game. But secondly because none of those teams scare me in the least.
The national media can be all up on Tim Tebow as much as they want, but I don't think he would do well against a Wade Phillips game plan. Mark Sanchez nor Andy Dalton have me shaking in my boots and Oakland is a wounded duck trying to back into the playoffs. Houston could beat any of those teams at home.
The Texans Will Fall to New England, Pittsburgh or Baltimore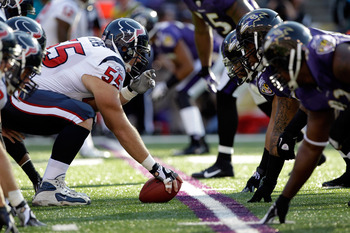 Rob Carr/Getty Images
I know that the Texans beat the Steelers once already this season and lots of fans seem to think that Houston could again. But you have to realize that was a different team. Going up against soft defenses the Texans have struggled since Yates took over at the helm. Against a defense like the Steelers or Ravens, I'm not seeing it.
The Steelers would have to come to Houston, so there would be a shot. But the Ravens are going to finish with a top seed meaning Houston would have to travel north to Baltimore and one of the toughest home field advantages out there. It's not going to happen in their house.
As far as New England, yes, their defense is atrocious. But they still have some dude named Tom Brady up there who has been winning shootouts all season. And I just don't see T.J. Yates winning in a duel with Tom Brady in that situation in Foxboro.
The Texans Won't Make It Past the 2nd Round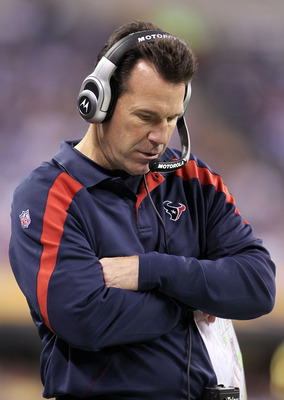 Andy Lyons/Getty Images
I know this is going to get me a lot of people telling me I "don't believe" in this team and if that makes you feel better, go ahead and say it. But the day that Matt Schaub went down, any hopes of a deep playoff run left my imagination.
Teams that are facing this many injuries don't make big runs to the Super Bowl. You can make the Green Bay comparison last year when they won it with dozens of guys on the IR, but they never lost their quarterback. I like T.J. and I think he has a future in the league. But I don't see a guy with five career starts under his belt taking the Texans past wild card weekend this year.
If that is to be their fate, I'm still proud as hell of this team and the coaching staff. I know Harbaugh will win coach of the year and I'm not going to detract from what he has achieved in San Fran. But Gary Kubiak should get a few votes, for sure.
This is a building block and this team will be back next year and for the foreseeable future. They're young, they like it here and this could be the beginning of building something special. I couldn't be more proud of this team if they win 4 playoff games or none.
All of Houston should feel the same way.
Mike Kerns is a featured columnist for the Houston Texans at Bleacher Report. Feel free to follow him on Twitter and catch his latest Texans podcast at State of The Texans.
Keep Reading

Houston Texans: Like this team?