Oklahoma vs Iowa: Live Scores, Highlights and Analysis of the Insight Bowl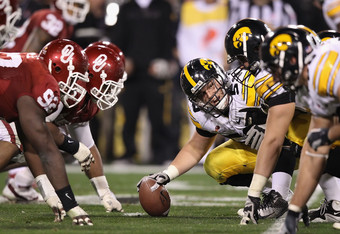 Christian Petersen/Getty Images
Final Score: 31-14, Oklahoma.
There could only be one winner in Friday night's Insight Bowl, and the Oklahoma Sooners just so happened to finish on top.
After leading 21-0 at the end of the third quarter, the Iowa Hawkeyes scored 14 unanswered points to officially make it a game. However, tonight belonged to "The Belldozer."
For those who haven't heard this name before (if there are any of you out there), "The Belldozer" is Oklahoma's third-string quarterback, Blake Bell. Bell has been the main source of offense for the Sooners down the stretch of the season, and nothing was new tonight.
Bell rushed the ball 10 times for 51 yards and three touchdowns, including a 21-yard scamper—the final touchdown of the game with under a minute to play.
It was fitting for Bell to have the "big game" for the Sooners, as starting quarterback Landry Jones struggled for the majority; Jones finished the game 16 of 25 for 161 yards, one touchdown and one interception.
Could this be the end of the Landry Jones era? We will have to wait and see.
Other than Bell's punishing runs, the Insight Bowl proved to be underwhelming. Both teams suffered from depleted rosters, but neither team's offense could ever get the ball rolling. There were 12 total punts in this game, but hey, at least they were good punts.
Oklahoma punter Tress Way averaged 50.3 yards per punt with a long of 67. However, when punting is the one thing that really worked for a team, that can't be evidence to a well-played game.
Oklahoma was able to finish the season with a win, and that should carry some momentum into the offseason, but the Sooners have to do a lot of work to get back to playing the type of football that they're accustomed with.
Congratulations, Oklahoma. You were the less-bad team tonight.
Christian Petersen/Getty Images
Tom Wort with the interception to officially seal the game, as if that wasn't already decided.
Congratulations, Oklahoma. You were the less bad team tonight.
Christian Petersen/Getty Images
Oklahoma finishes the season with a rushing touchdown by Blake Bell. How fitting. End of an era for Landry Jones?
Sideline reporter wins again! Rumors report that Mike Stoops will be returning to Oklahoma. Defensive coordinator Brent Venables would stay put, as well.
"The Oklahoma secondary has some good players back there...they have some good'ens." - Matt Millen
Somewhere, Robert Griffin III is laughing.
There's a loose wire in the endzone! Play has been suspended! Only 2 minutes left! What could happen!!!
I mean, I assume they'll move the wire. Then Iowa will probably try to throw it a lot...lose the ball on fourth down...the game will be over.
The ESPN "Skycam" falls onto the field. That thing is held up by cables. You've seen them.
I was waiting for that to happen sometime. I'm surprised it's never happened before.
Good thing it barely missed the Iowa huddle, that could have been really bad.
Michael Hunnicutt puts the Sooners up by 10 points with 2:29 to play! Remember my final score prediction?
Okay, so maybe it was 31-21...but 24-14 is close! It's still 10 points!
Speaking in Mighty Ducks terms, if the Belldozer is Fulton Reed, who is Dean Portman? Even better question, who is Kenny Wu, ya know, to complete the "Bash Brothers" trifecta?
My votes: Dean Portman—Trey Millard, Kenny Wu—Roy Finch.
The Belldozer picks up a huge 1st down for the Sooners on third-and-short. That guy is a monster. If only he could pass...
Oklahoma throws on first down—gets a first down.
They need more of this. Also, whatever happened to the hurry-up offense? The Sooners look their best when they run it, but they haven't done that for a long time.
TOUCHDOWN.
Iowa scores on a great play call: Screen to RB Jordan Canzeri. Oklahoma looked lost.
We have a game on our hands!
"The Insight Bowl, where fourth quarters matter."
Iowa can only play well on fourth downs. This is strategy.
Whoa! Another huge fourth down conversion by Iowa! Iowa WR Davis dives for the endzone, loses it midair and gets it back on the ground.
1st and goal from the two-yard line turns into 1st and goal from the seven after a delay of game. Iowa really doesn't want to win this game.
Jamell Fleming actually hasn't looked bad this game. He's definitely making a draft-day statement.
Nice diving interception attempt by Tony Jefferson. That's a tough call to make. His arm was under it, but the nose of the ball is touching the endzone. Could have been called either way.
I think the refs made the right choice (incomplete). Let's see if it gets overturned. If so, game over. Maybe.
Vandenberg is starting to get a rhythm. OU's secondary is starting to look confused. I think I've seen this before...
Christian Petersen/Getty Images
Don't worry, Iowa. You have lots of time for a comeback.
Another OU three-and-out with just under 10 minutes to play.
I spoke to soon, like always. OU with another quick possession and another punt.
If Iowa can score quickly, we'll have a game on our hands.
Could this actually be an exciting fourth quarter? I'm not buying into it...
Wow! Vandenberg scrambles from one side of the field to the other and finds his tight end in the endzone!
Iowa finally on the scoreboard. Now, they just need a few stops, but I think it might be too late.
Huge false start penalty on the Hawkeyes backs them up from the one-yard line to the six.
Iowa just can't get a break tonight...or this season.
"That play call just stinks." - Sean McDonough, In regards to Iowa's failed third-down attempt.
Jokes on McDonough, Vandenberg just needed the extra couple of yards to complete a pass on fourth down.
Christian Petersen/Getty Images
Iowa approaching the redzone. Can they get it done and make this a game?
Marvin McNutt gets his second reception of the game, but he's now been thrown to 10 times. Just the kind of night Iowa has been having.
Christian Petersen/Getty Images
Here is a great image of the helmet-to-helmet collision involving Landry Jones.
This article is
What is the duplicate article?
Why is this article offensive?
Where is this article plagiarized from?
Why is this article poorly edited?

Oklahoma Sooners Football: Like this team?