Utah Jazz: Why They Must Decide Between Rebuilding or Contending
December 30, 2011
Stephen Dunn/Getty Images
Strictly speaking, there are two types of teams in the NBA: rebuilding teams and contending teams. Imagine the two type of teams as two roads with a common starting point.
Those that have reached the end of the rebuilding path will move into the contending one. However, if a team is on the contending path, they may be forever stuck at one point of the track until they decide to reset and choose the rebuilding path instead. 
The Utah Jazz is currently at the starting line. 
They have a mixture of players: those who are in their prime like Al Jefferson and Paul Millsap; aging veterans like Earl Watson and Josh Howard; and recently acquired young talents in Enes Kanter, Alec Burks and Derrick Favors.
When legendary head coach Jerry Sloan retired last season, it was of my belief that Utah would begin their rebuilding process then. Al Jefferson was and is still not as good a fit in Utah's system as the man he replaced in Carlos Boozer, and my notion was only strengthened by the trade of Deron Williams to New Jersey for Devin Harris and Favors.
Both Harris and Favors still have room for improvement, and the latter has the potential to be a star in this league. Combine the two with other promising pieces like Gordon Hayward and C.J Miles and Utah has a future again.
Then Ty Corbin was appointed. 
Nothing against Corbin personally, but by promoting Sloan's assistant coach, it was clear that not much of the system would change and in effect, not much of the previously held mentality would be changed. At the end of Sloan's tenure in Utah, it was clear that the players collectively, not Williams alone, had lost faith in Sloan's system.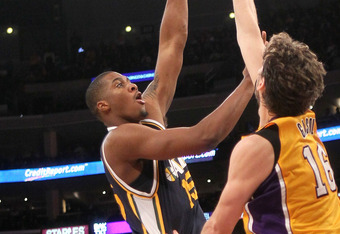 Stephen Dunn/Getty Images
Sure, it was the system that brought Utah close to the Larry O'Brien Trophy twice, but it was time for change. The opportunity was there both when Sloan was gone and when Williams was traded.
With Corbin, it's pseudo change. 
Sure, he is a new voice in the players' ears, but how much better can a rookie head coach run a system than a coach famous for making unheralded players better with his playbook?
The relatively new head coach must now determine whether the Jazz can still be successful with the previous system, and if not, they must quickly find a new system ideal for the team, trade Millsap and Jefferson and start all over.
From the first two regular season games, it looks like they are going to be heading towards the second idea.  
So Corbin should start promising prospects like Burks (15 points in nine minutes), and Utah general manager Kevin O'Connor should try to trade Millsap and Jefferson for draft picks or even nothing tangible. There is only one way for prospects to develop, and it is by playing them.
Favors is going to improve more if he is playing 35 minutes every game instead of having to share time with Millsap and Jefferson. 
At the moment, the Jazz are going nowhere. They need to make a quick decision or else they are going to lag behind the rest of the league, chained to the beginning of the roads.