Notre Dame Fighting Irish Hoops: Mike Brey, Irish See Light on the Horizon
December 30, 2011
Jonathan Daniel/Getty Images
The Notre Dame men's basketball team struggled mightily during the non-conferance portion of their schedule, especially against ranked opponents on the road.
The fighting Irish were embarrassed by Missouri 87-58 even before they lost their star player, Tim Abromaitis, for the season to a knee injury.
Sans Abromaitis, ND was lambasted by Gonzaga 73-53 in Spokane. They were also defeated at the "neutral" site of Indianapolis by the Indiana Hoosiers 69-58.
But one thing no one has been able to take away from this young Irish team, even during their recent setbacks, is a penchant for getting into a great offensive rhythm at home.
The 22nd-ranked Pitt Panthers found this out in the Tuesday night Big East opener for both teams, when the Irish scored 47 points in the second half alone in a 72-59 thrashing of the heavily favored Panthers.
It was Notre Dame's 28th straight win at Purcell Pavilion. 
Time and time again Notre Dame head coach Mike Brey pumped his fist as the Irish made big shot after big shot. Players that had formerly failed to produce, suddenly could not miss for the Fighting Irish.
Forward Alex Dragicevich was 4-of-7 on three-point attempts, solidifying his new-found status as a true offensive threat. The Irish as a whole shot a sizzling 72 percent in the second and decisive half.
Afterwards, Brey conceded that this may have been one of the best games he has ever coached for the program. Considering the youth of the team, and the devastating loss of Abromaitis, the relevance of this contest versus Pitt is difficult to ignore.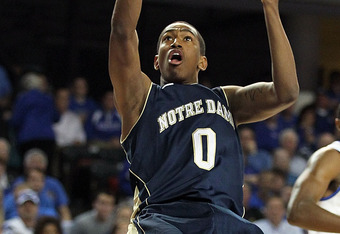 Andy Lyons/Getty Images
A Big East schedule which had seemed so imposing only a few days ago looks as if it may have a few more Irish wins out there for the taking.
If Notre Dame can rout an obviously more quick and athletically superior Panthers team, than any group that comes into Purcell Pavilion had better be watching their backs.
Suddenly, games on the home slate against South Florida, Seton Hall, DePaul and Rutgers feel as if they could be penciled in as Irish W's; while even the tougher games against UConn, Syracuse, Marquette and West Virginia could be a toss-up at best for these ranked road squads.
Playing on the road in college basketball is one of the more difficult things to do in all of sports and it will still be an extreme challenge for this or any team.
But if the Irish can hold serve at home and steal a handful of road wins, then who knows? They could get themselves back into the NCAA tournament picture after all.