Andrew Bailey's Arrival with the Boston Red Sox Is a Relief
December 31, 2011
Thearon W. Henderson/Getty Images
Andrew Bailey is now with the Boston Red Sox and I couldn't be happier.
Slowly, but surely, Ben Cherington is starting to win me over.  The circumstances weren't exactly on his side when be became general manager.  His hands have been tied by ownership, and he's had to clean up the hideous mess Theo Epstein left. 
Despite all of this, he's still managed to pull off some nice moves.  Initially, it made my blood boil to hear the Red Sox say they weren't planning to spend money, but I guess it's inevitable after Epstein wasted about $321.4 million of John Henry's money on horrible free agents. 
On principle, you hate to see Cherington suffer for Epstein's mistakes, but it is what it is.  Now, if you're wondering how I came to $321.4 million, here is my breakdown:
1. $15.5 million on Mike Cameron
2. $25.8 million on Matt Clement
3. $36 million on Julio Lugo
4. $36 million on Edgar Renteria
5. $82.5 million on John Lackey
6. $12 million on Bobby Jenks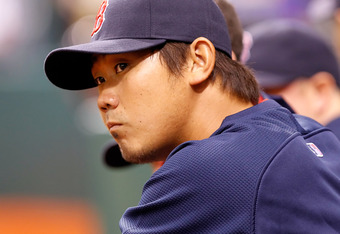 J. Meric/Getty Images
7. $103.1 million on Daisuke Matsuzaka ($52 million in salary and the $51.1 million posting fee)
8. $5.5 million on John Smoltz
9. $5 million on Brad Penny
The trade for Andrew Bailey is a good move because he's still young.  His resume is thin, but stellar; Rookie of the Year in 2009 and a two-time All-Star.  He's now 27, which is the age range when a ballplayer starts to hit his peak. 
The thought of going into the season with some reclamation project or Bobby Jenks was horrific. Bailey doesn't give up a lot of home runs, strikes about a ton of guys and throws strikes, which is basically everything a team wants in a closer. 
Perhaps the best aspect about this deal is that the Red Sox now have a guy who has proven he can attack American League lineups.  Mark Melancon put up some good numbers in the NL, but he doesn't inspire confidence like Bailey does.
Bailey's prior injury history doesn't scare me off.  Jonathan Papelbon had shoulder problems early in his career, but the team was able to keep him healthy during his time in Boston.  I guess my point is that if the Sox kept Papelbon healthy, I trust they'll be able to keep Bailey healthy as well. 
Ben Cherington's strategy on reloading the pitching staff looks like a sound plan.  As much as I respect Tim Wakefield for what he's done in Boston, 2011 looked like the end of the road for him.
Goodbye, Tim. 
Thanks for everything and good luck where ever you end up. John Lackey is out of commission. Dice K is a question mark as well. 
What do you do?  Reload with Melancon, who should give you a reliable set-up guy and push the Bard/Aceves combination to the starting rotation.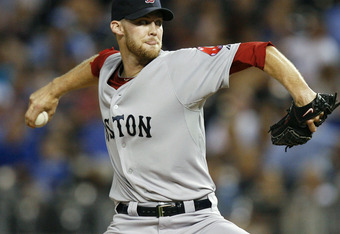 Ed Zurga/Getty Images
Daniel Bard is a fine middle reliever with the talent to be a starter.  He's got an overpowering fastball that tops out in the upper 90's with a tough slider and changeup that throws hitter out of whack.  I don't see why he can't be at least a No. 5 starter in 2012.  I don't trust Melancon to close out games in the AL East. 
In the aftermath of the "chicken and beer" collapse of 2011, it's natural to want to panic and blow up the entire roster.  Starting all over again wouldn't be prudent.  Cherington played it right.  Don't panic and plug every hole that was glaring last year.  At the very least Red Sox fans won't have to worry. 
The Red Sox will have a top-notch guy to nail down wins in 2012.