NFL Power Rankings Week 17: Which Non-Playoff Teams Could Be Spoilers This Week?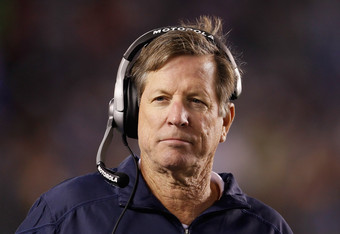 Jeff Gross/Getty Images
Week 17 of the 2011 NFL regular season is only a few days away. Most of the attention is on the teams looking to prepare for the playoffs this weekend. Several key games will determine the playoff picture and which of the 16 alive teams gets into the 12 team field.
For the teams already eliminated, Week 17 is no fun at all—especially in the games between two eliminated teams, games that will not be shown on national TV and are of no interest to anyone but the die-hard fans. True there's the battle for draft positioning and it always feels better to end the season with a win but those are typically little consolation for missing the playoffs.
But for the eliminated teams facing mathematically alive teams, the picture changes drastically. Perhaps the greatest consolation prize of all is preventing someone else from making the playoffs too: the whole idea of "if we can't make the playoffs, you can't go either."
Every year it seems to happen. A worse team takes out a playoff hopeful, crushing their dreams in the worst way possible. There are several Week 17 games that have the potential for these kind of upsets.
San Diego Chargers
At 7-8, the Chargers blew their feeble playoff chances in last week's 38-10 loss to the Detroit Lions. It caps an end to a tremendously disappointing Chargers season that saw them blow a very winnable division for the second year in a row. After the way they've failed this year, coach Norv Turner and GM AJ Smith can be considered gone the moment their game against the Oakland Raiders is over.
Dave Reginek/Getty Images
But their season can still come to a good ending should they beat the Raiders. The Raiders are looking at a scenario where they can make the playoffs as AFC West champion or a wild-card team but only if they win. A loss would eliminate the Raiders and keep them out of the playoffs for the ninth consecutive season.
Both the Raiders and the Chargers have been very difficult to predict this season. The game is at Oakland where the Raiders are 3-4 where they've suffered lopsided losses to the likes of the Kansas City Chiefs and the Denver Broncos. It really wouldn't be very surprising if the Chargers knock off the Raiders and end both teams' seasons with disappointing 8-8 records.
Tampa Bay Buccaneers
The Buccaneers have just been awful this season and with their nine game losing streak, they have successfully destroyed all optimism from last season. Concerns about their suspect defense have escalated as they literally couldn't stop backup players. With the NFC South becoming a very hard division, you've got to think major changes are going to be in place for the Buccaneers this offseason.
So naturally there's very little reason to think the Buccaneers stand a chance against the NFC Wild Card Atlanta Falcons, especially in their beloved Georgia Dome. However, the Buccaneers did get the unlikely win against the Falcons earlier in the season. Even with all the Falcons' strengths, their passing defense is still a weakness that the Buccaneers could potentially exploit.
Yes, I know this upset is tremendously unlikely with the Buccaneers making a strong case for worst team in football right now. But a factor that could work in their favor is that the Falcons are locked in a wild-card spot. Maybe the Falcons decide that there's not too big a difference between the No. 5 seed and the No. 6 seed so they take it easy and rest some starters.
Who knows, maybe the Buccaneers decide to actually play hard for coach, Raheem Morris. Stranger things have happened in the NFL.
Carolina Panthers
Despite being 6-9 and out of the playoffs, the Panthers have got to feel good about their season. Their explosive offense has almost scored twice as many points as last year and they have been surging lately, winning four of their last five games.
Still, their final game this season is by no means an easy one as they try to prevent the New Orleans Saints from having a perfect record at the Superdome. The Saints are as hot as any team in the NFL with a seven game winning streak and a quarterback who just broke the record for most passing yards in a season. And even though they've won the NFC South, they have a lot to play for as they could possibly still get a first-round bye.
However, the Panthers may be one of those few teams that could beat the Saints. The first game was only a three-point Saints win and the Panthers have gotten a lot better at closing games. The Panthers have a lot to feel good about for a non-playoff team and I fully expect them to play a great game that will help feed the anticipation for their 2012 season.
Don't be surprised if at least one of these teams gets a win and ends their season feeling that much better. As important as the playoff teams are, there always seems to be one non-contender that shocks people in Week 17.
And with that, here are my final power rankings for the 2011 season.
1. Green Bay Packers
Which of theses teams is most likely to win in Week 17?
2. San Francisco 49ers
3. New Orleans Saints
4. New England Patriots
5. Baltimore Ravens
6. Pittsburgh Steelers
7. Houston Texans
8. Detroit Lions
9. Atlanta Falcons
10. Cincinnati Bengals
11. New York Giants
12. Tennessee Titans
13. Oakland Raiders
14. Denver Broncos
15. New York Jets
16. Dallas Cowboys
Which of these teams should have improved the most on this week's power rankings?
17. Seattle Seahawks
18. Arizona Cardinals
19. Chicago Bears
20. San Diego Chargers
21. Philadelphia Eagles
22. Buffalo Bills
23. Kansas City Chiefs
24. Carolina Panthers
25. Miami Dolphins
26. Washington Redskins
27. Cleveland Browns
28. Jacksonville Jaguars
29. Tampa Bay Buccaneers
30. Minnesota Vikings
31. St. Louis Rams
32. Indianapolis Colts
This article is
What is the duplicate article?
Why is this article offensive?
Where is this article plagiarized from?
Why is this article poorly edited?