Manchester United: Why Sneijder? Michael Carrick; a Man for All Seasons
December 28, 2011
Laurence Griffiths/Getty Images
OK, hands up, I'm a fan of Michael Carrick. I sit at Old Trafford and get utterly fed up when fans get after him non-stop.
Poor Michael has suffered from a number of injustices:
He is not Bryan Robson
He is not Roy Keane
He is not Paul Scholes
Sir Alex has not replaced any of the above three, to the irritation of the fans, but he wants Michael Carrick to become the 'pivotal player' in the team.
If you watch MUTV all the time like I do, you would lose count of the number of times Sir Alex praises Michael. And why on earth do you think he keeps picking him when he is fit? Because he rates him (Oh, by the way, he rates Dimitar Berbatov too)!
So, all you fans who worship Sir Alex, are you saying he is stupid to keep playing Carrick? Or is he blind when he raves about him? Or are you saying Sir Alex is great despite picking Michael Carrick?
The trouble is, when fans get a downer on a player, they tend to notice every single mistake he makes and don't even murmur when he does something great, like a defence splitting pass or a great tackle.
In the last few matches, Michael Carrick has been outstanding.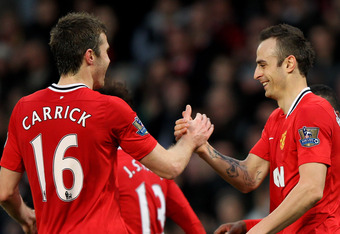 Alex Livesey/Getty Images
Let's start with the Player Ratings from the Wigan match elsewhere on this site. The author awarded Carrick the lowest mark of anyone--6/10. Which match was he watching?
Michael Carrick is not a centre-back and he's not even a defensive midfield, but he plays where the Boss asks him to and tries his socks off. He's a thoroughly nice, quiet, unassuming young man, typical of the new breed at Old Trafford who play for the 'team ethic'.
Against Wigan, he was outstanding. Of course, he didn't have as much to do as Evans did against City (in a match where the latter conceded a sloppy goal and got himself sent off) but he was tight on his man; his vision and speed of thought meant he broke up some attacks almost before they started.
The other day, the MOTD pundits were talking about Carrick and how well he was playing, suggesting that it was because Phil Jones was breaking up the attacks around him. What? Which matches were they watching? Most of the time, Jones was marauding forward while Carrick held the fort. Jones made very few tackles.
So let's have some statistics.
Michael Carrick has among the best defensive midfield stats in the EPL.
But he's not a defensive midfield. He's had to become one because, since the Owen Hargreaves saga and with Darren Fletcher's sporadic availability, Sir Alex has had no-one else to turn to. So he relies on Carrick.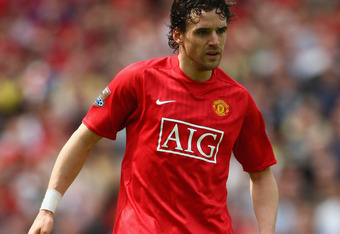 Clive Mason/Getty Images
So for all you Carrick haters, in all the EPL games he has started this season, United have only conceded a total of one goal. Yes, one!
That won't satisfy a lot of people who think he can't tackle or pass and gets caught in possession.
So here's some more stats:
In the last four seasons, he has averaged 66.5 passes per game at a completion rate of 87%. This season it is 90%.
So then people say he makes most of his passes backwards or sideways. A recent analysis showed that he makes four times as many forward as backward passes.
The trouble is, if you're a defensive midfield, you're not going to have many assists. It would be interesting to see how many times Carrick plays the last pass to the person who assists the goals.
Of course, people remember Scholesy fondly, because he was a genius—a one-off. But one of the reasons he was firing off spectacular passes towards the end of his career was because he couldn't get box-to-box any more.
Guess who was picking up the pieces around him? Michael Carrick, because Scholes couldn't tackle to save his life. He should have been sent off far more than he was.
Ask yourself if you are one of the people who blamed Carrick for Yaya Toure's goal in the FA Cup semi-final last season?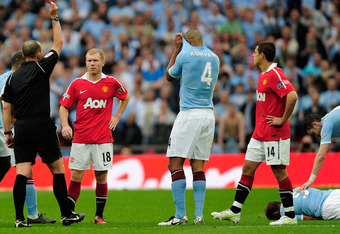 Jamie McDonald/Getty Images
But no one seems to remember that Paul Sholes did more to damage United's chances by getting sent off for a disgraceful foul on Pablo Zabaleta.
So if you're Paul Scholes you're forgiven everything, like getting sent off in a crucial Champions League match; like missing the final against Bayern Munich (along with Roy Keane) that United were lucky to win.
But if you're Michael Carrick, even if you're near perfect, you get blamed for something.
So let's have some more stats:
Over the last four seasons, United have conceded 0.7 goals per match when Michael Carrick has played (and 0.4 this year)
He makes a tackle and an interception every 19 minutes on average. His average tackle success rate over the last three seasons is over 70% and this season alone is 73.33%.
So, the thing is, like Sir Alex, I would have Michael Carrick in my team every match, every season. When Cleverley is fit, he will create the space for the young lad to express himself. He can do the same job for Pogba and Morrison as they come through.
With virtually all of the old guard retired now, Michael Carrick is going to be a critical and stabilising factor for the next couple of years. It's not me who thinks so, it's Sir Alex.
Tom Cleverley has only started 30 Premier League games in total—five for United. Michael Carrick has started 160.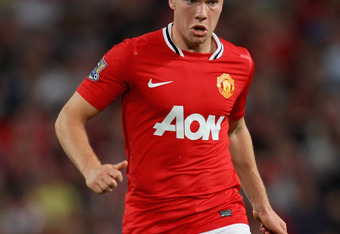 Alex Livesey/Getty Images
So get used to it. Either Sir Alex has got it wrong or you have. As he said at his Press Conference the other day, quoted in The Guardian (http://www.guardian.co.uk/football/2011/dec/25/ferguson-michael-carrick-manchester-united?newsfeed=true):
I think it's time Michael became the pivotal player of our team. We've always known he's got that in him. He's a laid-back character—quiet, unassuming—but in different periods during his time here he's shown his quality. Now is the time for him to start a long period of dominating the centre of midfield like he has in the last few weeks.

Michael's been one of our best players. He's been instrumental in what's happening to the team—an experienced player playing right at his peak. He's grabbed the chance and, in some ways, he's maybe seen the departure of Paul Scholes as his opportunity to be the main man in midfield.
Michael Carrick: A Man for all Seasons—especially the next two.