NFL Week 17 Picks: Spread, Straight and Over/Under
December 28, 2011
Tom Pennington/Getty Images
The final week of the NFL regular season is here, and not without some tension in the air. The last spot in the NFC playoffs will be up for grabs Sunday night with the winner between Dallas and New York advancing and the loser staying home.  The AFC scenario isn't nearly as clean with a division still up for grabs and a handful of others still in the realm of possibility for the last wild card spot. 
Week 16 featured some serious nail biting as some teams' chances were chopped while others won to keep their window open. The week treated me very well as I finished 12-4 straight up, 9-7 against the spread and 11-5 versus the O/U number for a weekly count of 67 percent. After that solid week my season totals sit at:
Straight: 166-74 (69 percent)
Spread: 135-105 (56 percent)
Over/Under: 134-106 (56 percent)
My overall number now stands just above 60 percent for the year. That kind of number in a very difficult week could prove to launch me to the top of the standings in my 30-man league if I am able to couple it with a strong performance this week. Time to put up or shut up for me and many of these teams with playoff hopes on the line!
Washington Redskins (+9) at Philadelphia Eagles (O/U = 46)
The Eagles have put together a respectable finish winning their last three games, but unfortunately for them it is all for naught as their playoff chances have been eliminated. Since Michael Vick's return, the club has redeemed themselves somewhat which will likely lead to similar inflated expectations come next season.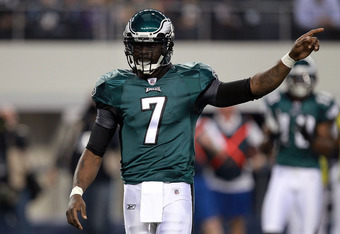 Ronald Martinez/Getty Images
The Redskins have been hard to put a finger on all year, and with nothing left to play for I don't see them putting up much of a fight against a Philly club whose confidence is at least partially restored.
Straight: Philadelphia
Spread: Philadelphia
O/U: Over
Tennessee Titans (-3) at Houston Texans (O/U = 40.5)
With a win in Week 16 over Jacksonville, the Titans have kept their playoff chances alive, albeit slim. They will need to win this game and hope for some help, namely a Bengals loss, to assure a post-season berth. Having clinched the division crown the Texans have slipped as of late, losing their last two. 
They will look to turn around that momentum in this one heading into the playoffs at the expense of the up-and-down Titans. This could prove to be a tough road loss for Tennessee to end their season.
Straight: Houston
Spread: Houston
O/U: Under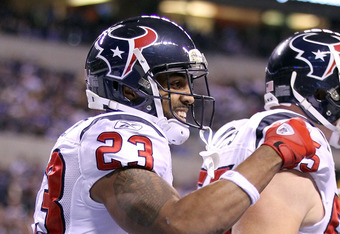 Andy Lyons/Getty Images
Chicago Bears (-1) at Minnesota Vikings (O/U = 41)
The Bears season has gone down the drain since losing both their starting quarterback and running back, and they have lost five straight to eliminate themselves from playoff contention. It will be hard for the downtrodden group to gear up for this one as they face off against Minnesota, who have been far from impressive themselves. 
The Vikings lost their own starting running back, Adrian Peterson, last week with a serious knee injury making Toby Gerhart their leading man. This one will be a slug-fest in the dome, but look for Minnesota to pull out the upset at home to finish the year.
Straight: Minnesota
Spread: Minnesota
O/U: Under
Buffalo Bills (+12) at New England Patriots (O/U = 51)
The Bills got their first win since October in Week 16 against the Broncos, but at this point there is little to salvage from a disappointing year that began with such promise. It is almost unfathomable to think that when Buffalo defeated New England in their Week 3 matchup, many actually saw it as a "passing of the torch" between these two teams. 
It appears that the Bills got caught up in that undeserved hype, winning just three games since. The Pats still carry this torch, and with an opportunity to solidify home-field advantage with a win they will surely come out firing.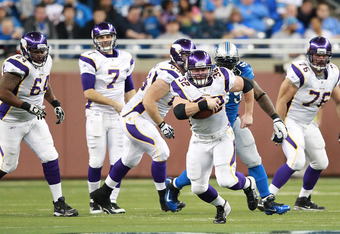 Leon Halip/Getty Images
Straight: New England
Spread: New England
O/U: Over
Indianapolis Colts (+4) at Jacksonville Jaguars (O/U = 37)
The Colts have now won two straight after failing to secure a win through the first 14 weeks of the season. In doing so, all they have accomplished is putting the No. 1 draft pick at risk this offseason and taken a little heat off of Jim Caldwell. 
The Jags have shown some offensive aptitude at points, but have been largely unimpressive as a whole. In a week full of intriguing matchups, this sure isn't one of them. Jacksonville at home and that's that.
Straight: Jacksonville
Spread: Jacksonville
O/U: Over
Detroit Lions (-3.5) at Green Bay Packers (O/U = 46.5)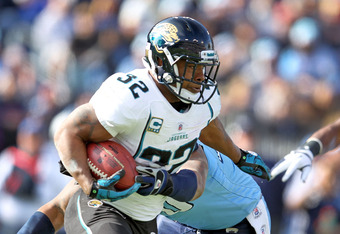 Andy Lyons/Getty Images
In a decisive win over San Diego in Week 16, the Lions clinched their first playoff berth in over a decade. This Detroit team has finally regained their footing after a mid-season stumble and look poised to make some noise in the postseason. 
The Packers have already solidified the No. 1 seed in the NFC, and having lost the chance at a perfect season, will probably be resting a good majority of their star players. This added curveball makes the game hard to project, but if it is Stafford versus Flynn for the majority it makes sense to take Motown to win in this one.
Straight: Detroit
Spread: Green Bay
O/U: Under
Carolina Panthers (+9) at New Orleans Saints (O/U = 54.5)
Drew Brees set the all-time single season passing yards record in a Monday Night annihilation of the Falcons in Week 16. With a win here and a loss for San Francisco, the Saints could eke out a prestigious first-round bye, so expect Sean Payton to play his starters throughout. 
While the Panthers have no shot at a postseason appearance it is clear that the addition of Cam Newton has reinvigorated the Carolina fan base.  With a few more key additions on defense this team could be making noise in the NFC South in the near future—just not this Sunday.
Straight: New Orleans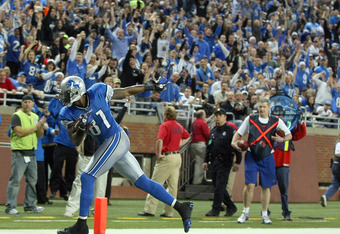 Dave Reginek/Getty Images
Spread: New Orleans
O/U: Over
New York Jets (+1.5) at Miami Dolphins (O/U = 41)
The Jets had a chance to improve their playoff potential drastically in Week 16, but lost in a poor performance against their in-state rival Giants. They will now need a win here along with a lot of help from others to get into the postseason, but the loss last week may have proven to be the critical blow for Rex Ryan's club. 
Miami has been very solid during the second half, and something tells me that even though they won't be making the playoffs with a win they sure wouldn't mind knocking New York out of contention.
Straight: Miami
Spread: Miami
O/U: Under
San Francisco 49ers (-10.5) at St. Louis Rams (O/U = 35.5)
A fourth quarter TD by Marshawn Lynch in Week 16 was the first surrendered by the Niners defense this season—just take a second to soak that one in.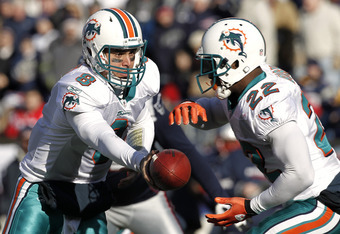 Winslow Townson/Getty Images
Now take into account that the Rams have been arguably the worst offense in the league and just posted a goose-egg against the Steelers. Lastly, add in the fact that SF clinches a first-round bye with a win in St. Louis on Sunday, and that is pretty much all you need to know. This will not be a pretty end to the year for the hapless Rams.
Straight: San Francisco
Spread: San Francisco
O/U: Under
Pittsburgh Steelers (-7) at Cleveland Browns (O/U = 36)
The Steelers are still in the running for not only a division title, but home-field advantage throughout the entire AFC playoffs if the cards fall in their favor Sunday.  While losses by NE and Baltimore may be a lot to ask for, you can sure bet that Pittsburgh will take care of their end of the bargain with a win here.  
There isn't much hope for a Cleveland squad who may be QB shopping in the offseason following limited improvement by Colt McCoy this year.
Straight: Pittsburgh
Spread: Pittsburgh
O/U: Under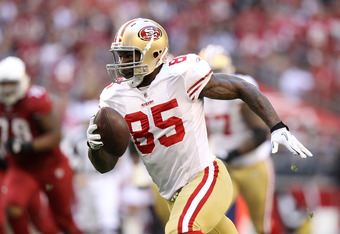 Christian Petersen/Getty Images
Kansas City Chiefs (+3) at Denver Broncos (O/U = 36.5)
The Broncos slipped last week in a painful loss to Buffalo where a win would have gone a long way for their playoff chances. They instead find themselves in a position to miss out on postseason play with a loss to KC paired with a win by Oakland. The Broncos will, however, lock up the AFC West crown with a win against the Chiefs and Denver's recently relocated QB Kyle Orton. 
While the scorned QB will surely be looking for vengeance against his old squad, he was let go for a reason, that being a young man named Tim Tebow. The Broncos clearly knew what they were doing when making that decision and will prove it by clinching the division at home.
Straight: Denver
Spread: Denver
O/U: Over
Tampa Bay Buccaneers (+11.5) at Atlanta Falcons (O/U = 46.5)
Tampa Bay has been downright awful the past two months and hasn't won a game since mid-October. The Falcons have already locked up their playoff spot and have nothing to gain by winning here, so their starters will surely not play the whole game. Against a defense as horrible as Tampa's, however, that doesn't necessarily spell defeat.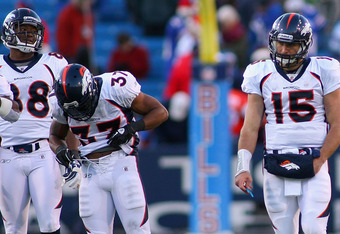 Rick Stewart/Getty Images
If Ryan and the rest of the starters see action for two quarters, the game could be out of reach by the time these teams take the field for the second half.
Straight: Atlanta
Spread: Atlanta
O/U: Over
Baltimore Ravens (-2.5) at Cincinnati Bengals (O/U = 38.5)
This game is what the postseason chase is all about.  With a win here the Ravens can clinch a division title along with a first round bye in the AFC playoffs.  The Bengals, on the other hand, will punch their ticket with a win as well. If Cincy comes up short here then they will need a Jets loss and either Denver or Oakland to lose as well to sneak in. 
Both teams have a lot to play for, but it's clear the Bengals have a lot more to lose. The way I see it, they lose this one by just a slight margin, but barely get in with NY and Oakland losing as well. I doubt that is the route they are looking to take, but I'm sure they wouldn't turn it down.
Straight: Baltimore
Spread: Baltimore
O/U: Under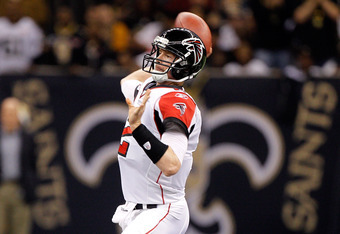 Chris Graythen/Getty Images
Seattle Seahawks (+3) at Arizona Cardinals (O/U = 41)
Though both of these teams are mathematically eliminated from the playoffs they have each proven a lot this season. The Cards have shown a lot of resilience with late wins in close games while the Seahawks have shown an offensive resurgence behind NFL Most Improved Player candidate Marshawn Lynch. 
Even though no implications ride on this one it will still be a hard fought battle between two teams who have shown a lot of heart this year and won't want to end the season on a sour note.
Straight: Seattle
Spread: Seattle
O/U: Under
San Diego Chargers (+3) at Oakland Raiders (O/U = 49)
The Chargers had the briefest of glimpses at the postseason before the door was slammed in their face by the resurrected Detroit Lions on Sunday. Oakland, on the other hand, still has a shot at making the postseason either as a division champ or wild card team. 
In either case they will need to pull out a victory here and hope for losses from Denver and/or Cincinnati and Tennessee. The disgruntled Chargers were putting up a lot of points before that debacle in D-Town, and would like nothing more than to show up in Oakland and uncomplicate things for the Raiders with a big win in this one.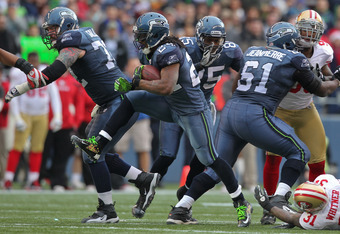 Otto Greule Jr/Getty Images
Straight: San Diego
Spread: San Diego
O/U: Over
Dallas Cowboys (+3) at New York Giants (O/U = 46.5)
This matchup is the clear pick for Game of the Week as it is win or go home for both of these squads on Sunday Night. The Giants showed the Jets who the king of New York was last weekend in resounding fashion while the Cowboys fell on their face against a surging Philadelphia club. 
As both teams have shown a propensity to blow their own chances in the past it will likely come down to the squad who makes less mistakes to walk away with a victory here. It will be a heart-wrenching loss for whichever squad falls victim here, and taking both previous games into account it looks like the Giants will enter with more confidence and momentum. 
The G-Men take down the conference title and the playoff spot at home while Romo and the Cowboys are sent home to lick their wounds yet again.
Straight: New York
Spread: New York
O/U: Over
While some teams have little to play for, others have their entire season riding on this week's game, and we can expect a playoff-like atmosphere in some of these contests. It all happens on Sunday so be sure to tune in and enjoy.
It has been a great regular season, and thanks to all who have been following me since I started this column in the middle of the year. Be sure to come back next week for an inside look on the first round playoff matchups!